Hi Lovelies,
Welcome back! And welcome if you are new here ???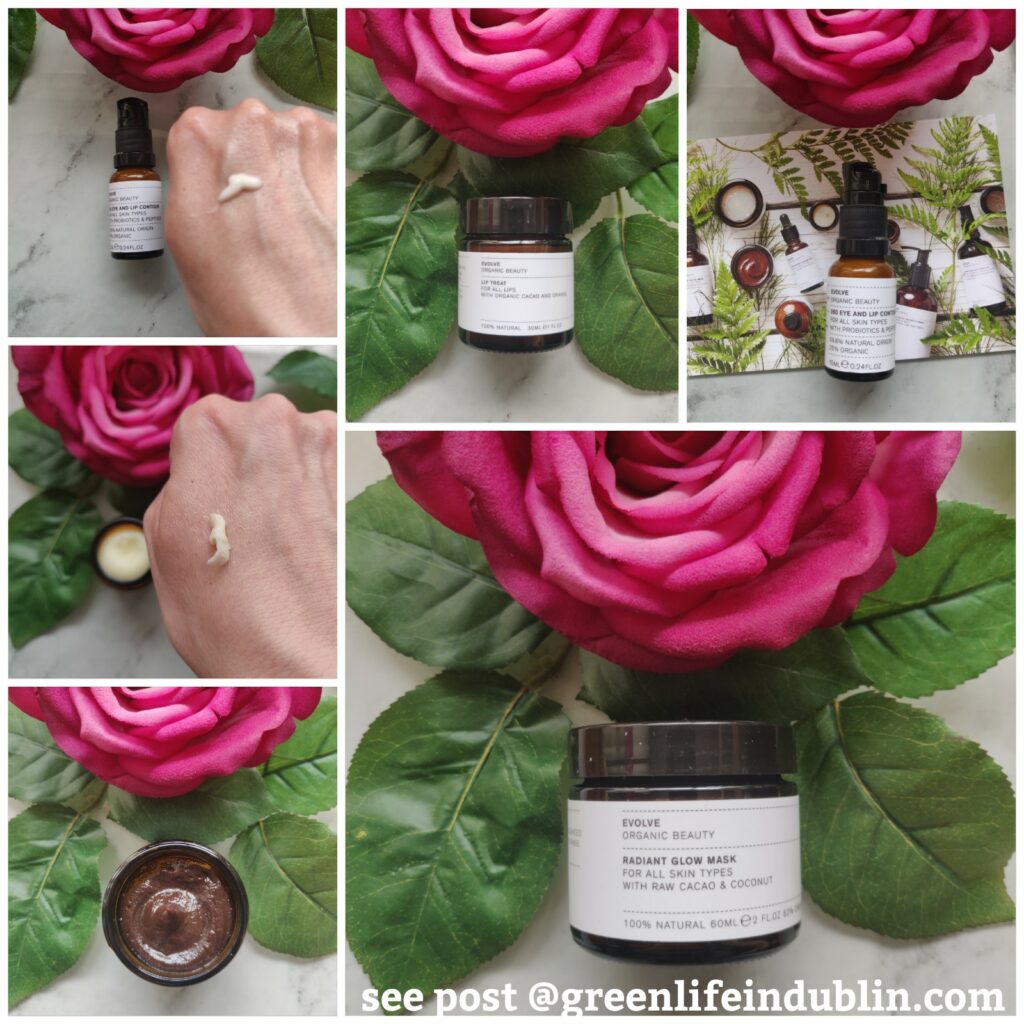 Hope life is treating You well? Hands up who is over lockdown already? You might remember that Evolve Organic Beauty was one of the star brands I discovered in 2019. See Tropical Blossom Body Butter review here, Climate Veil SPF20 review here, Liquid Radiance Glycolic Toner review here–and I am here to report about more goodness from the brand ? Please step forward Evolve 360 Eye & Lip Contour, Radiant Glow Mask  & Lip Treat. In this post we will look at the products as on first impression basis. I will follow up with a proper reviews later on. I can't get enough of what I have so far!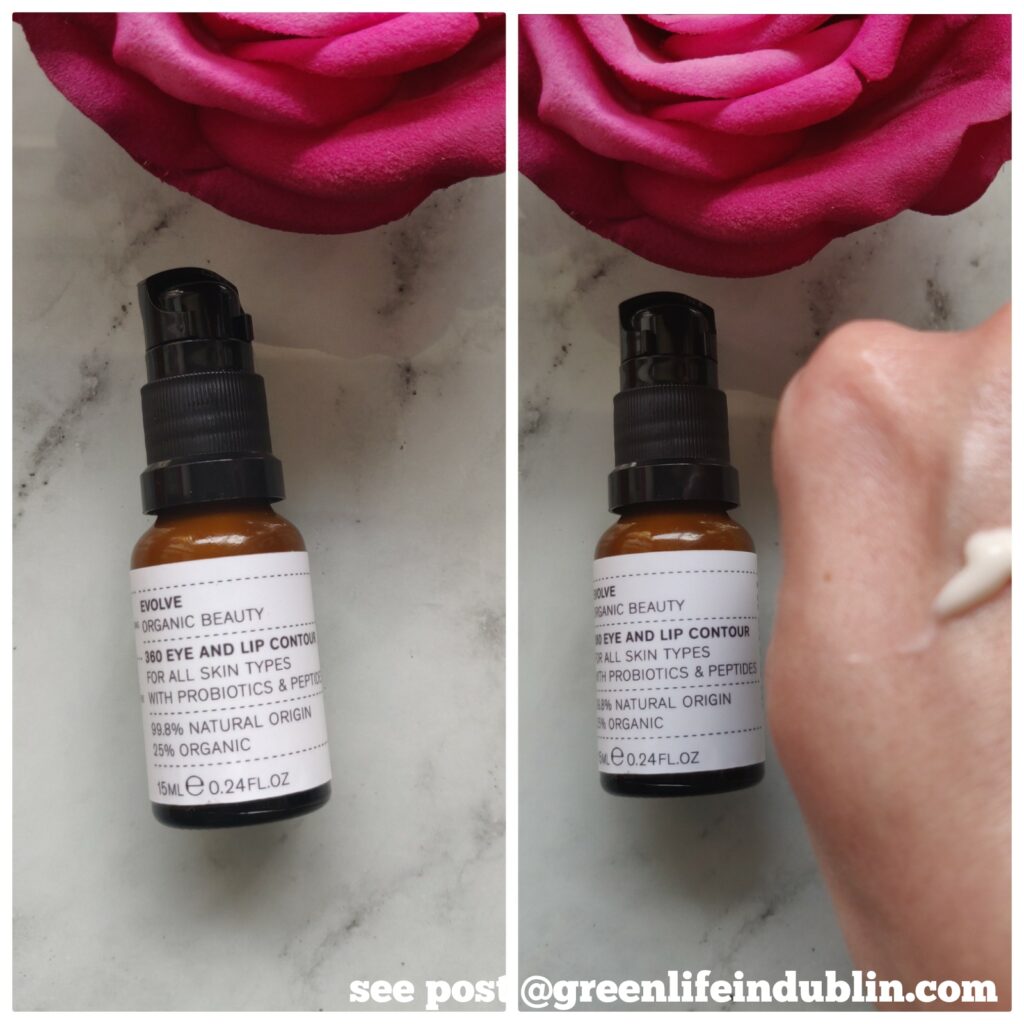 EVOLVE ORGANIC BEAUTY360 EYE AND LIP CONTOUR
Evolve Organic Beauty launched new 360 Eye and Lip Contour (£26) as part of their 360 collection, to support graceful ageing and take care of the skin naturally at every stage of life. 360 concept tackles not only fine lines and wrinkles, but also age spots, skin texture and luminosity. Latest biome-friendly product is 360 Eye & Lip Contour, formulated with an invigorating Probiotic Blend which also includes Green Tea, Pomegranate and Caffeine to target dark circles and puffiness, like a good night's sleep in a bottle. The Probiotics care for the good bacteria on your skin to boost your skin's natural defence against pollution, strengthen the skin's barrier layer and soothe inflammation in the skin. This Probiotic Blend is clinically proven to reduce eye bags and dark circles. It is also formulated with Sacha Inchi Peptides, Peruvian Superfoods that have helped the ancient Incas to live to over 100 years old.  360 Eye and Lip Contour promises to help firm and smooth the skin whilst reducing the appearance of wrinkles by up to 36%, to leave your skin feeling toned for a more youthful and rejuvenated look.
Also included in a formula is a Low Molecular Weight Hyaluronic Acid, a high tech natural ingredient which works deep within the skin to hydrate, plump and increase collagen production. The nourishing cream can be lightly patted into the delicate skin around the eye and lip, which tend to show the first signs of ageing as they don't create their own moisture, to work proactively with the body as part of age smarter 360 concept.
An independent 3 week in-vivo study of 10 participants found a significant reduction eye bags and dark circles of subjects between the ages of 24-45 who applied our Probiotic Blend twice a day.
Aren't you excited for it? I am! First impressions are very good, I am happy to report zero irritations, only smooth and soft happy skin – and you guys know I am the Most Sensitive Hooman Test Bunny On The Planet. Let me use it for a couple of more weeks to report on firming action. l am at a funny age where eye cream is needed, and a good one at that! The texture of this cream is creamy, rich, smooth, but not greasy at all – it sinks into the skin quickly, leaving no residue. The ingredient list is gorgeous, who doesn't want probiotics and peptides in their eye cream? You know I take skincare testing very seriously, so let me take my time before putting the review out there.
INGREDIENTS: Aqua (Water), Argania Spinosa (Argan) Kernel Oil*, Pentylene Glycol (from Sugar Cane), Coco-Caprylate/ Caprate, Microcrystalline Cellulose, Glycerin**, Parfum (Natural Fragrance), Lactobacillus Ferment Lysate, Lactobacillus Ferment, Aloe Barbadensis Leaf Juice Powder*, Caffeine, Sodium Hyaluronate, Hydrolyzed Plukenetia Volubilis Seed, Camellia Sinensis (Camellia) Leaf Extract, Punica Granatum (Pomegranate) Extract, Helianthus Annuus (Sunflower) Seed Oil, Candelilla/ Jojoba/ Rice Bran Polyglyceryl-3 Esters, Cetearyl Alcohol, Glyceryl Stearate, Xanthan Gum, Cellulose Gum, Sodium Stearoyl Lactylate, Cetearyl Glucoside, Tocopherol, Sodium Benzoate. *Ingredients from Organic farming **Made using Organic Ingredients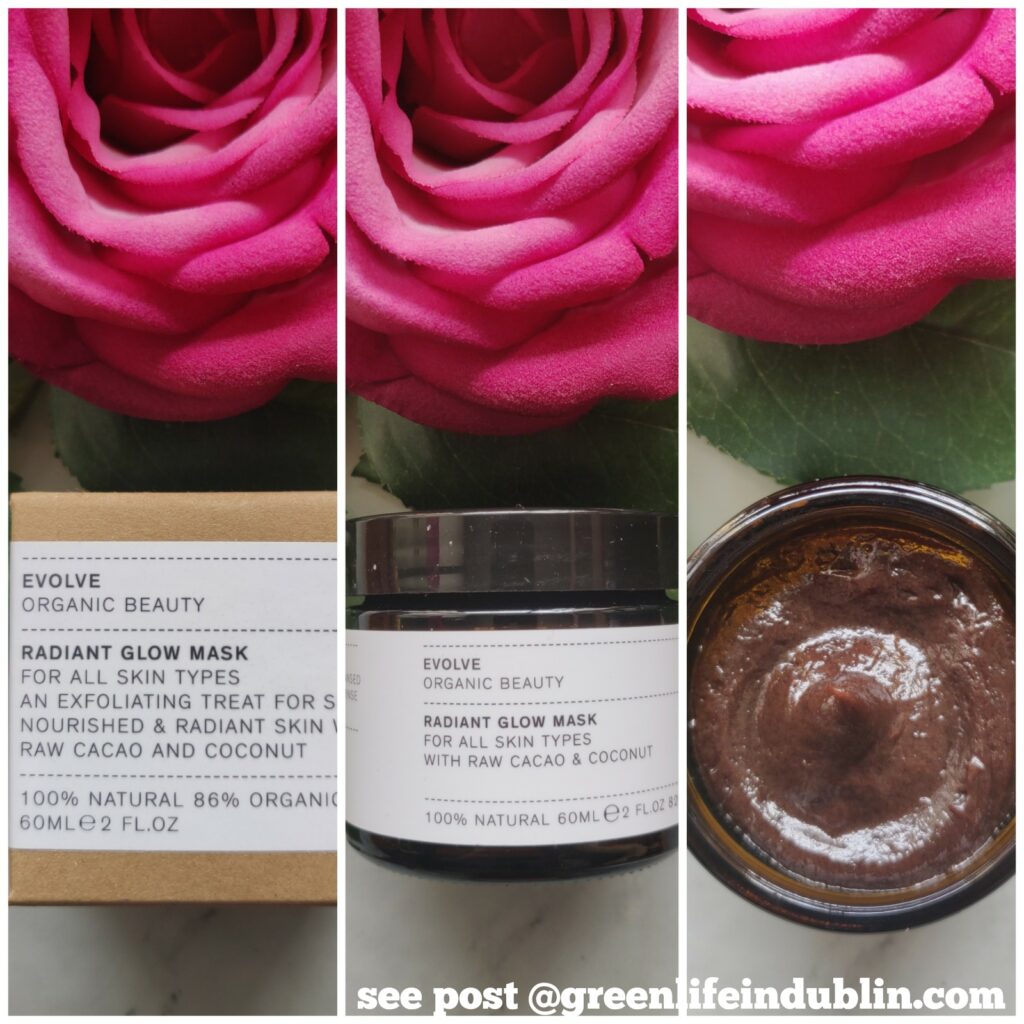 EVOLVE RAW CACAO & COCONUT RADIANT GLOW MASK
Please correct me if I am wrong, but I think this is Limited Edition for Easter, so get your hands on it while you can. Again, good first impressions, I loved it. The texture reminds me of jam like (for the lack of a better expression). As the directions suggest, I kept it on for five minutes at a times. It emulsifies into milky texture when it rinses, and it has some manual exfoliating action in a form of dried blueberry bits as well. I have used this mask a few times now and the skin is always brighter and smoother afterwards. So far, so good! Let's look into the official description?
A 100% natural mask, blended with raw cacao powder and clay that revitalises and purifies, whilst coconut particles buff the skin to silky perfection, leaving a radiant glow.
This rich mask blended with raw cacao powder and clay revitalises and purifies, whilst upcycled blueberry particles buff the skin to silky perfection. Natural sugar extracts turn the exfoliating mask into a creamy milk on contact with water, which rinses off easily and skin is left smooth, moisturised and calm. Fragranced with Organic Vanilla oil.
INGREDIENTS: Helianthus Annuus (Sunflower) Seed Oil*, Glycerin*, Vaccinium Corymbosum (Blueberry) Seed, Kaolin, Theobroma Cacao Seed Powder*, Prunus Amygdalus (Sweet Almond) Seed Oil*, Sucrose Laurate, Citrus Aurantium Dulcis (Orange) Flower Water*, Vanilla Planifolia (Vanilla) Fruit Extract*, Tocopherol, Sucrose Stearate, Sucrose Palmitate. *ingredients from organic farming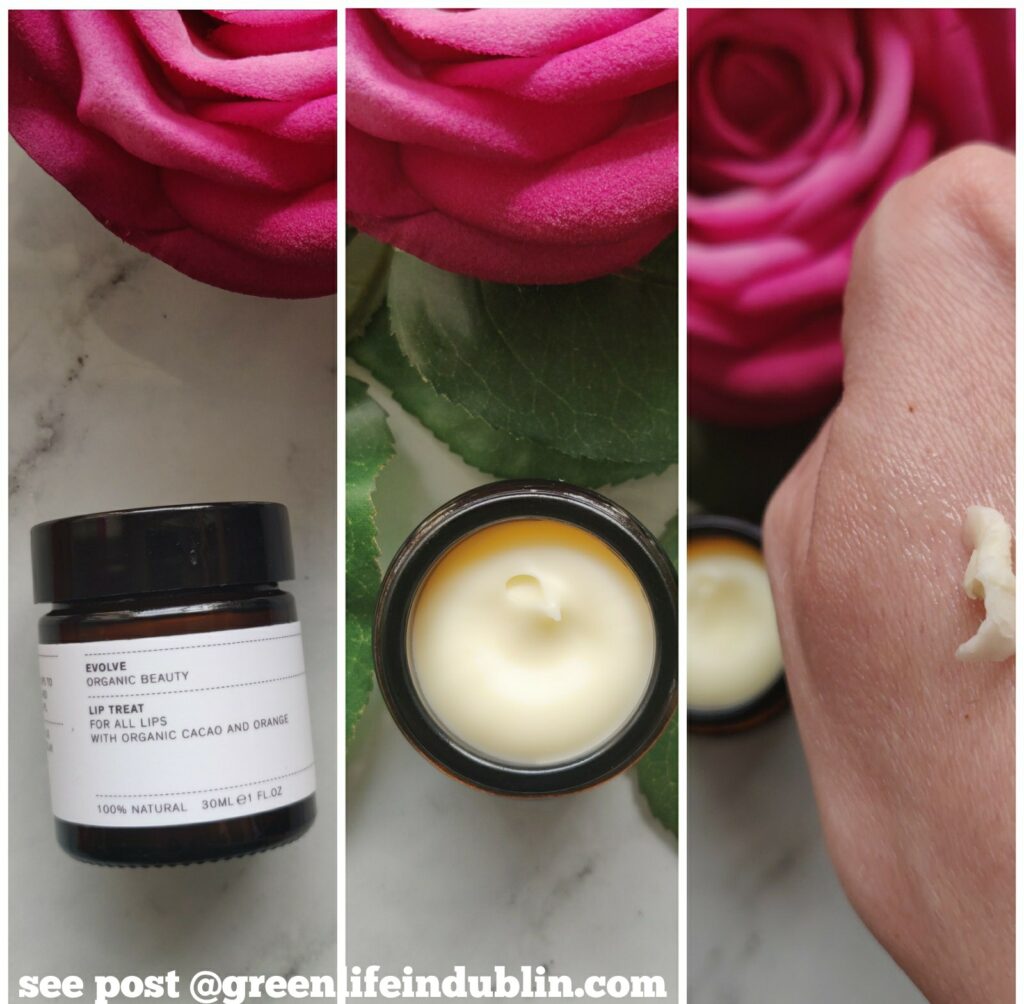 LIP TREAT – VEGAN LIP BALM
I was really excited to unwrap this, as I am a bit of a lip balm connoisseur (see this post). First impressions was of a huge size for a lip product – not a bad thing, as it means I am sorted for weeks and weeks for a lip product. The ingredients look good to me, so I am looking forward to diving it! The texture is yet again smooth – is this a signature Evolve thing? I think it could be, every product I have tried so far had that signature smoothness to it, well, apart from sprays of course. It will be interesting to see if it will make it into my top favourites when it comes to lip balms???
This completely vegan lip balm is blended with organic shea and cacao butter to nourish and replenish dry lips. Beautifully fragranced with organic essential oil of orange.
INGREDIENTS: Butyrospermum Parkii (Shea) Butter*, Helianthus Annuus (Sunflower) Seed Oil*, Theobroma Cacao Seed Butter*, Glycerin*, Prunus Amygdalus Dulcis (Sweet Almond) Oil*, Citrus Aurantium Dulcis (Orange) Peel Oil*, Citrus Aurantium Dulcis (Orange) Fruit Water*, Sucrose Laurate, Tocopherol, d-Limonene. *ingredients from organic farming
Brand overview – Evolve Organic Beauty – Green Life In Dublin
Now, Your turn 🙂 Have You tried any of the Evolve products? Which ones are Your favourites? Give me some time and I will go through them, mark my word on it, but I want to hear from You guys first, what products are Your faves and why.
GET IT FROM
ARNOTTS.IE
* Note after months and months of me posting this. Here is a brand review post if You want to know more? Almost all Evolve  products ended up as my Yearly Favourites, so be sure to look for those posts & YouTube videos too!
Brand overview – Evolve Organic Beauty – Green Life In Dublin
That's all for now. Please like and share this or any of my other posts on social media, it really helps to get the green beauty word out – and you will forever have my gratitude!
*This product was sent for my consideration, so therefore marked as AD, but the review is all of my doing & I am not paid to talk about it. Some of the links are affiliate links at no additional costs to you. I thank You in advance if You will use them xo
Lots of Love ?
Renata.

Related - see all the natural skincare reviews I have done to date here