Hi Lovelies,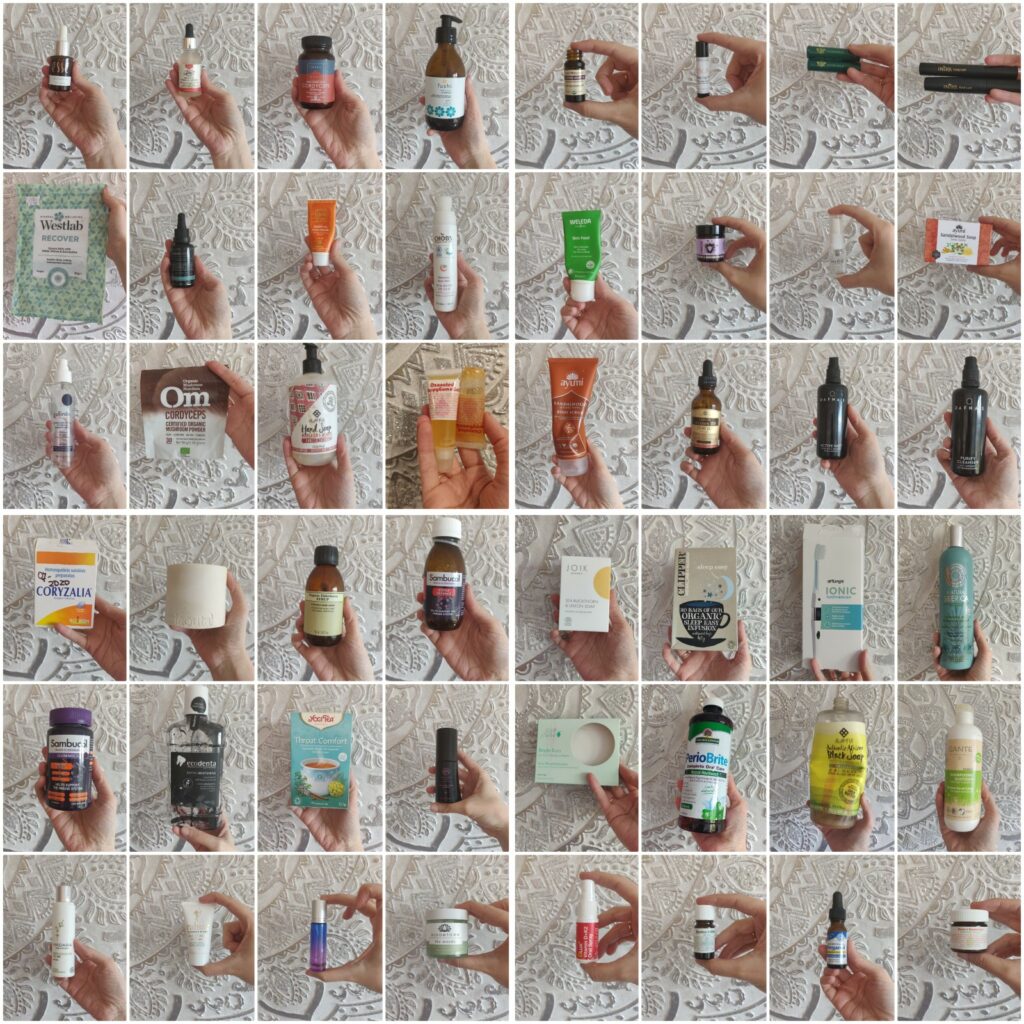 Empties. A necessary evil if you will – feels so good to be finishing products down to the very last drop, but such a drag to put these posts together.. The blogger in me wants to be onto the next best thing at all times, but it is also important to show people that the products I am reviewing are the same products I am using. I won't be linking the products or reviews, as that takes too much time I don't have anyways, so if any products take your fancy, please hit that search button in the top right corner of my blog and I am pretty sure some posts will come up. Shall we get into it?
FABULOUS GREEN BEAUTY/WELLNESS PRODUCTS I WILL REPURCHASE
Related - see my best product here
Bella Aura Instant Lifting Eye Contour + Daily Repair Moisturizer
Ayumi Sandalwood Body Scrub + soap + Hibiscus & Turmeric Shampoo
Inika Long Lash + Bold Lash Mascaras
ISUN Skincare Golden Lip Balm
Flying Wild Organic Beeswax Lip Balm with Honey & Rosemary
Yogi Throat Comfort Tea x 2
Westlab Recover Bath Salts with White Willow & Eucalyptus
Terra Nova Fresh Freeze Dried Cordyceps
Organic Mushroom Nutrition Cordyceps powder
NYR Organic Elderberry Syrup x 2
Sambucol Elderberry Liquid x 2
Sambucol Gummies x 2
Solgar Vitamin D Liquid 2500iu
Better You Vitamin D + K2 oral spray
Boiron Coryzalia Homeopathic cold/ flu remedy
Oreganol73 – my best natural health find! Natural antibiotic, no less
Boiron Coryzalia cold homeopathic remedy
Dr Thungs Ionic Toothbrush replacement head
DrHauschka Rose Day Cream
Soil Organic Orange essential oil
Ayumi Sensual Body Oil
Related - my Natural Medicine Cabinet 
GREAT NATURAL ITEMS I WON'T GET FOR NOW DUE TO THE SIZE OF MY STASH
Just FIY up front, nothing wrong with these products or formulas, it's just I've been Marie Kondo-ing my stash with an aim to have only one open product in any given category, bar make up.
Bloomtown The Woods sugar scrub
Esse Protect Oil
Pure Anada Smooth Priming Serum
Pure & Light Skincare Essential Face Cream mini
Fushi Scalp Soother Shampoo
Alaffia Vanilla Passion Hand Soap
Chobs Rosemary Goun Mist
Gallinee Scalp & Hair Serum
Inner Senses Deep Blue C Facial Oil
Lyonsleaf Calendula & Marshmallow Balm
Dafna's Personal Skincare Purify Cleanser
Ecodenta Whitening Charcoal mouthwash
Living Libations Neem Enamelizer – normally this would be in the Holy Grails category up there, the only reason it's here is because I own 1.5 tubs of it, so stocked well for a while, no? 🙂
Madara Deep Moisture Gel
Alteya Organics StJohn's Worth Essential Oil
Weleda Skin Food
Sarakan mouthwash
Periobrite mouthwash
Laboratoire Haut Du Segala Monoi body butter
Omorovicza Queen Of Hungary Mist – beautiful but too pricy for me to repurchase at the moment, the virus had my family at very difficult financial situation, let's just leave it at that.
GREEN BEAUTY ITEMS I A NOT REPURCHASING 'COS THEY WEREN'T SUITABLE FOR MY NEEDS/ DIDN'T WORK FOR ME/ other reasons
Laouta Rasberry candle -didn't work for me for several reasons, the ceramic vessel was oil stained when it came in, so it is not gift worthy. Secondly, the candles contain fragrance oils – after admitting to that, the brand wouldn't go into any more details via email. Also, it burned not evenly & it is too pricy for me to repurchase.
Karuna Face & Hand masks (not pictured) – both were sent to me as an add on to my order from Beauty Wise shop, which seems to be ceased? However, the face mask sadly irritated my skin & while the hand mask was lovely, the plastic waste that comes with it seems very excessive, so for that reason alone I won't be repurchasing it.
Random but not really:
CHECK OUT MY YOUTUBE CHANNEL
SEE MY FAVOURITE PRODUCTS
& MY LAST BLOG WITH 400+ POSTS
I had a video pre-recorded for my March empties in the hopes of putting it on my Youtube channel, but in the situation we are in, I felt the last thing we need is me, chirpily talking about my trash – so I deleted it. I seem to be taking two steps back after taking one step forward about the whole Youtube thing. Oh well, maybe sometime soon. I do not know how all of you with kids are finding this lockdown thing, but I am run down big time.
That's it for today, thanks for reading! Have a great day & I will see you here next Tuesday, my posting day 🙂
Lots of Love,
Renata.