Hi Lovelies,
Welcome back! And welcome if You are new here ???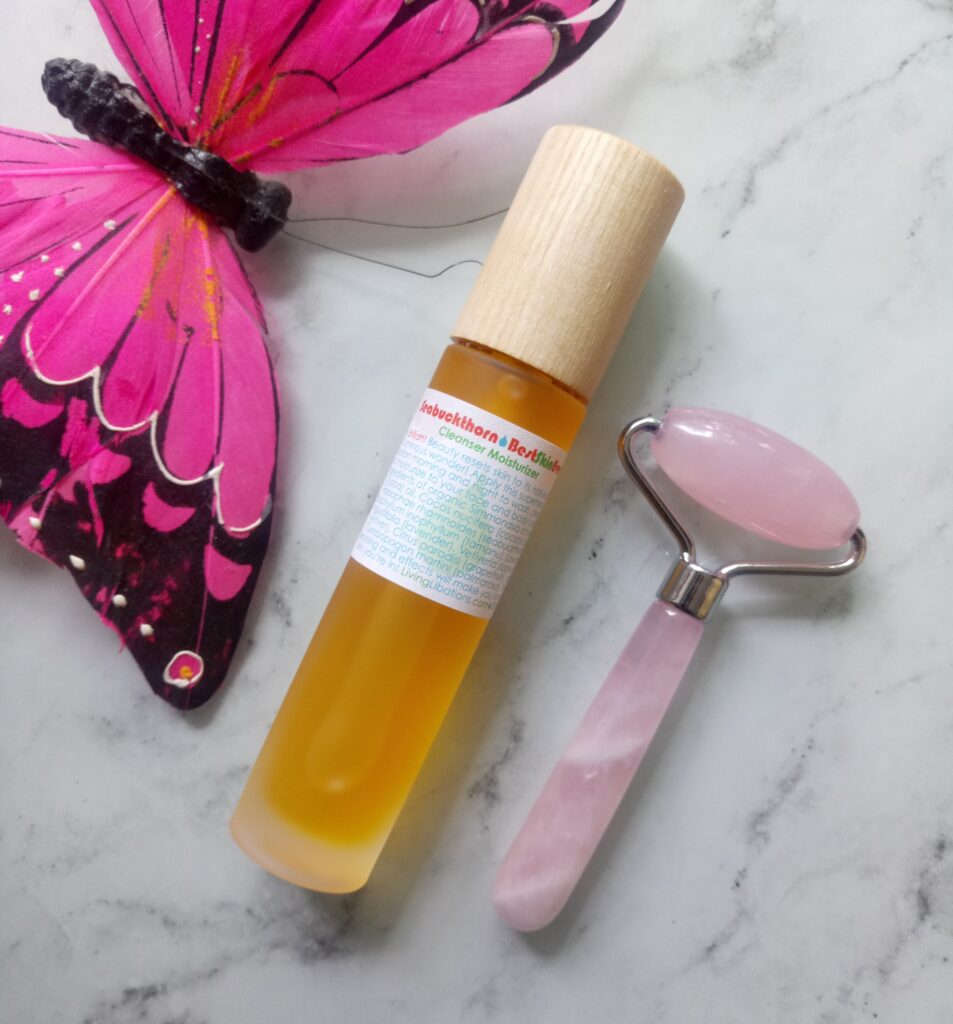 Hope life is treating You well, as much as possible? You guys know Living Libations & Dutch Health Store have my heart (check this FB album for 20+ reviews & posts if you don't). I defy you to read any of their products ingredients list and Not To Fall In Love with it! Nadine is a true visionary and committed to provide the most natural products & essential oils there is. Everything is as organic as possible, wildcrafted, raw as much as it is possible, reef safe, beyond fair trade, gluten free, GMO free, food grade, synthetic free and animal friendly – if that does not make your heart sing, I don't know what will!
Today I will be reviewing one of their Best Skin Ever oils, pretty much what Living Libations is famous for. Well, if Goop sells it and Caroline Hirons has a separate review on it, you can pretty much assume it has made it!
I am on my second bottle of this stuff, so You can assume I tested it throughout. If you want my review in a nutshell, I love it! Let me explain – with my dermatitis prone and very very sensitive skin, the product has to be exceptionally good for me to like it. And even make a separate review for it – not sponsored, I swear. Living Libations use exceptional quality of ingredients for their products and this is no exception. Let's see?
Organic Ingredients:-
Seabuckthorn Berry - Hippophae rhamnoides
Jojoba Oil - Simmondsia chinensis
Virgin Coconut Oil - Cocos nucifera
Tamanu - Calophyllum inophyllum
Lavender - Lavandula angustifolia
Vetiver - Vetiveria zizanioides
Grapefruit - Citrus paradisi
Palmarosa - Cymbopogon martini
Seabuckthorn Berry – Hippophae rhamnoides
Seabuckthorn sends its lipids deep into the skin, diminishing imbalances from the inside out. This supercritical extract is packed with omega fatty acids 3, 6, 7, and 9, antioxidants, vitamin, palmitoleic acids, carotenoids, and phytosterols. A single drop of seabuckthorn oil contains 190 different bioactive compounds. This bright orange essence is incredibly regenerative and complexion clearing – relaxing redness and paring puffiness. Seabuckthorn is an excellent addition to cleansers for acne. It helps to harmonize skin with sun.
Jojoba Oil – Simmondsia chinensis
Glorious, Golden Jojoba nourishes and conditions thirsty skin. Jojoba has unparalleled ability to moisturize the skin, balance oil production, deep clean pores, and create long-lasting conditioning effects that soften skin to perfect silk. It is packed with peptides and lipids, and contains the highest levels of phenolic compounds found in nature, not to mention tocopherols, antioxidants, and all soluble forms of vitamin E!
Virgin Coconut Oil – Cocos nucifera
Our pure, pristine virgin Coconut oil satiates skin, offering magnificent moisture and resilience. Coconut oil smoothes the appearance of fine lines and wrinkles, and protects the skin's moisture barrier.
Tamanu – Calophyllum inophyllum
Enchanting Tamanu is a replenishing berry oil that is easily absorbed deep into the skin to keep moisture in and shelter the skin from dryness. Tamanu is said to even skin tone and reduce the appearance of scars. Even for a fatty oil, it has a high (92%!) lipid content.
Lavender – Lavandula angustifolia
Lovely Lavender is a gentle-yet-powerful skin tonic that is restorative and calming. It relaxes redness and cools heat. Lavender can be used to improve the appearance of scars, even out skin tone, soothe acne, and balance the skin's sebum levels.
Vetiver – Vetiveria zizanioides
Rich, earthy Vetiver oil is grounding and calming for the skin, anointing the skin as the rain anoints the grass. Vetiver is a known moisturizer that helps skin maintain its pleasant plumpness while soothing tired tissues and balancing sebum production.
Grapefruit – Citrus paradisi
Toning, tightening Grapefruit refreshes the skin while toning the appearance skin texture.
Palmarosa – Cymbopogon martini
Pleasant Palmarosa is distilled from a tropical, fragrant grass resulting in an aromatic oil that smells like a lemony-geranium-rose and is simply splendid for the nose! This formidable skin rejuvenator is rich in mighty monoterpenols, emollient esters, loving linalool, and generous geraniols. It is packed with beneficial botanical compounds. This potent oil tones and rejuvenates the skin. It is used to support radiant skin and to achieve balance between oiliness and dryness.
Now, aren't you mesmerised by the description of all the ingredients? I know I am! Add this to almost poetic descriptions of their products on the website and I am like a heart eyed emoji every single time.
This product has many uses, the brand recommends to use it as a wash, a squirt or two on a wet washcloth & then use the same product as a facial moisturiser. Personally for me this wouldn't work, I am adding second wash. I use it as facial moisturiser, but not every day. You see, dermatitis hates oils, as much as I hate to admit that, but it is true. Prior to getting this "gift" about four years ago, facial oils were all I happily used. I did not want to admit it to myself and persevered with facial oils for a year or so, but seeing my skin not improving at all, I had to give them up. I am still in this dance with dermatitis, so I have to watch how my skin is feeling/ looking. If it happens to be rough and parched, I apply this on top of my usual skincare, but that does not happen every day. I mainly use it as a first wash, to take all the dirt, grime and sunscreen off, as well as make up – it does a pretty good job at melting it all off. With this type of cleansing oil You need a washcloth or reusable cotton rounds (I use these), because it does not emulsify with water. You can use it as a body oil or universal oil too. I use it for everything, from hair to cuticles and I am so happy with it. For those of You sensitive to coconut oil, I have to say that pretty much all Best Skin Evers have coconut oil in them in varying proportions, so You would be better off getting smallest size or even a sample to try it first. Luckily both the brand and Dutch Health Store, the authorised EU reseller with largest Living Libations selection it EU, both carry multiple sizes of it. Now available in Live In The Light too. Also in Dutch Health Store – if You are in the EU, this is probably Your best bet?
That's it for now, thanks for reading! What about you, have your tried this amazingness? What are your thoughts on it?
Random but not really:
Sending Love & Light,
Renata.