Hello Lovelies,
Welcome back! And welcome of you are new here xoxo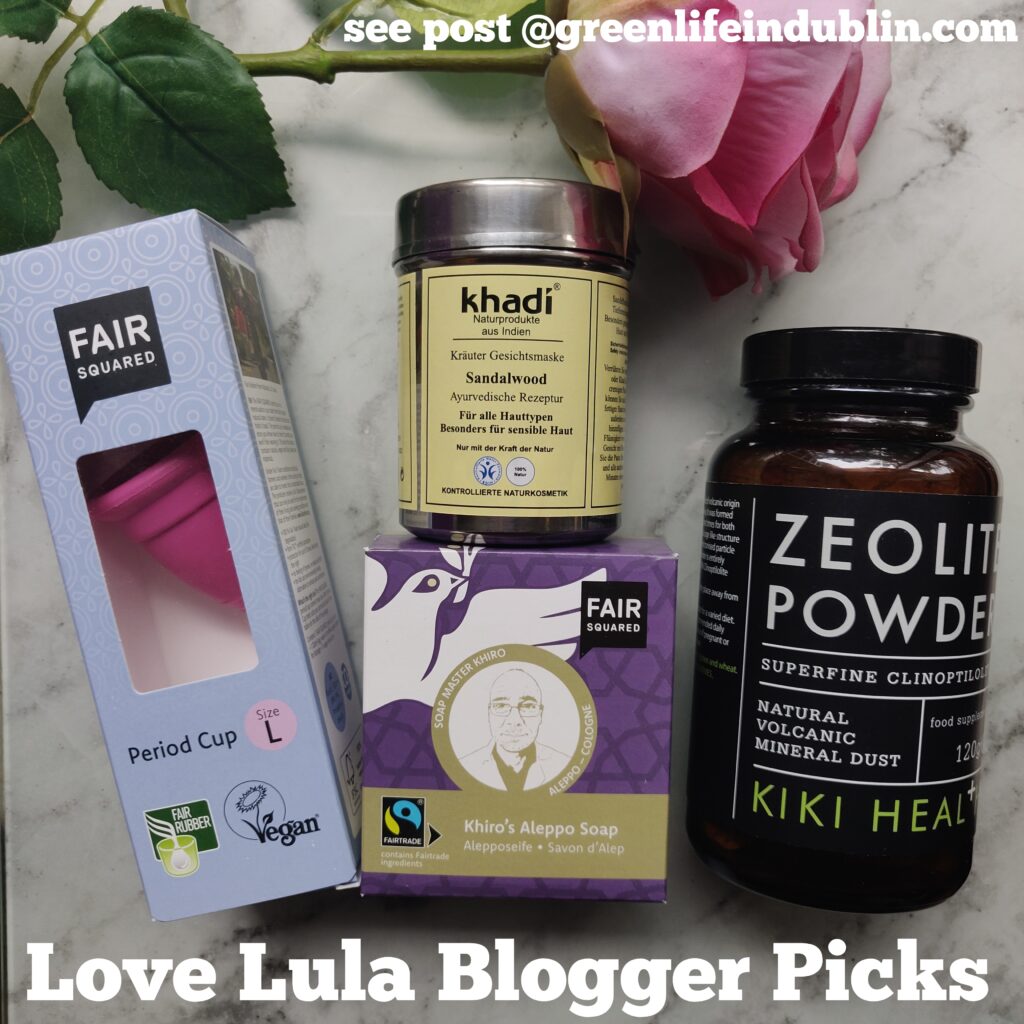 Reason #23589 I 💕 Love Lula* – You can get so many different things from it – from natural & organic cosmetics to zero waste body/ hair care to sustainable every day use items (bamboo straws, toothbrushes, cotton washcloths anyone?) to your healthier period products. Yes really! See this FB album for 100 Love Lula related posts 🙂
*Love Lula is no more. Sob!
Although there are so many things I am repurchasing over and over at Love Lula (see this post), for this month I chose everything that's new to me. Kiki Health is the only brand I am familiar with, I always have one or the other form of their supplements and the magnesium oil is a non negotiable for me – calming mineral that takes care of my insomnia/ restless legs syndrome and my anxiety to some extend. Truly a life changing product for me – and the one I wholeheartedly recommend to anyone I meet 🙂 This post isn't about it, but rather about Zeolites powder.
KIKI HEALTH ZEOLITES POWDER – 120G FOR 12£
It is a mineral that naturally occurs from volcanic origin from the South Aegean volcanic arc region of Turkey — formed millions of years ago when violent volcanos erupted and emitted large amounts of volcanic ash from alkaline earth. Some of the ash settled to form thick ash beds, but most of the time the ash fell into the sea and lakes. If the chemistry of the lake is in the right range, a chemical reaction of volcanic dust (ash) and water will result in the formation of natural zeolite, soft rocks with an ordered internal structure. Zeolite is a mineral with a cage-like structure which can trap molecules within it due to it's excellent micronised particle size (less than 25 microns). One of my dear blogger friends raves about detoxing power of zeolites, but she is another brand that costs ten times & is in nano format; I thought of starting with this. As I said, I trust Kiki Health as a brand, so I think I am in a safe hands.
This is how you are supposed to use it: Internally Stir 1 heaped teaspoon in a glass of water before or after food twice a day. Externally Zeolite works well synergistically when mixed with Organic Coconut Oil for use as face and body mask. Can also be mixed with water. After ingestion of medication, a space of at least two hours should be observed.
INGREDIENTS: Clinoptilolite Zeolite
Khadi Ayurvedic Face Mask – Sandalwood 50g – £13.99
Anything sandalwood has my immediate attention & this was no exception.  This mask is in powder form, which I like. No water in the ingredients list means no preservatives & if you mix only what you need for that time, so I am thinking it should last a really long time. No need to check it into liquids bag in the case You are traveling either. Khadi is a brand I want to explore further, the body & face & hair oils sound beautiful, other products too. Khadi face masks are suitable for all skin types and only contain natural active ingredients. They are 100% natural and vegan and have been formulated without surfactants, emulsifiers or other synthetic ingredients. A mild face mask ideally suited to sensitive skin types helping to relieve irritation and prevent inflammation. It has a hydrating and firming effect to reduce small imperfections and smooth wrinkles. Sandalwood replenishes dry and sensitive skin, smoothes and soothes skin. Also reduces pigment spots. What's not to like, right? I am excited!
INGREDIENTS: Solum Fullonum, Santalum Album, Zincum Oxydatum, Ocimum Sanctum, Azadirachta Indica, Berberis Aristata, Symplocos Racemosa, Psoralea Corylifolia, Santalum Album Oil (Sandalwood Oil).
FAIR SQUARED – ZERO WASTE – Khiro's Aleppo Soap – 160g FOR 9.95£
A new brand to me, check them out if You are after zero waste products – they have lots to choose from! I was excited to finally see Aleppo soap on offer, this type of soaps is one of the most natural ones, using only natural ingredients and traditional techniques in practice for centuries and centuries. The description on how to use it cracked me up, it says "Use as needed" 🙂 Well, ok then, I will and I will report back!
INGREDIENTS: Olea Europaea Fruit Oil (Olive Oil*), Aqua, Sodium Hydroxide, Laurus Nobilis fruit oil
Fair Squared Period Cup Pink – £17.95
The new FAIR SQUARED Pink Period Cup is a soft menstrual cup. Unlike menstrual cups made from silicone or plastic the FAIR SQUARED Period Cup is an environmentally friendly sanitary hygiene product made from 100% FSC® certified fair trade natural latex from Sri Lanka. Like most period cups it is not designed to absorb menstrual blood, it is designed to collect it, and it can be used throughout the menstrual cycle no matter whether the menstrual flow is light or heavy. Using a period cup can give you longer protection than pads or tampons because the cup can retain more than three times the amount of menstrual blood than a regular tampon. The FAIR SQUARED Period Cup is reusable and can easily be cleaned with water and once you know how to correctly insert it you won't even feel it! Natural rubber (latex) used in the FAIR SQUARED Period Cup is a renewable raw material with great material properties, from which condoms, balloons, pacifiers and gloves are made. The Period Cup is made from fair trade natural rubber from the Horana plantation in Sri Lanka. Fair Squared is a member of the Fair Rubber Association, which means that we pay a Fair Trade premium to help improve the living and working conditions of the plantation workers and their families.
INGREDIENTS: 100% FSC certified natural latex
Did I mention that is it a vegan product?
So that's my haul for this time ladies and gentlemen, let's have a look at the products from last month and my more-in-depth thoughts on them?
ERE PEREZ OAT MILK FOUNDATION IN CHAI
Picked as possible replacement for my beloved-but-running-out-fast W3ll People Biotint SPF30, which is marketed as a tinted moisturiser with SPF, but it's really more coverage than most of the green beauty foundations I have tried to date. As you might know, the brand has sold out (boo) and not being available in the EU, was hard to get. Well, this Oat Milk foundation seems to be universally loved by every green beauty blogger and enthusiast on the planet – but so far I am not liking it. The shade I have been recommended by the brand is far too yellow in undertone. This I would have overlooked, but it also does not cover the areas of redness I want to cover and does not last. If I do not powder, the coverage is gone in a few hours, and I can't even blame the heat of the summer – we are having 11*C – 18*C summer days on average.
Medium to full coverage foundations recommendations are more than welcome 🙂
ERE PEREZ CARROT POT MULTIPLE IN HEALTHY
I am forever mixed up between Harmony and Healthy, I cannot remember which one is which 🙂 I have had Harmony before, now got this to compare the colours and add them to my Green Beauty Swatch Gallery (here). I also included these multiples in Plastic Free Natural Make Up post, which You can see here in the case if you want to go plastic free route when it comes to your (natural) make up too. This I love, the formula is nicely pigmented and stays on the cheeks for full day too. A winner.
Random but not really:
That's it for today, see You here next Tuesday, but check me out on my Youtube channel this Friday, I will be posting supplements haul/ stash with a few fellow (fabulous) Natural Beauty Sisters 🙂
Sending Love & Light,
Renata.