Hello Lovelies,
Welcome back! And welcome if You are new here xoxo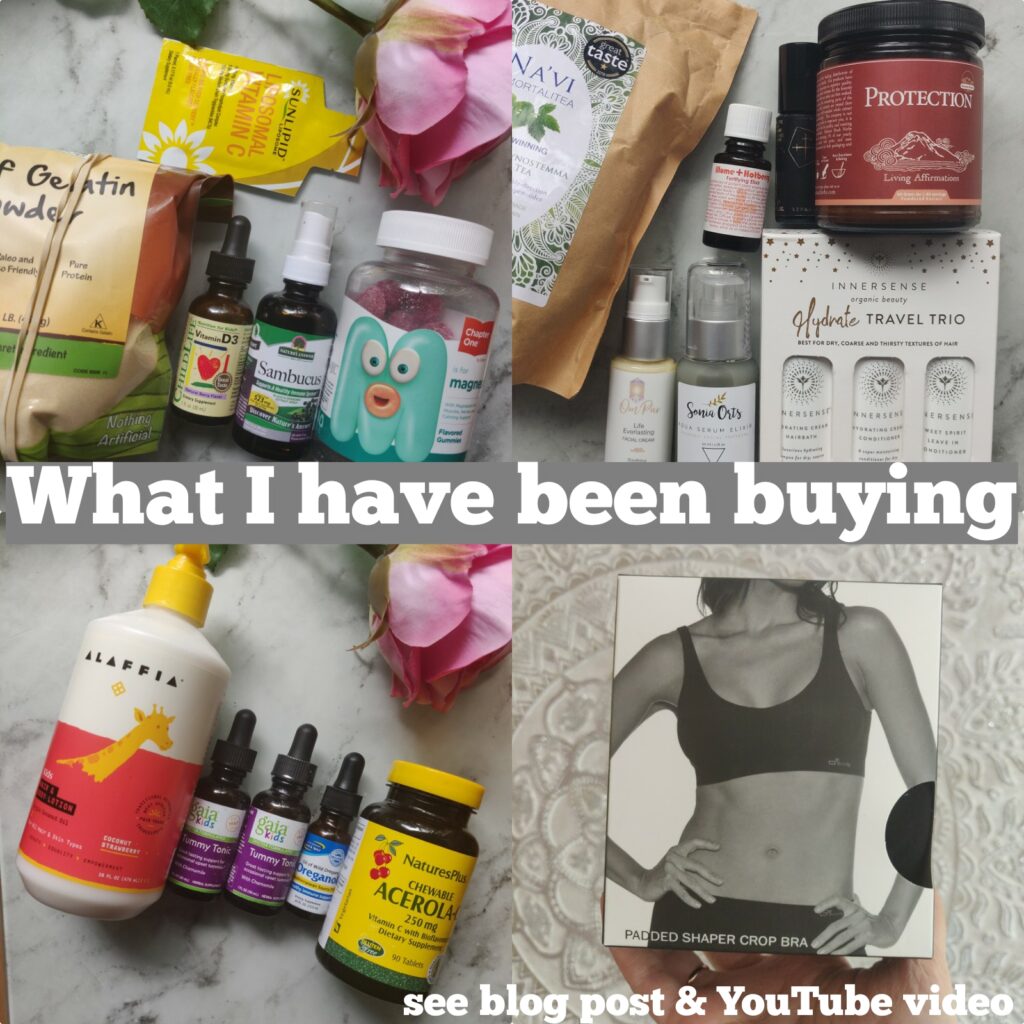 I hope You are well! Today I am showing what I have been buying lately. While I accept selected PR products, I also buy a lot of it myself, because I make a point to support indie brands and green beauty shops – we vote with our money after all. This post is exactly that, I wanted to show You what I have been buying with my own hard earned moolah. Do You want to see it? You are in the right place 🙂
Love Lula
Alteya Organics Certified Organic Rose Centifolia Water
My Natural & Organic Fall Skincare Routine – Evolve Organic Beauty, Living Libations, Alteya Organics, Khadi & More
 iHerb – use code CDI1500 to save $ if it's Your first order
Orders 3 & 2
More iHerb orders – OreganolP73, Gaia Herbs, Alaffia, Nature's Answer & More
Chapter One, M Is for Magnesium, Flavored Gummies, 60 Gummies Alaffia
Strawberry & Coconut Body & Hair Lotion
California Gold Nutrition, Freeze-Dried Strawberry, Ready to Eat Whole Freeze-Dried Slices, 1 oz (28 g)
Nature's Plus, Acerola-C, Chewable, 250 mg, 90 Tablets
Now Foods, Real Food, Beef Gelatin Powder, 1 lb (454 g)
North American Herb & Spice, Oreganol P-73, .45 fl oz (13.5 ml)
Gaia Herbs, Kids, Tummy Tonic with Chamomile, 1 fl oz (30 ml)
ChildLife, Vitamin D3, Natural Berry Flavor, 1 fl oz (30 ml)
Nature's Answer, Sambucus, Black Elderberry Extract Spray, Alcohol-Free, 2 fl oz (60 ml)
SunLipid, Liposomal Vitamin C, Naturally Flavored, 30 Packets, 0.17 oz (5.0 ml) Each .
 iHerb order 1 (related post)
My First iHerb Order – Natural Health & Homeopathic Remedies
Boiron, Oscillococcinum, Flu-Like Symptoms, 30 Doses, 0.04 oz Each
NatraBio, Children's Cold & Flu Relief, 1 fl oz (30 ml)
North American Herb & Spice, Oreganol P-73, .45 fl oz (13.5 ml)
NatraBio, Children's Cold & Flu, Nighttime, 1 fl oz (30 ml)
NatraBio, BioAllers, Allergy Treatment, Mold, Yeast & Dust, 1 fl oz (30 ml)
Hyland's, 4 Kids, Sniffles 'n Sneezes, Ages 2-12, 125 Quick-Dissolving Tablets .
Na'vi Organics Premium Quality Jiaogulan Gynostemma Loose Tea
Tonic Gold – Herbal Coffee – Immune Boosting Antioxidant Elixir
Shaman Shack Herbs Protection
Leahlani Skincare Mahana Perfume Oil
Innersense Organic Beauty Hydrate Travel Trio
Sacred Trinity Anointment Serum / Soul, Spirit + Face Lift (forgot to mention, review to come soon!)
See 20+ #DutchHealthStorereviews & posts: https://lnkd.in/dvA72Pu .
Boody – organic bamboo wear
Boody vest top & bra
Boody Organic Bamboo Activewear Review [Green Life In Dublin] – AD
Naturisimo
Vegan Discovery Box (discontinued)
Scentered Escape Therapy Balm .
(one more haul of the way)
And now for the part that upsets me – because I am pretty sure the package is lost in the mail… I mean I ordered the following stuff on 19th of November last year and now that I am writing this on 4th January 2021 it is still not with me. Only a miracle can save it now. If you are following me for some time, You know how much I love the brand and their mineral make up & also body care. So just before my birthday I decided to treat myself to a bunch of stuff for a gift to myself and also bring more good content for You guys.  As my play budget is so small that it is practically non existent, it was practically my yearly blow out – so to have it missing, it is no wonder I am upset. I contacted the brand twice now and both times they said the same thing – I should wait some more because of the Covid & Christmas postal delays, without offering any solutions if it is lost in the post indeed. Because I had to pay extra for postage (on top of 10eu postage I'd paid at the time of ordering), I automatically assumed it would be registered postage, but it turned out not to be *sob*. I have had good customer experience and quick posting up to this time. What happens next, only God knows.
A miracle happened after all – a day after I posted, I got my package!
This is what I ordered:
Smooth Priming Serum
Moisturizer
Pressed Foundation – and a couple of liquid foundation samples too
Blush
Lip Gloss
Mascara
3 Eyeshadows
Vegan Brush Set
Personal Magnetic Compact
Any questions or review requests on specific products, do let me know. Thanks for reading, I really appreciate that 🙂
Sending Love & Light
Renata.