Hi Lovelies,
Welcome back! And welcome if You are new here xoxo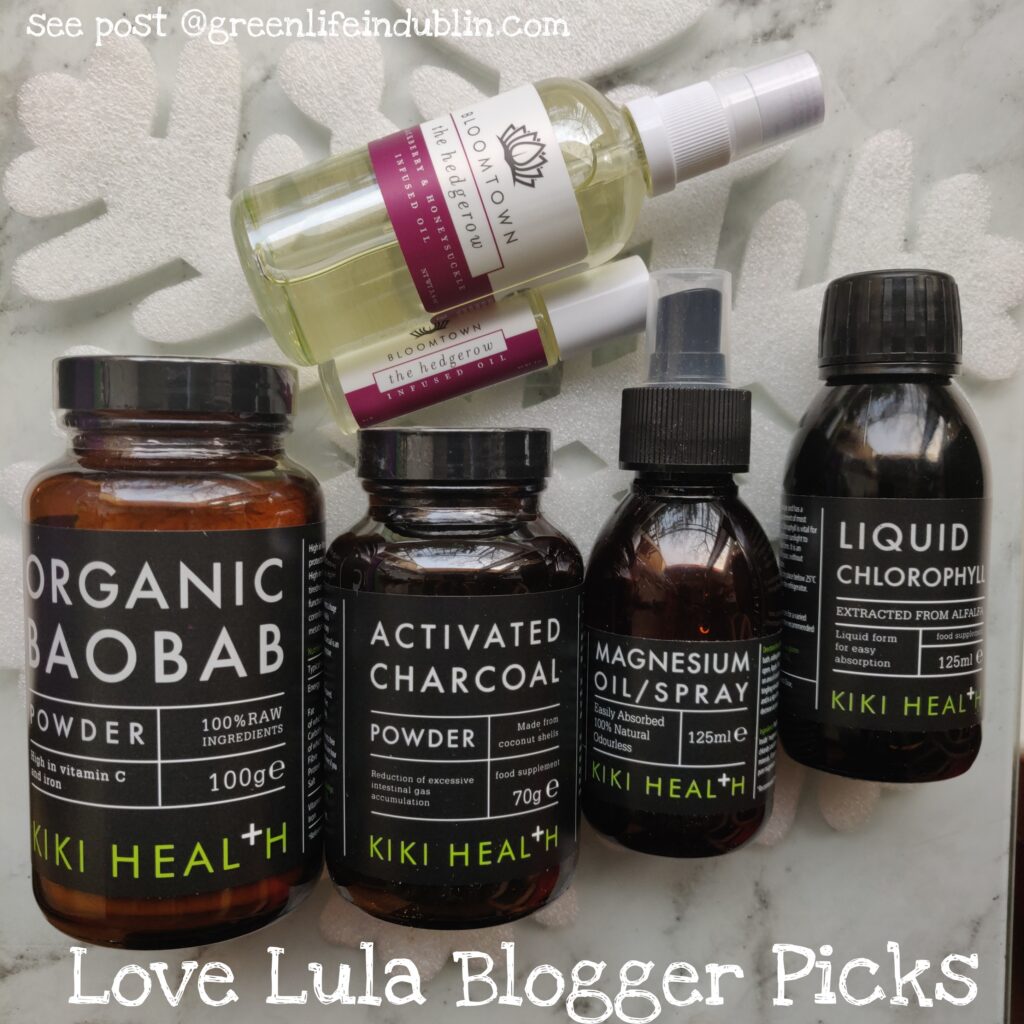 Happy and healthy 2021! If you fancy some blog reading, I would love to tell You what I chose for blogger picks last month, plus what came in the Beauty Box. Let's get started?
*sadly Love Lula is no more. Sob!
I love Love Lula & normally have a very hard time narrowing down my choices, but last month was a no brainer. I have decided to prioritize health over vanity – but added some fun stuff too. Let's get into the details, shall we?
Luckily I already know and love the brands I chose products from. Kiki Health is one of the very few supplement/ superfoods companies I trust. With so many of them on the market, I feel it is important to do the homework researching the company to see how they source & formulate their products. I have used their products for years, but never reviewed them properly – let me know if You want to see that and I will be able to put that together for you. I pick and choose what I feel I need at a time, but some things like their magnesium oil and organic baobab powder are non negotiables for me. Fun fact : did you know that baobab fruit is the only fruit in the world to dry up naturally while still up on the tree? Want to know more nutritional facts about it? This powdery fruit provides up to six times more vitamin C than oranges, more antioxidants than blueberries, more potassium than that in bananas and twice the amount of calcium you get from downing a glass of milk. This tasty and nutritious powder has a delightful citrusy and tangy flavour while it is also a powerhouse of minerals including iron and magnesium. It also has a high fiber content, and as if that wasn't enough, it's rich in prebiotic complexes that will leave your gut healthy and your body free of harmful bacteria. Vitamin C, plus calcium plus prebiotics to keep your gut healthy? Do you see now why I take it? Magnesium on the other hand, is part of my magical formula for insomnia – I have real difficulty falling and staying asleep at night. I struggled so much until I discovered that topical magnesium oil coupled with optimal levels vitamin D daily took care of that problem like nothing else. I sometimes forget to use one or another and my body lets me know – by not sleeping! By the way, optimal levels for vitamins & supplements are VERY different from recommended daily allowance – do your research on that and come back to thank me later! Anyways, moving on. I also got some activated charcoal, which is good to have for any potential tummy problems and especially needed in the case I accidentally gluten myself.  Chlorophyll  also came in handy after festive indulgences – I am not the one to detox, but I am in favour to help the body to lean towards alkalinity. Very happy with my haul, I have much more than that – and as I said, please let me know if You want me to review the brand properly. Here's a post (and a Youtube video) on what other supplements I take if You want to know more.
Natural Vitamins & Supplements I take – YouTube Collaboration
Because all of Kiki Health products were on sale at the time, I was able to add Bloomtown The Hedgerow Infused Oil, which is roll on. I use it as a perfume and it also helps with moments of anxiety too. Double working beauty, that's what I like! And just because I was already making an order, I added their Dry Body Oil in the same scent – because it is something I cannot live without it anymore. Oh, how I wish blogs and social media would have scratch-and-sniff feature so I could share this amazingness with You! (I have to tell You that their scents are strong, so if You are someone with allergies/sensitivities, skip or proceed with caution).
---
`Love Lula Beauty Box December 2020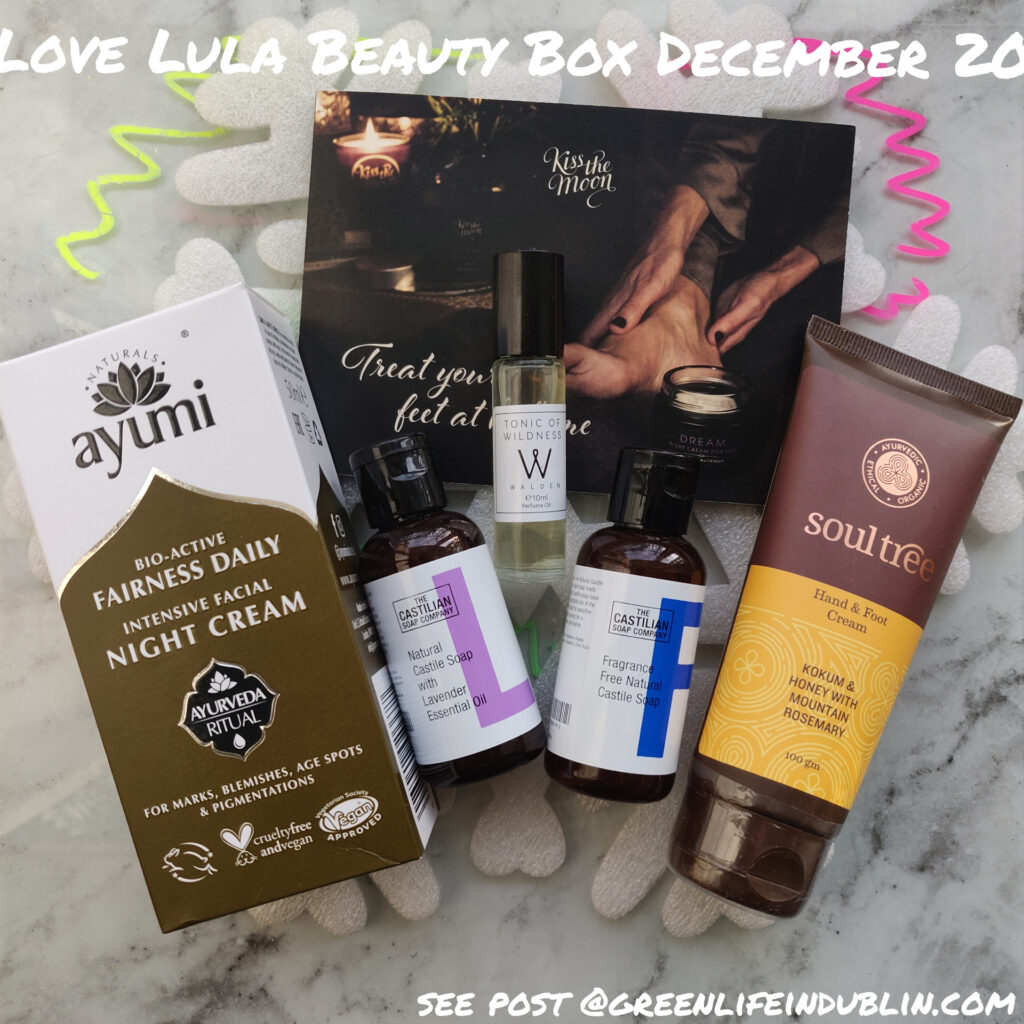 Love Lula box always hits the nail on the head of providing customers with good value and almost always full sized products! The last box of the year did not disappoint, although I was *too afraid* to use Ayumi night cream on my uber sensitive skin and gifted it to my boss. Love Ayumi for body and hair care though, it was one of the best discoveries the year before! See review a bit below. It was a full sized product, this night cream.
I was also very pleasantly surprised to see a new scent from Walden – this is one of my top 3 natural perfume brands, so I always am happy to see anything Walden in my boxes! It was second full sized product, 10ml roll on, but it is available in other scents too. Let me let you in onto one little secret if You are outside of UK and wish to purchase the perfumes – You can do that with DHL shipping option. I didn't know that myself for the longest time, but now that I know, I will happily repurchase A Different Drummer, which is my favourite scent from them all, forever.
Another full sized product in this box came from Soul Tree brand – a hand cream is always welcome by me, especially in winter, so than You Love Lula. Not sure if this will make it into my Top Favourites just yet, but I love the rich consistency and nourishment it gives for the hands. Last but not least we have two travel sized castille soaps by The Castilian Soap Company – it is also very appreciated by me, I will take them to work, where are no natural options available. The value of this box is 50£, but let me tell You, more often than not it is so much more than that – I have seen value for up to £114 if my memory serves me correct. So if You are thinking of getting the box, I say go for it – it is like Christmas coming early each month 🙂
See You here next time. I will be taking some time off in January, but I will also be working on posting my 2020 best products, to be posted here and on my YouTube channel, so check back often. Can't wait, won't wait? Check them pretty much listed here – although it needs to be updated x
CHECK IT OUT AT LOVE LULA
Sending LOVE & LIGHT!
Renata.

*not sponsored, no affiliate links, almost all PR products featured. Thanks for reading the small print.