Welcome back! And if you are new here, welcome xoxo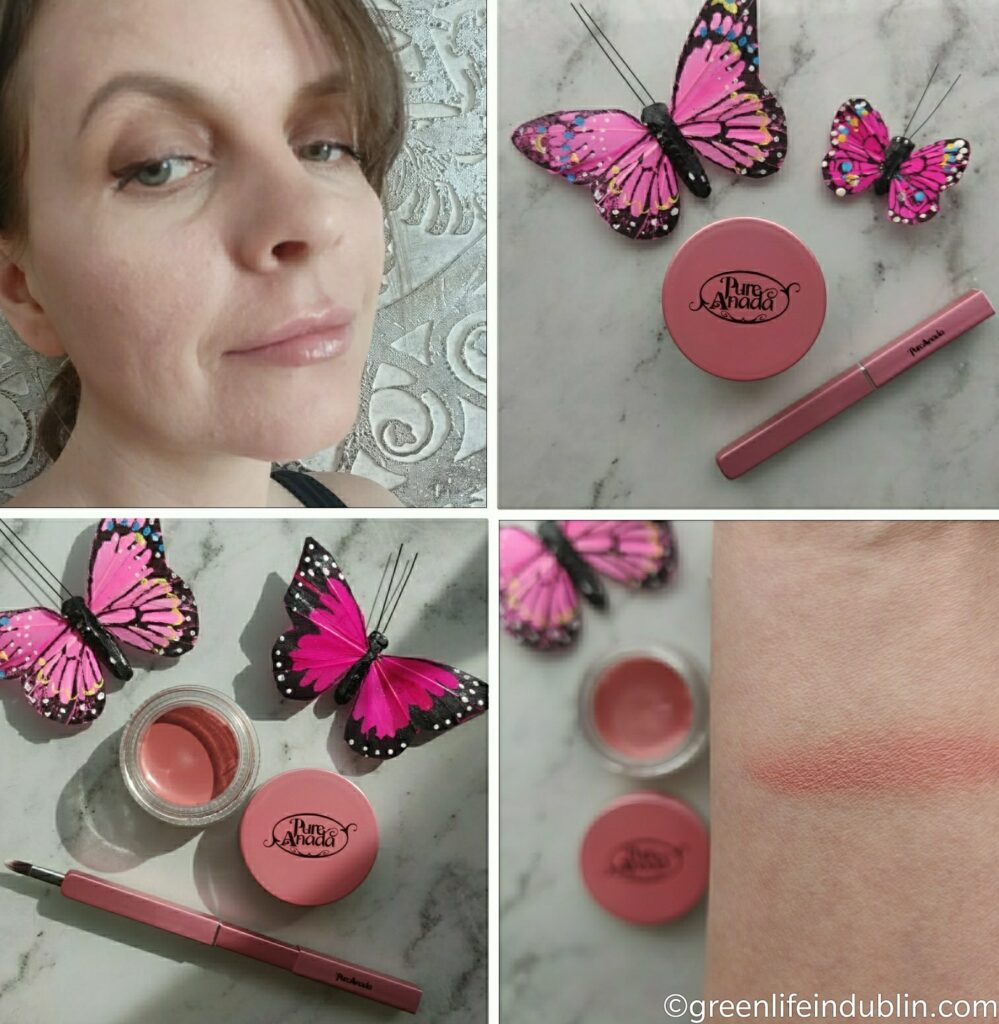 How are all of you? I hope You are well?
Sunshine and improving weather had me all interested in make up again, so here I am putting together this simple and yet pretty natural make up look for you. Special shoutout to Live In The Light (Code GREENLIFEINDUBLIN15 saves You 15%) who  exclusively carries Pure Anada products and has sent me new lip & cheek rouge by Pure Anada to try. I chose a shade Isabella* and I am absolutely in love with it, can't put it down ever since discovering it.
If you follow me for quite some time, you will know that I have so much love for Pure Anada, I have used their make up for years and they are always featured in my Yearly Favourites. Pure Anada products are really pure with no fillers, minimal beautiful ingredients, and they do work beautifully, so if you want a nutshell of a review, here it is – I am in love with the products and I will be back. And I need to purchase multiple backups of their mineral foundation as I never want to be without it! They do samples for only about a dollar of nearly all the products, and they are really generous samples, they will give you about two weeks of use I would say? And in that time you will definitely be able to make up your mind if the product is for you or not. My first order was full of samples, and I came back for full sizes for nearly everything, and I think you won't regret it too. They say if you are ordering only samples, you can use the code "samples" to bring your shipping cost to only 2$ – so see if it works for you. It didn't for me, but I am an international customer, plus the shipping is very affordable at round 7€ (that's 10 Canadian dollars for you), so I didn't mind too much.
I am not sure if all of their products are vegan, but they clearly state it in the description if they are. The company also does skincare and body care, as well as nail polish and adorable sets for little princesses.
I also wrote about Live In The Light online store too, all will be listed at the end of this post for those of you interested. For now, shall we start talking about the make up? I thought you will never ask!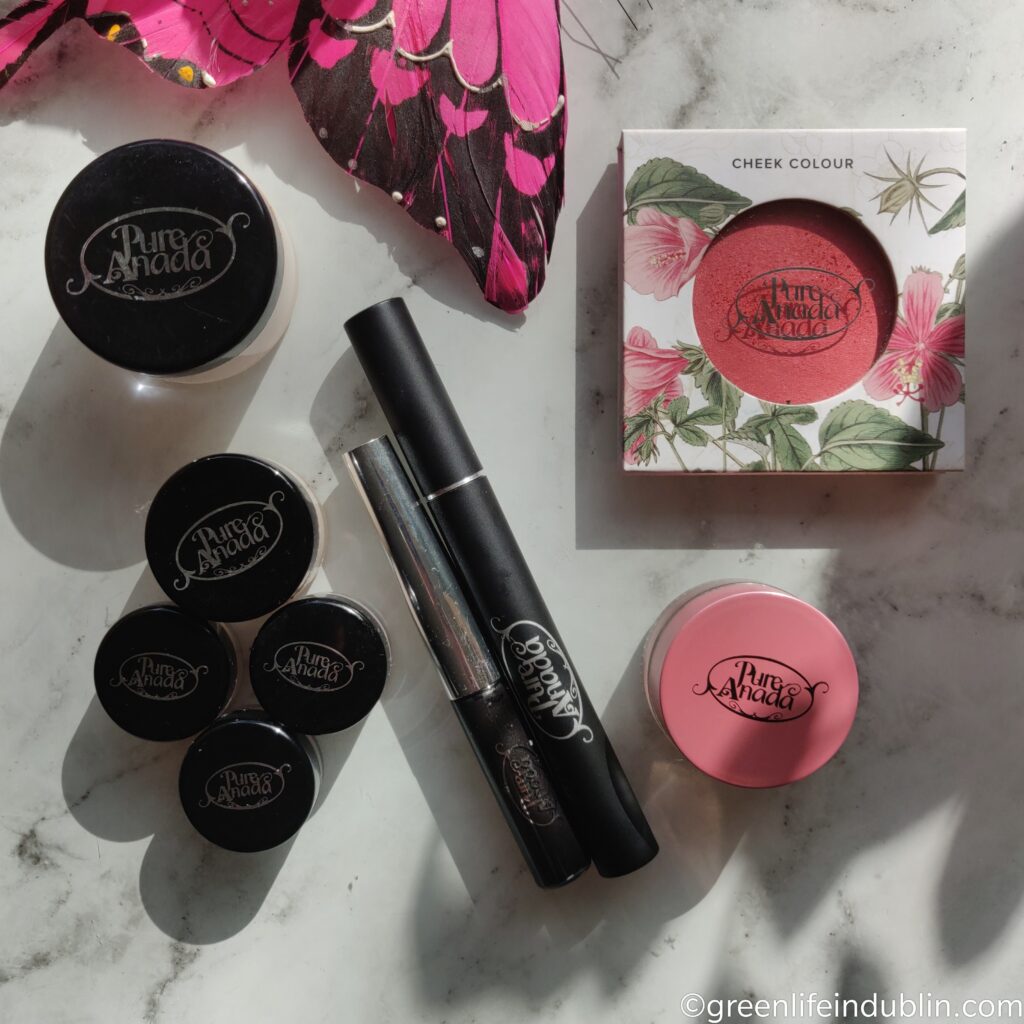 First thing first, on a very well moisturised skin I applied Pure Anada liquid foundation in Sunkissed Canadian (sample not pictured) and after blending it well, I proceeded to do a very minimal eye make up, I applied Isabella as my only cream shadow all over, lined my eyes with Pure Anada liquid liner and applied Pure Anada Mascara. That's it, simple, easy and a no brainer really. Next I went on to apply Isabella on the cheeks and lips and I was ready to go out of the door. Less than five minutes of work, if I can do it, you can too, trust me!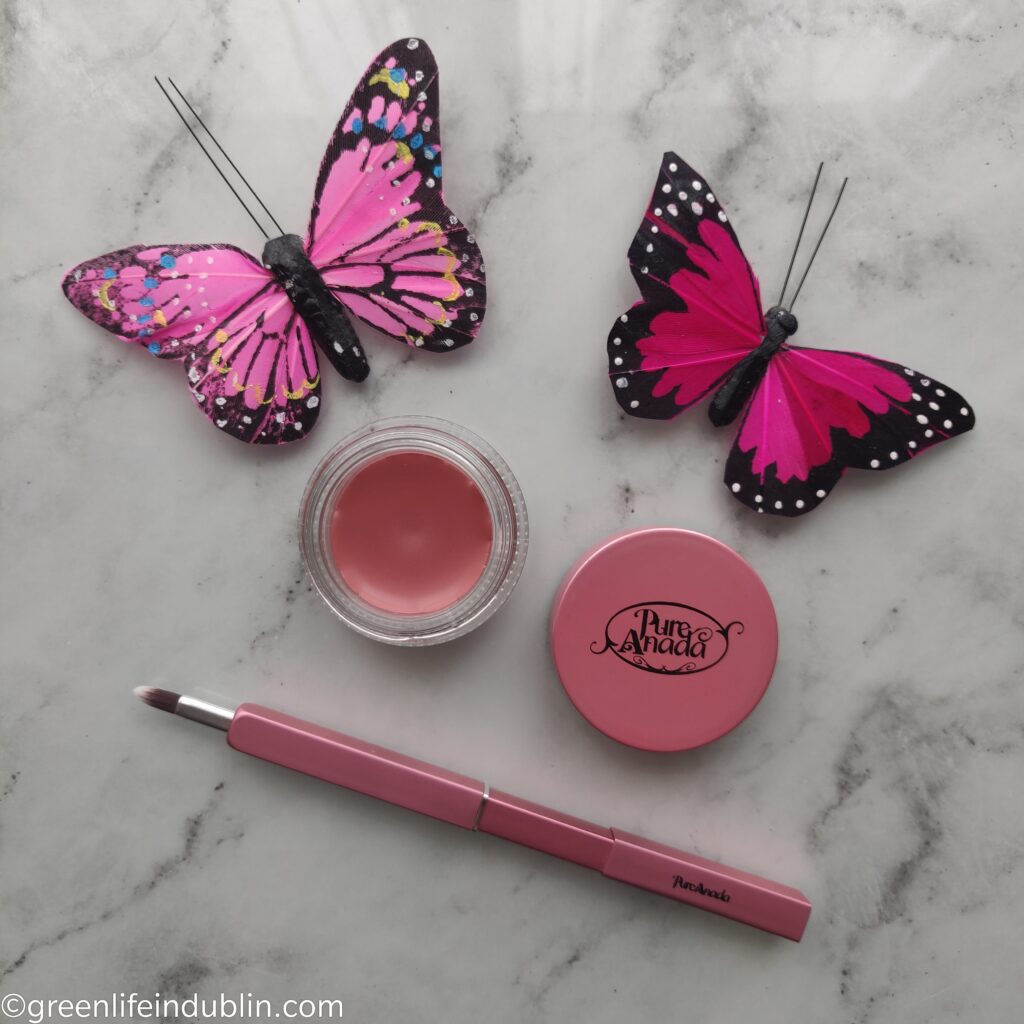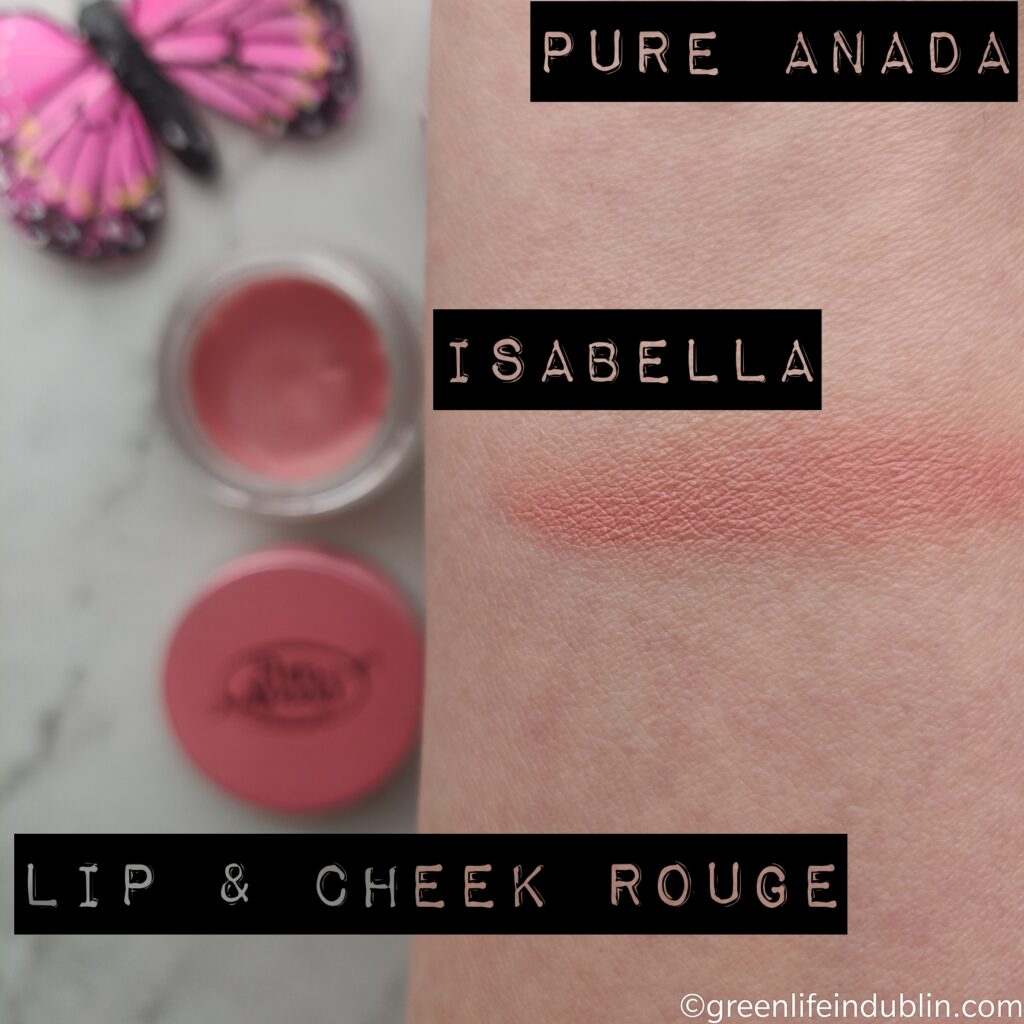 (Oh, the concealer used was Hynt Beauty in Light, set with Pure Anada corrector in Saffron). The thing is, I am in between of shades in Hynt, so setting it with a slightly more dark and yellow corrector works great for me. I also used mineral shadow called Toasted Almond as my highlight as it has quite golden undertone, but this step is totally optional)
Now for my thoughts on all of the Pure Anada make up I have tried to date. As I said I am impressed with most stuff I have tried to date, but not every single product ended up on my Holy Grail list. But that is ok, from my experience it is impossible to find one line where you would be in love with absolutely everything. Besides, we are all different and one person's best product won't be necessarily liked by the next person?
Mineral powder foundation (loose)-love! Very pigmented, which is why I love it so much, you definitely need only one or maximum two layers of it for full coverage, not seven like with some other brands. Clean ingredients, no bismuth oxychloride in sight. This was one of the first products I have tried and exactly what made me fall in love with the line. My shade is a mix of Atlantic Bisque and Sunkissed Canadian. I haven't tried their pressed foundation.
Liquid foundation – love. I am yet to get a full size of it, but from the multiple samples I got over the years, I loved what I saw. Again, full coverage, which I love, minimal clean ingredients, which I am impressed by. This has coconut oil derived caprylic triglyceride, but it never made me break out, not even once. For those of you not sure of your shade, you can buy samples on Pure Anada web shop for only 1$ CA, and let me tell you they are packed full to the brim. I am in between of shades of Sunkissed Canadian and Atlantic Bisque again. Tinted moisturiser is also good from what I can remember.
Liquid concealer. Pigmentation has impressed me (do you see a pattern here?) but I also found the formula has separated on me pretty soon after getting it and no matter how well I blended, I couldn't get to work. In my humble two cents the formula has to be tweaked because of it, or maybe I got one from the bad batch, I don't know? I really really wanted to like it, but eventually I came back to my Hynt Beauty.
Mascara – good but not my Holy Grail. By that I mean it is good natural mascara that does it's job well, gives good length but not much volume, which me and my short and stubby lashes desperately need 🙂 If they will release a volume mascara, I want to know!
Liquid Liner – same thoughts as mascara, good but not my Holy Grail because I find it transfers to the upper lid a bit, but my eyes are hooded. If yours are not, this might be the product for you. We have to remember we are all different and we might be even looking for different things from the same product, who knows?
Colour corrector(s) – they have four, but only the flesh coloured ones interested me (the other two are mint green and light purple) so after staring at the screen until my eyes crossed over I ordered Saffron, which seemed lighter in colour than Sunflower, but I discovered pretty soon it is ever so slightly too dark for me. The joys of ordering the products online, huh? Not a big loss as it was only 8$ CA and I still have hopes of making it work for me, maybe I should mix it with a lighter shade of foundation perhaps? It is certainly more pigmented than Alima Pure powder concealer, that's for sure! Pure Anada, if you are reading this, please come out with more correctors? Pretty please? I would like to see salmon colour for counteracting dark circles and maybe a lighter shade of corrector/ powder concealer?
Eye Shadows – they have an array of them in different finishes and loose and pressed formats too. All really affordable at 8$ CA a pop, so at that price you can collect all of them if you are into collections? All really pigmented, they come in lots of different colours as well. Anyone who says green beauty is 50 shades of beige and does not have fun colours should take a look at this brand if you ask me.
Lip Gloss & Lip Shine – both formulas are lovely. Gloss is very pigmented (sorry for sounding like a broken record at this point!). The lip shine has mintiness to it, but it wears away pretty soon. I want to try their lipsticks too, but I am too scared of getting the wrong shade. We shall see.
Blush – my favourite thing ever. Blush is my happy place when it come to the natural make up. You can see swatches of quite a few of their blushes in my old review linked below, or in Green Beauty Swatch Gallery here. My favourite from this brand is definitely Forever Summer, it definitely makes me smile every time I wear it! You get a huge pan for only 12 bucks CA and you only need one dip of a brush for both cheeks application, I swear! Samples of every single one available.
Eyebrow Colours -these come in loose powder format, and are seven of them to choose from, plus two pressed eye shadows that could be used as eye brow powder too. I was overjoyed to see ash tones to choose from. You see, I need ashy product for my brows, almost grey, and yet so many of the companies offer warm tones only. I have mine in Cinder, which is medium ash, which should have worked well for me on paper, but due to the pigmentation of it I had to apply with a very light hand. Eventually I got Flint, which is one shade down.
All of the make up apart from the concealer used here are by Pure Anada, so I will link it for your convenience. Some of the make up was sent to me for my consideration, they will be marked with an *. I am not paid to talk about any of them, some links are affiliate links, and I thank You if you will decide to use them. I hope you will find this post interesting or useful in some way? All photos untouched in any way, so what you see is what you get in my case, the colours are true to life.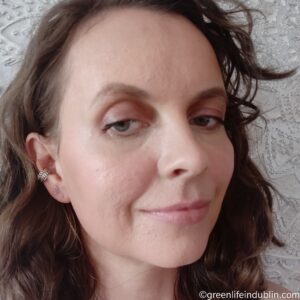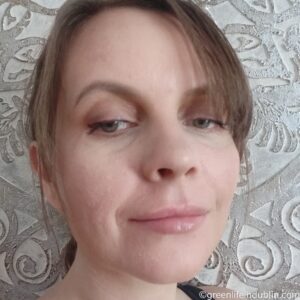 You might be interested in these posts:
Pure Anada review
More Pure Anada posts
Green Beauty Swatch Gallery
Please like and share my posts on social media, it really helps to get the green beauty word out – and you will forever have my gratitude!
CHECK THE PRODUCTS OUT AT:
FOLLOW ME ON:
  BLOGLOVIN
INSTAGRAM
TWITTER
PINTEREST
FACEBOOK
YOUTUBE
Thanks for reading! Now your turn, please tell me if you have tried any of Pure Anada products and how did you like them?
Lots of Love,
Renata.

Enjoy my content? A  tip into my PayPal Tip Jar -  will get You my eternal gratitude and more awesome green beauty reviews Your way! I weed out all the greenwashing products so You won't have to.