Hi Lovelies,
Welcome back! And welcome if You are new here xo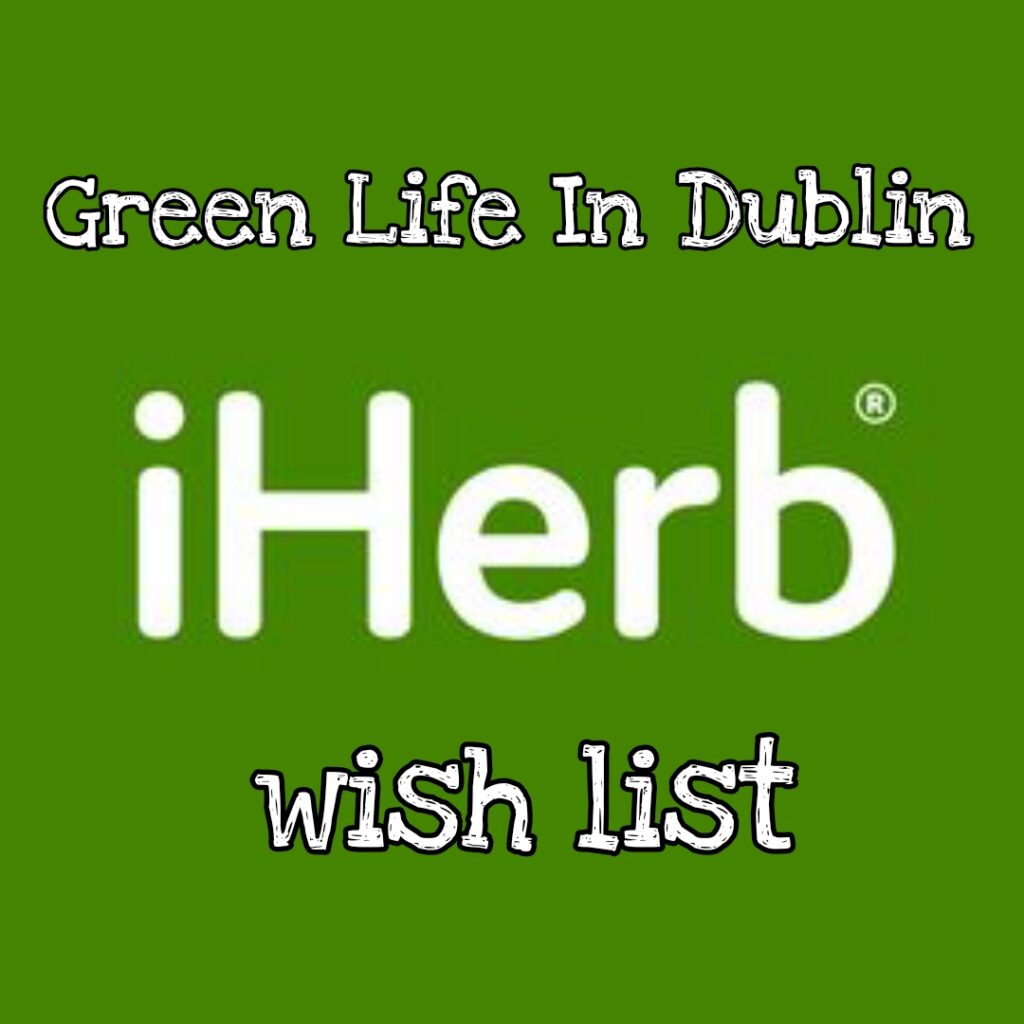 From iHerb must haves to wish list 🙂
After one too many DMs answering Your questions what products and brands from iHerb I recommend, I blogged about them here. While browsing my lists and order history, I fell down the rabbit hole of browsing to store to no end and compiling various lists. Be sure to watch the sales, because they happen a lot there & also use CDI1500 to save further if it's Your 1st order.
In no particular order, here are iHerb products I wish to try one day.
Before I will launch into my list, I want You to know a couple of things - You need to read the ingredients like a hawk, this is one online place where truly natural products are displayed next to greenwashing ones. Next, my code earns me a small commission, but we all know that's how (most of) bloggers roll, including me - this aids me to continue to bring You good content, although I am yet to earn any good money via my blog. Third and last, this is US website, so any of us ordering from the outside of it are risking custom fees that most often than not are hefty, so shop small to avoid that risk/ or get lesser fees on Your order. Think what products are worth the fees and shop accordingly. Because in my experience, it still works out cheaper than getting all the products where I live - crazy!

SKincare/ hair / body
My iHerb Skincare List
Aura Cacia essential oils, cocoa butter & more
Desert Essence hair care
DrMercola sunscreen and vitamins/ supplements
Nubian Heritage
Now Foods – too much to list
Natural Hair Care List
Out Of Africa Shea Body Oil in Vanilla
Alaffia everything, but maybe curl activating leave in conditioner & coconut or turmeric face toner first?
Kuumba Made Amber & Sandalwood Fragrance oil – I must say I am not too sure about this, need to do my research on the brand and if their perfumes are truly all natural as they say. Came up when I was searching for all things sandalwood. If you have used this brand, please do us a favour and let us know!
Indigo Wild soaps & room & body mists
Zion Health Sandalwood Men's Deodorant – have heard other green beauty bloggers using it, checked the ingredients of this and I have no problems with it, apart from one teeny tiny "but" – I need to double check if the sandalwood fragrance is natural or not?
Beauty Without Cruelty
Badger company sunscreens, face and hair oils
Derma E skincare
Mad Hippie Skincare
Sibu Beauty
Deep Steep Body Spray Vanilla – Coconut
Pacifica Tahitian Gardenia Perfumed Hair & Body Mist
Four Sigmatic, Superfood Serum, Hydrate with Oils & Reishi & everything also!
MAKE UP
The only iHerb area that's lacking in variety in my eyes is natural make up, I only found Jane Iredale, Pacifica & two Physicians Formula Organic Wear mascaras – let me know if You know more. I know they used to carry Modern Minerals & Everyday Minerals back in the day, sadly no more.
Oral/ Dental Care List
Dr. Thung's
Christopher's Original Formulas
They also stock Weleda, Periobrite, Himalaya & Manuka Health products, but those are on my "have tried" list.  TheraNeem mouthwash is one you'd find in my bathroom constantly & it made into my Recommendations list.
My iHerb Health Care List
DrSingha Mustard Rub & bath
Flower Essences (a few brands)
Dragon Herbs
North American Herb & Spice Co. – I have tried and highly recommend their OreganolP73 (see my Natural Medicine Cabinet post) but I want to explore so much more!
OxyLife Stabilized Oxygen with Colloidal Silver and Aloe Vera
Quantum Health TheraZinc Spray with Immune Boosting Nutrients
Nature's Way, Chlorofresh, Liquid Chlorophyll, Unflavored, 16 fl oz (480 ml)
Dr. Axe / Ancient Nutrition everything!
Kid's Health Care
Zarbee's
Bioray
I do not know these brands, but I trust Natural Health Resources recs – she is a naturopathic doctor and gets various formulas for her own kid. That's good enough for me!
Christopher's Original Formulas vitamins & cough syrup
DrMercola's liposomal vitamin C for kids, vit D spray + sunscreen
Gaia Herbs everything
Sovereign Silver Kids Bio-Active Silver Hydrosol Daily Immune Support
Rainbow Research, Kids Detangling Conditioner, Creamy Vanilla
Babo Botanicals kids sunscreen & lotion
My First iHerb Order – Natural Health & Homeopathic Remedies
My iHerb GF/ DF Pantry List
FOOD/ SUPERFOOD STUFF:
Starwest Botanicals dried superfoods & teas
Cultures for Health Water Kefir & Gluten Free Sourdough Starter Kit
NUCO, Organic Coconut Wraps, Original, 5 Wraps
Coconut Secret, Coconut Aminos, Garlic Sauce,
Gaia Herbs, Golden Milk
Wilderness Poets Coconut Water Powder
Nutiva Organic MCT powder with Matcha
Four Sigmatics everything!
Organic Traditions everything!
Sencha Naturals Premium Organic Japanese Matcha (more than 2x cheaper!)
Vital Proteins everything
This list is far from finished, I will be sure to come back and update.
Be sure to let me know Your iHerb faves, so I could add them to my wishlist, haha 🙂
Thanks for reading, I appreciate You taking the time of Your day to come to my little place on internet. Browse more than 200 blog posts here or more than 400 blog posts in my previous blog here. Enjoy!
Sending Love and Light,
Renata.