Hi Lovelies,
Welcome back! And welcome if You are new here xoxo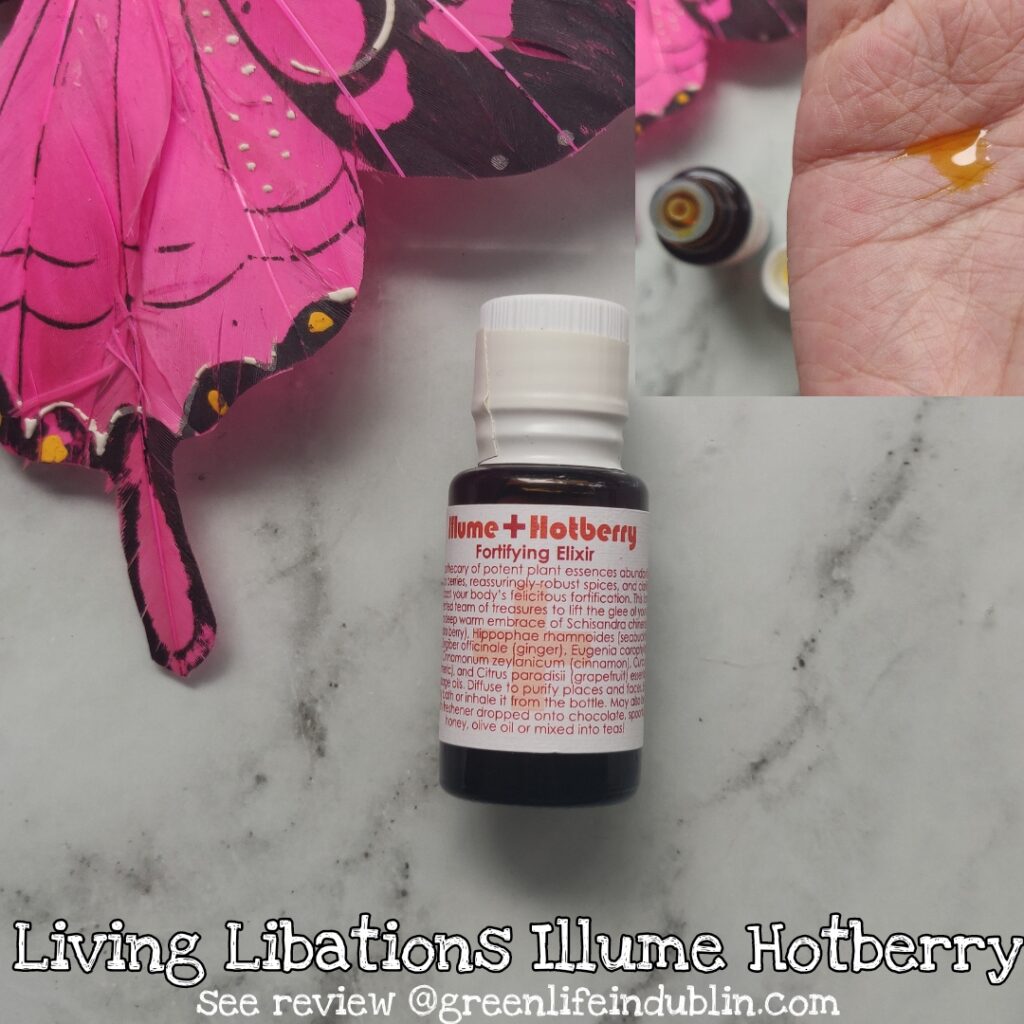 How are all of You, I hope You are well or well enough? Today I am coming at You with yet more reviews of the brand I truly love – because that's what You do, don't You? When You find a truly clean brand that's beyond organic, beyond fairtrade, wildcrafted, food grade, any synthetic free, beyond fair trade, gluten free & GMO free – You go back for more. And more. And more. This time I went for Illume Hotberry Fortifying Elixir and I am here to report back to You 🙂
So what Illume Hotberry actually is?
The description says "Rev your rejuvenation, deflate your fatigue, revive your drive and evict environmental ne'er-do-wells!
Living Libations Illume +Hotberry blend is an apothecary of potent plant essences abundant in beneficial berries, reassuringly-robust spices and clarifying citrus to boost your body's felicitous fortification. This formula fuses a talented team of plant treasures to boost the glee of your vitality. This elixir overflows with the sweet-spicy oils of stabilizing schizandra berry, salvific sea buckthorn berry, energizing ginger, cleansing clove, sustaining cinnamon, tonifying turmeric and gladdening grapefruit".
INGREDIENTS: Schizandra Berry - Schizandra spenanthera Schizandra berry is distilled from the berries of the Indonesian schizandra shrub. These berries are a staple in Traditional Chinese Medicine, and have been used for thousands of years to boost the body's chi and raise the body's stress threshold. Known as "wu wei zi" in Chinese, this "five flavor fruit" contains a complex palette of flavors that are bitter, salty, spicy, sweet, and sour. Our schizandra oil is a concentrated super-critical extraction and contains even more aromatherapeutic benefits than it has flavors.
Seabuckthorn Berry - Hippophae rhamnoides Our supercritical extraction of Seabuckthorn is ripe with heavenly helping qualities. Rich in nutrients, omegas and vitamin C, seabuckthorn also contains seventeen different phytosterols. This loving lipophilic oil lubricates and replenishes for a renewed vibrancy.
Ginger Root - Zingiber officinale Spicy and enlivening, Ginger Root packs an herbaceous punch! A super-critical extract from ginger grown in Madagascar, our juicy roots adds a warming zing so that you feel ready to sing! As one of the most popular spices in the world, ginger's effective warming and soothing qualities have been proven by their extensive use in ancient Indian and Chinese cultures.
Clove Bud - Eugenia carophyllata Clove is an aromatherapy classic with an affinity for improving wellbeing. Airborne aversions and environmental ne're-do-wells are closed out by cleansing clove.
Cinnamon Bark - Cinnamomum zeylanicum Sweet Cinnamon is stimulating and warming. This authentic distillation of true cinnamon bark is one of earth's effective eradicators. Historically, this bark has been used to revive and reinvigorate.
Turmeric - Curcuma longa Our super potent, Turmeric extract is herbal nourishment of golden-goodness for your happy homeostasis.
Grapefruit - Citrus paradisi Gleeful Grapefruit is a salivation-stimulating tonic that moistens the mouth and promotes feelings of good cheer.
Doesn't it sound fantastic?
Use
Add a drop to infuse massage oils. Dilute and apply directly to the chest or nose. Diffuse to purify places and faces. Enjoy it in a steamy bath or inhale it from the bottle. It may also be dropped onto chocolate, spoonful's of honey, olive oil or coconut oil, and mixed into teas!
My thoughts & experience
Well, let me just start by saying that Living Libations is the only brand of essential oils that I would be comfortable ingesting. See more on their website for their purity standards to see why I trust them. Secondly, this review might be one sided, because I haven't added it to my baths and lotions, I mainly bought it for the purpose of ingesting. You see, I hate winter, I hate cold, I hate being cold & catching every cold going, so I was hoping this might help with that. And guess what, it does! Every time I have to face rain/ harsh wind and go outside, I drop a drop of this under my tongue and all my senses are instantly revved up. Sorts out sore throat instantly too, this year I didn't touch my cough syrups at all! So far, so good, my health is in a peak state. It tastes spiiicy to begin with but mellows out into different flavours soon, showing all sides to it, you can feel shisandra, you can feel sea buckthorn berry, you can feel ginger, clove, cinnamon – all of it. There's definitely a flavours party in your mouth – complex palette of flavors that are bitter, salty, spicy, sweet, and sour. A drop of this little beauty has replaced annoying habit of popping a sweet into my mouth every time I did a school run -and my body thanks me for it. When another lockdown came and the school run became a walk to the sofa, I started adding it to my teas instead – and oh boy, I am soo enjoying that! It changes the flavours of teas into something totally different, which I am totally enjoying – but with added health benefits, which I am enjoying even more! I will gladly add this to my natural medicine stash from now on.
Of course You can add this to Your baths and body lotions if you are feeling extravagant, but I am not going to do that, I think it is too pricy to be used that way. Just like with the majority of Living Libations products, this is expensive but totally worth the money in my opinion. Let me remind You, this blog review is not sponsored and I paid for the product myself. I went for the 15ml bottle as I was not sure how fast it will go, but seeing I am down just about half a centimetre, I reckon 5ml would also last a long time too, so maybe I will go for that next time. I got mine from The Dutch Health Store a while ago, so there's one more wellness product for me to add to my list.
https://www.greenlifeindublin.com/?s=living+libations
CHECK THEM OUT AT:
Living Libations Online Shop
The Dutch Health Store
Live In The Light -  use GREENLIFEINDUBLIN15 to save 15%


That's it for today. Your turn! Did You try this product? What was Your experience with it? What other Living Libations products You love? Please share, I would love to know.
Sending Love & Light,
Renata.

see everything I own