Hi Lovelies,
Welcome back! And welcome if You are new here xoxo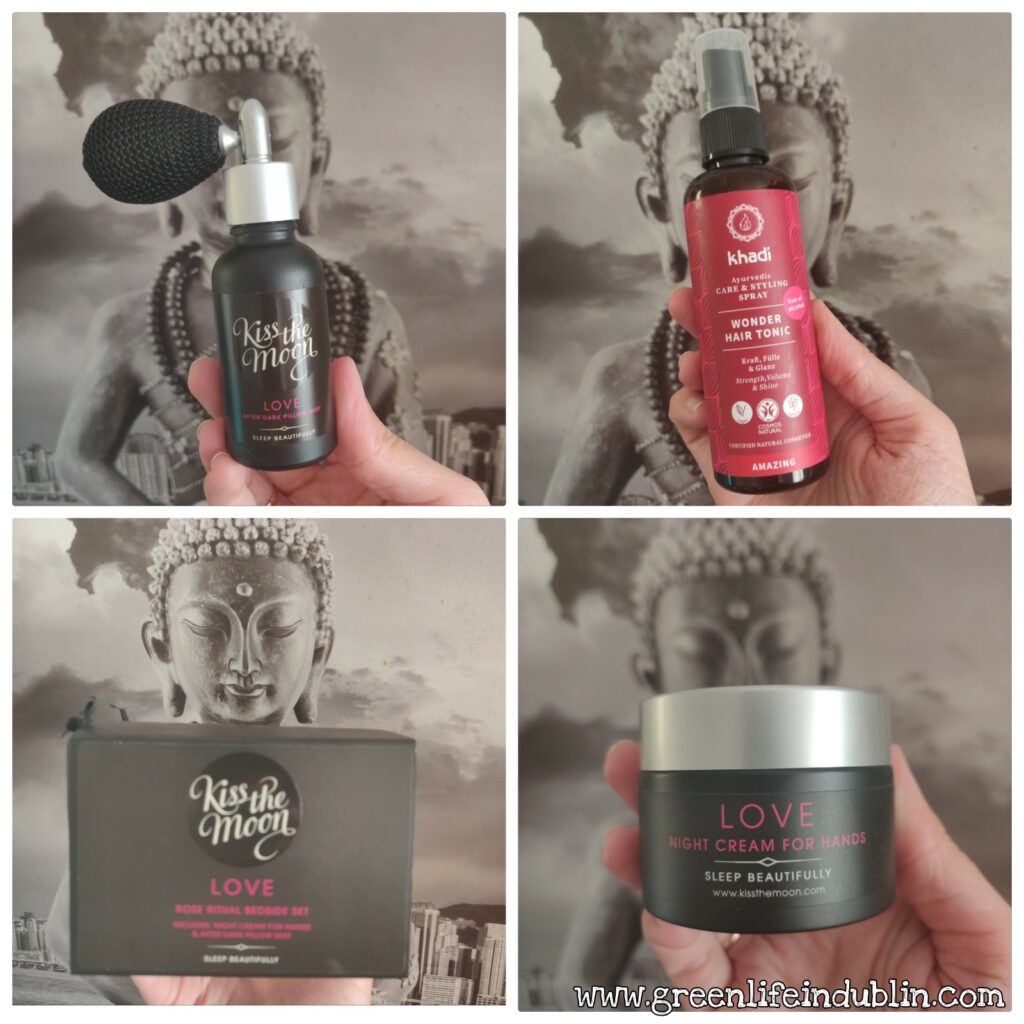 How are You, I hope You are all well?
How much do we
 Love Lula?* 100+ posts much in my case! No, really, just check this FB album here.  A long time fan and a customer before I joined their blogger family, I can honestly say that Renata the regular customer was treated no different than Renata The Blogger – always with respect and with the highest standards of care. So it is safe to say my love for this online shop is 100 real! Let's see what I picked up this month?
*sadly Love Lula no longer exists.
Please step forward my much loved KISS THE MOON LOVE NIGHT CREAM FOR HANDS (say that three times fast!) that came in a beautiful set. I have loved this hand cream since 2018, no kidding. Let's talk about it, shall we?
KISS THE MOON LOVE Rose Ritual Bedside Set
Rose Ritual Bedside set includes our deeply nourishing, overnight hand cream and a gorgeously aromatic pillow mist. Both infused with Rose, Frankincense & Ylang Ylang to instill a feeling of peace and well-being at bedtime.
after dark pillow mist
I have been eyeing this gorgeous bottle with a pump spray for ages and I finally got my chance to try it. The base of it is rose water, together with some gorgeous essential oils of frankincense, rose absolute and ylang ylang. This sounds absolutely gorgeous, doesn't it? In reality the scent is barely there and does not last.  A bit disappointed as I am, I do not regret buying it. I can always add my own essential oils to it and I am definitely keeping the packaging to reuse for my own DIY room spray. I'll link that post at the end of this post, so scroll down to have a look.
AFTER DARK PILLOW MIST: Rose Hydrolat (Rosa damascena Flower Distillate); Alcohol (Alcohol Denat); Glycerin (Glycerin); Ylang Ylang (Cananga Odorata); Frankincense (Boswelli Carteri); Rose Absolute (Rosa Damascena); Linalol*; Limonene*; Citronellol*; Benzyl benzoate* *naturally occurring in essential oils
LOVE NIGHT CREAM FOR HANDS
This, on the other hand is gorgeous! I do not see anyone disappointed trying this out. I believe the owner of the brand formulated it for her eczema affected hands, and let me tell You the formula is gorgeous. Rich, creamy, yet sinking into the skin in less than a minute, leaving practically no residue. My paws love it, especially in winter months. Left to their own devices, my hands do not do well in the cold time of the year, this is a true saviour. All of You gals with dry, cracked, chapped and blemish prone skin, you need to try it – You can thank me later! This product has a firm place in my Holy Grails list and for a good reason, I do not say this lightly. I take pride in vigorous testing I do, three years for this product, that should speak volumes 🙂 Totally worth the price in my opinion, plus You get 90g of product in full size of this (40g in this set).  Not too sure how that happened, but I have three of them at the moment – full size left over from the winter, one 40g jar acquired in this set and one more of the same size got for FREE when Love Lula had a fantastic offer of this being a Gift With Purchase with any Kiss The Moon product. Bought with my own hard earned moolah & zero regrets about it. This definitely won't go to waste.
NIGHT CREAM FOR HANDS: Aqua (Water), Butyrospermum Parkii (Shea) Butter, Glyceryl Stearate, Cocos Nucifera (Coconut) Oil, Cetearyl Olivate, Glycerin, Prunus Amygdalus Dulcis (Almond) Oil, Simmondsia Chinensis (Jojoba) Seed Oil, Rosa Damascena Flower Water, Sorbitan Olivate, Rosa Moschata (Rosehip) Seed Oil, Benzyl Alcohol, Boswellia Carterii (Frankincense) Oil, Cananga Odorata (Ylang Ylang) Flower Oil, Tocopherol, Xanthan Gum, Cymbopogon Martini Oil, Dehydroacetic Acid, Hippophae Rhamnoides (Sea Buckthorn) Fruit Oil, Sodium Gluconate, Sodium Bicarbonate, Rosa Damascena (Rose) Flower Oil, Benzyl Benzoate*, Benzyl Salicylate*, Citral*, Citronellol*, Eugenol*, Farnesol*, Geraniol*, Isoeugenol*, Limonene*, Linalool* *naturally ocurring in essential oils*.
Psst, I post about deals on my FB page here, so be sure to follow it
KHADI ayuvedic care and styling spray wonder hair tonic
You will have to excuse me, I won't be vocal on this – because I am yet to try it. Not too sure what happened there, but due to busyness (and family drama) I forgot to try it until now. I will keep You posted in the next month's post, pinky swear. For some reason I cannot find it on Love Lula website for the time being, not too sure if the product is ceased or out of stock. I promises to boost hair strength and volume, as well as elasticity. It can be used as a scalp treatment, refresher in between of washes or as light styling treatment. I specifically chose it for the scalp – so many of scalp treatment sprays have alcohol as a base (first ingredient) and surely that can't be good for your scalp? This is made of aloe, glycerin and water for a base, plus plant extracts. Sounds good to me.
INGREDIENTS: Aqua (Water), Glycerin, Eclipta Alba Extract, Emblica Officinalis Fruit Powder, Bacopa Monnieri Extract, Aloe Barbadensis Leaf Juice, jatropha curcas root extract, Azadirachta Indica Leaf Extract, Lawsonia inermis extract, Arnica Montana (Arnica) Flower Extract, camelia sinensis leaf extract, acacia concinna fruit extract, Centella Asiatica Flower/leaf/stem Extract, Thymus Vulgaris Oil,Vetiveria Zizanoides (Vetiver) Root Oil, Rosmarinus Officinalis (Rosemary) Leaf Oil, cyperus scariosus root oil, Citric Acid, Sodium Levulinate, Xylitylglucoside, Sorbitane Caprylate, Xylitol, AnhydroxylitolCaprylyl/capryl Glucoside, PropanediolSodium Benzoate, Potassium Sorbate, Benzoic Acid, Limonene [1]Linalool [1] - from natural essential oils.
So that's it for today, my lovelies.  If  You want to see my latest hair care discovery, which pleasantly surprised me, go to my latest post.
Have You tried those products?
CHECK THEM OUT AT LOVE LULA
Thanks for reading, I appreciate You taking the time of Your day to visit my little corner of internet ?
Sending LOVE & LIGHT!
Renata.