Hi Lovelies,
Welcome back! And welcome if You are new here xoxo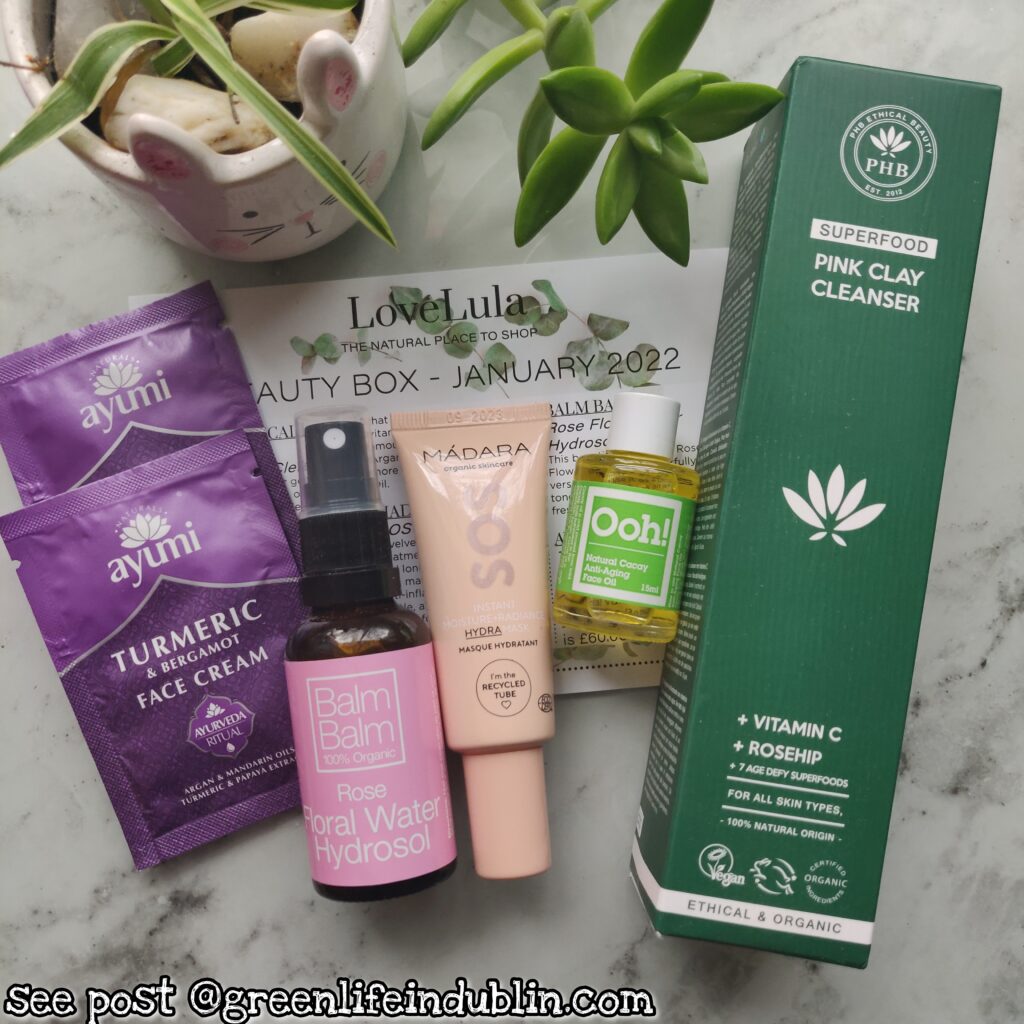 New Year, new Happy Box! What's that, You ask? I am talking about Love Lula Beauty Box* for January 2022, of course 🙂
*Love Lula is no more – sob!!
Let's talk about the value of the boxes first. I have to say they do a very good job at including a good variety of products, apart of a few tiny missteps of too many scrubs or face oils in a row, other products were a delight to discover. I have to say I am looking forward to each new month in anticipation of what's to come – Christmas or Birthday present for yourself each month, anyone? They ship worldwide, and the price is 14.95£ monthly recurring for UK customers, and for us international gals there are two options of three months (52.50£) or a year (200£) including post and packaging. There is also an option to try one box, both for UK and international customers. Green beauty boxes are a great way to discover new items you might have missed otherwise, and I love that anything coming from Love Lula is cruelty free and guaranteed not to have any toxic ingredients – they have very strict criteria for any product they accept, and that is taking the guesswork off your shoulders.
PHB ETHICAL BEAUTY PINK CLAY CLEANSER
This is the first full sized product in the box, way over the value You pay for the box. Comes in hefty luxurious glass pump packaging. My skin is usually way too sensitive for clays, so we well see how I get on with this product. So far I used it twice and I am quite happy with it.
This promises to gently remove all traces of makeup, toxins and impurities to refresh and replenish skin. French Pink Clay rejuvenates & detoxifies skin for a brighter and more radiant complexion. Hyaluronic Acid: Hydrates & helps retain moisture for plumper, firmer skin that glows. Pomegranate: Rich in vitamins, antioxidants & ellagic acid which protect against signs of aging and brighten skin. Green Tea: Helps reduce signs of sun damage. Improves skin texture & appearance of wrinkles.
Smells of Ylang Ylang, exotic Jasmine & earthy Frankincense. Blended with Vanilla and Palmarosa to soothe and uplift your heart and mind.
INGREDIENTS: Aqua, Kaolin, Carthamus tinctorius (Safflower) seed oil**, Vegetable glycerin**, Glyceryl stearate, Stearic acid, Cetyl alcohol, Benzyl alcohol, Dehydroacetic Acid, Sorbic acid, Benzoic acid, Persea Gratissima (Avocado) oil**, Camillia sinensis (Green tea) leaf extract*, Citrus grandis (Grapefruit) peel oil*, Glycyrrhiza glabra (Licorice) root extract, Aloe barbadensis (aloe leaf) extract**, Magnesium Ascorbyl phosphate (Vitamin C), Xanthan gum, Tocopherol acetate, Coco glucoside, Rosa canina (Rosehip) seed oil**, Citric acid, Sclerotium gum, Hyaluronic acid, Sodium phytate, Tocopherol, Citrus aurantium dulcis (Neroli) flower Oil*, Citrus aurantium amara (Petitgrain) leaf oil*, Vanilla planifolia fruit extract*, Kojic acid, Boswellia Carterii (Frankincense) Oil, Punica granatum (pomegranate) seed oil, Jasmin grandifolia (Jasmine) flower oil, Cananga odorata (Ylang ylang) flower oil*, Cymbopogon martinii (Palmarosa) grass Oil, Curcuma longa (Turmeric) root oil*, Vetiveria zizanoides (Vetiver) root oil*, Helichrysum italicum (Immortelle) flower oil*. †Limonene, †Linalool, †Citral, †Eugenol, †Benzyl benzoate, †Benzyl salicylate, †Farnesol, †Benzyl alcohol. *Organic , *Certified Organic. †Occurs natually in Essential Oils.
The ingredients list is kind of long, but I see a lot of good stuff in here, so I am excited to give it a go. Besides, my blogger friend Lola reviewed it, saying it does not dry the skin out. Winter might not be the best season to bring out cleanser with clays, but I might hold it till summer or wait-for-it use it as a scalp mask 🙂 You see, there all kinds of creative ways of using up Your beauty products, I have a few tricks up my sleeve. Want me to blog about them? Do let me know!
OOH OILS OF HEAVEN CACAY FACIAL OIL
I am very excited about this oil, I had it in my wish list for absolutely ages. You see, cacay is natural version of retinol – minus the irritations, I imagine? Cacay oil is cold pressed from wild Cacay nuts harvested in the Colombian jungle. Scientific studies show that it contains 50% more vitamin E and twice the amount of Linoleic Acid than Argan Oil as well as 3 times more Retinol than Rose Hip Oil, giving it powerful anti-aging power. It is a fast absorbing, odourless, dry oil that leaves no residue. In this month's box we got travel 15ml size, which I appreciate, because it means I can go through it in reasonable amount of time. Again, the value of this product exceeds the value You pay for the box, so a double score there!
INGREDIENTS: 100% Caryodendron Orinocense seed oil
BALM BALM ROSE WATER HYDROSOL
Both Ooh! and Balm Balm are good brands if You are after good quality cold pressed single oils and hydrosols. Rose water is one of my Holy Grail status beloved products used daily for many years now, so I am delighted to receive this in the box. Travel size means I can take it on the go and I am definitely reusing the bottle afterwards.
INGREDIENTS: All organically grown. Rosa Damascena (Rose) Flower Distillate.
AYUMI TURMERIC FACE CARE SAMPLE DUO
Ayumi is brand I love dearly for good quality affordable body care, but for the face, I am a bit afraid to try them because they are a sister company with Urban Veda & have had reactions to their products in the past. Since I released myself from the pressure to know Everything About Every Product Ever (skin way too sensitive, not paid to do it) and I am not after full sizes of the products, I will pass them on. See Love Lula website for products ingredients & other blogger's blogs for reviews. I can still be of help, You might want to read my Best Love Lula Products post or Affordable Products at Love Lula posts linked at the end of of this post.
MADARA HYDRA MASK
If You love Madara, You should definitely look into Love Lula beauty box – they are heavily featured there. Personally for me, a person with very sensitive and dermatitis prone skin, this brand is a miss. I find the products underwhelming and oftentimes they make my dermatitis patch much more red and irritated looking, so I will pass on this too. I am guessing it's because of alcohols or too many actives not exactly suitable for my skin type. This might be a repeat & I remember my skin breaking out after it. It will not go to waste though, it is going into care package though.
INGREDIENTS: Aqua Simmondsia Chinensis (Jojoba) Seed Oil Alcohol Rosa Damascena (Rosa) Flower Water Cetearyl Alcohol Caprylic/Capric Triglyceride Dicaprylyl Carbonate Arachidyl Alcohol Behenyl Alcohol Butyrospermum Parkii (Shea Butter) Fruit Butter Hippophae Rhamnoides (Sea-buckthorn) Fruit Extract Sodium PCA Glycerin Stearic Acid Palmitic acid Aroma Arachidyl Glucoside Betaine Linum Usitatissimum (Flax/Linseed) Seed Extract Urtica Dioica (Nettle) Leaf Extract Paeonia Lactiflora (Peonia) Root Extract Coco Glucoside Xanthan Gum Sodium Hyaluronate Hydrolyzed Hyaluronic Acid Hydrolysed Glycosaminoglycans Ascorbyl Palmitate (Vitamin C) Tocopherol Xylitol Iron oxide CI77492 Citronellol Geraniol Benzyl Salicylate Eugenol
MY FINAL THOUGHTS:
I do understand how hard it is to put a box together. Not only You have to provide a good value, but You have to please all skin types and tones too – practically impossible, right? Love Lula pulls it though many many times over though. In this box, I found three very good products, the cleanser, the cacay oil and the rose hydrosol and that's good enough for me. The value is there many times over, I am pleased with the surprise aspect of it – seems like Christmas coming early every month, I am telling You. I have discovered many beautiful natural products via this box, I think I ought to blog about them separately. If You love discovering new products and are into saving money as You do, this box is for You. In a year You get many different products, cleansers, skincare, body care, shampoos & solid shampoos, some make up from time to time too. I would dare to say that You might do with the contents of the box alone if You wanted to, You would need to purchase very little else. This box is 60£ value, but oftentimes it is so much more than that, I have seen it go over 100£ value many times over. I am always forgetting to mention that, but You also get 20% off of the brands in the box too – awesome if You are into saving money like I am. Plus Love Lula has free worldwide shipping for all orders 15£ and over, unlike other online shops. So it is a win-win-win situation if You ask me. Sure, it does not work out for everyone 100% of the time, but You can always use face oils on the hair and body or pass the products You didn't like to friends and family and make them happy this way. I am forever putting care packages together for a few people less fortunate than I am. Thank You Love Lula for making all of us happy bunnies!
CHECK OUT THE BOX HERE
Related posts:
So that's it for today, thanks for choosing to spend the time with me here. I appreciate You more than you know. See You here next Tuesday, my posting day.
Sending Love & Light,
Renata.