Hello Lovelies.
Welcome back! And welcome if You are new here xo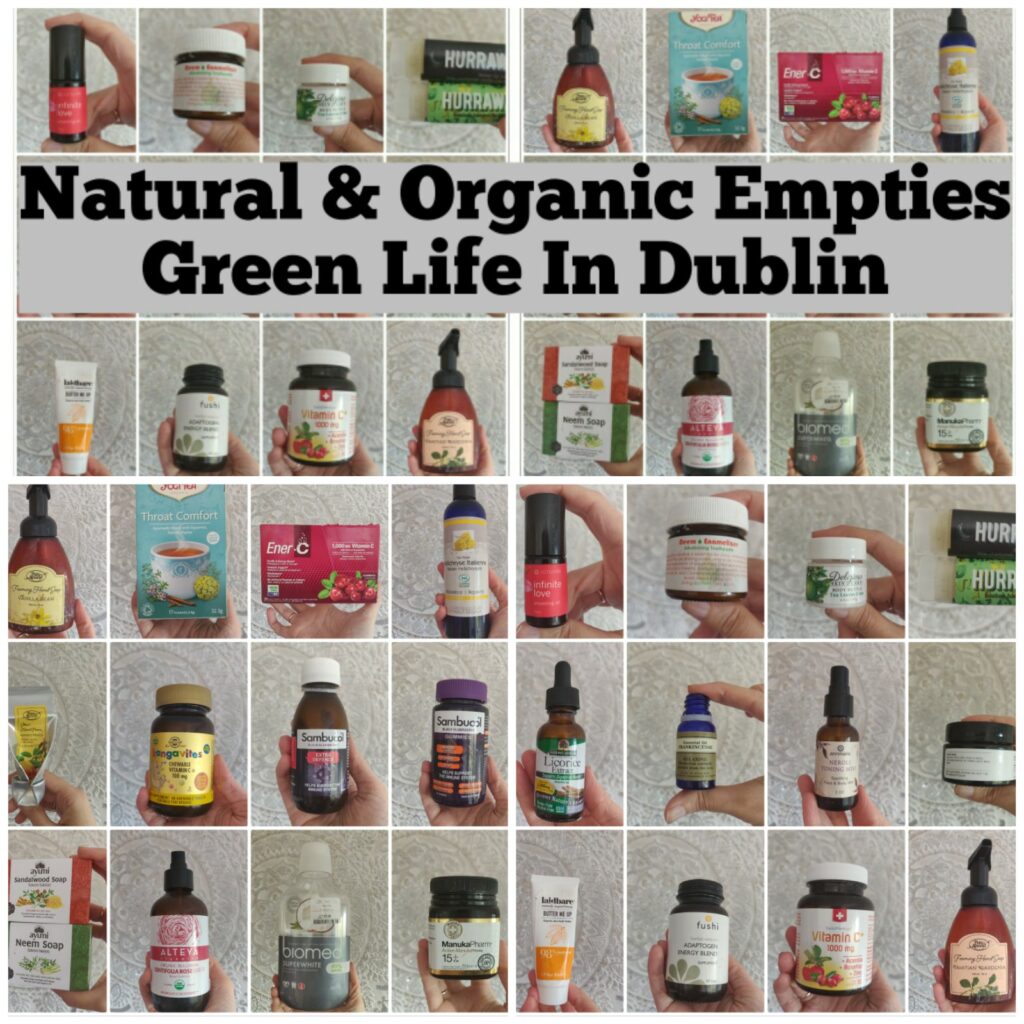 Hope all of You are great and enjoying festive activities.
Empties time. Of the last six months, no less!
* After ten years of blogging, I find these posts a bore, but at the same time I feel it is important to show You my empties, so You would see that the products I review and use are actually the same products. Many of these products will have their reviews, be sure to type the name of the brand into the search box if You want to know more. Or ask questions on my page on IG 🙂
FABULOUS GREEN BEAUTY/WELLNESS PRODUCTS I WILL REPURCHASE
EnerC – 1000mg vitamin C
Vitamin C is essential for us to stay healthy, especially in winters. Optimal amounts of it are worlds away from "recommended" or "RDA" – just go on to research that and Your life will be forever changed. Come to thank me later. Or not, Your choice 🙂 These individual packets are a must to carry to work or for travels.
Sambucol x 5
Elderberry syrup is another must that I never ever want to be without! Keeps my kids healthy and if they do catch a bug, it shortens the duration of the illness. Highly recommend this if You have kids. Or not.
Boiron Oscilloccocinum
Homeopathy is something that works for me and my family. This particular remedy is a must for my family for more than a decade. It is not available in Ireland (homeopathy is, but more for single remedies) and that's exactly why I order it from iHerb. Even though it went up in price a lot, I am prepared to pay, because it works so well for us.
California buffered vitamin C
Buffered is a key word here, it is not acidic, so therefore so much gentler on the stomach. A huge 200g tub is about 8€, so that's a price point for me.
NAHS OreganolP73
This is one of these natural remedies that I witness cancelled online and it is such a shame. Homeopathy, herbs and natural supplements work at healing all the ills that we have, but because it is at odds with Big Pharma and their synthetic petroleum based meds for every SYMPTHOM (but not root CAUSE of the disease), they are heavily targeted. This Oreganol is an extract of wild oregano and it is such a miracle that I haven't used antibiotics in years ever since I discovered it. Neither did my family. It also works for v.iruses and f.ungus. Available in liquid and capsules.
Yogi Throat Comfort Tea x5
Organic tea, tastes amazing, helps with sore throat, do I need to go on?
Nature's Answer Licorice Extract
Helps me breathe better
Christoper's Original Formulas Lung & Bronchial Formula
A must have for me, makes all the difference for my rhinitis
I am definitely adding this to my iHerb Must Haves!
https://ie.iherb.com/me/GreenLifeInDublin
Check iHerb for Boiron, Sambucol, Now Foods & more 
Code CDI1500 saves $£€ for Your first order
Living Libations Swishing Serum Mint & Myrrh
SAVE 15% WITH GREENLIFEINDUBLIN15 AT LIVE IN THE LIGHT (UK)
Evolve Organic Beauty Tropical Blossom Body Butter
Evolve Organic Beauty Berry Bath & Shower Oil
Check The Dutch Health Store for Evolve Organic Beauty, Living Libations & more
Natural Wisdom Spa solid shampoo (blue one)
I finished this ages ago, I even forgot the proper name for it, but I remember it being amazing. I can't say that about a lot of products.
Kiki Health Magnesium Oil
Magnesium is a relaxing mineral that 80% of us are lacking. It can be taken as tablets or absorbed via skin. It cured my insomnia and since I figured that out, it is a thing I never ever want to run out of.
See a full list of my Best Products in all the categories here:
GREAT NATURAL ITEMS I WON'T GET FOR NOW DUE TO THE SIZE OF MY STASH/ minimizing/ OTHER
Ecodenta mouthwash
Not loyal to any mouthwash, I have a set of faves that I rotate depending what's on sale
Evolve Organic Beauty hair conditioner
Lovely product, but I have too many conditioners to finish up
Kiss The Moon LOVE Night Cream For Hands
LOVE this product, but due to Love Lula closing, I need to see if the brand is posting to Ireland/ outside UK. I have a sneaky feeling that I already checked that and they don't?
Urban Veda Purifying Body Oil
Nice product, but it has peppermint in it, something I personally dislike in my products
Galinee Oral Probiotics
Again, with Love Lula closing, I need to figure where to get it elsewhere
Madara Guilty Shades multiple in Seduction
I have had two of them, both came from Love Lula. The second one I purchased looked/ smelled/ felt older than the one I had for well over one year. I emailed Love Lula with the pictures of yellowing wand and everything and it led to them discontinuing Madara make up at a time. Long story short Love Lula closed (welp!) and I lost a point of sale. I do know a few others, but I am not sure if the brand improved their make up quality/ preservation issues/ whatever that was. I might get it in the future again, as the shade suited me.
Dr. Tung's Ionic Toothbrush System
Both places I knew carried this brand discontinued it. I need the replacement heads, which are nowhere to be seen. If You know where to get it from EU retailer, do let me know. Please don't say Amazon though, I am boycotting it. We need to support small indie brands and shops, not make Bezos 1 billion richer every year, just my two cents.
Iremia All Calm Facial Mist
Beautiful product and yet another sob story of the brand being based overseas (Canada this time) and me being in the EU and not wanting/ not being able to afford high shipping prices and even higher custom fees
Organic Works Face Cream
See story above
Jane Iredale Lash Conditioner
Fabulous lash primer that makes any mascara amazing! But this has jumped up in price more than 10£ since I last got it, so I am not too sure if I can afford to purchase this AND mascaras, which are most often pricy on their own.. I need to think about it. Cost of living crisis situation.
Benecos off white eyeliner pencil
This expired on me and I didn't used it all that much.
Ere Perez Heathy Carrot pots in Healthy & Harmony
Again, expired sooner than I wanted them to. Not repurchasing any of them for right now because I got Honest cream blush in similar shade for only a tenner in TKMaxx. I will get them back at some point though.
HerbPharm Rapid Immune Boost
This is an iHerb product that didn't make it into my Must Have list, but I might still get in the future. It worked, but it tasted too alcohol-y to me.
Ghildlife liquid vitamin D & C
I experimented with the different products for my child, apparently both of these were a "no". I found other products she accepts, so it's ok. We might do an updated post or a video on what she uses, please let me know if that's something that would interest You?
Kathleen Citrus Cheer Bubble Bath & Shower Gel
Lovely product, but I need to finish my stash before repurchasing anything.
NATURAL PRODUCTS I WON'T BE GETTING AGAIN
Jason Natural Brightening Apricot Scrubble
Not a fan of the brand because of not the cleanest ingredients, plus I hated the gloopy yet greasy texture of the product. It also left a film behind that was hard to rinse.
Pure Anada Innocence Lipstick
Love their make up, but this is way too brown on me.
Butter Me Up Organics Magnesium Lotion
This expired in a matter of months, so I was not impressed. It is also not a lotion but a thick body butter that sweated pearls of magnesium oil if You pressed on it. A bit odd.
That's all for today, thanks for reading! I appreciate You taking Your time of Your day to read my posts.
What have You finished lately? Repurchasing? Not? Do let me know.
PS. Next post will be me wrapping up Slow Fashion Year project where I tracked to totals of clothes I got, both in terms of value and quantity.
I am leaving my Best Products of 2022 for the next year, hope that's ok with You.
Sending LOVE & LIGHT!
Renata.