Hi Lovelies,
Welcome! And welcome if You are new here xo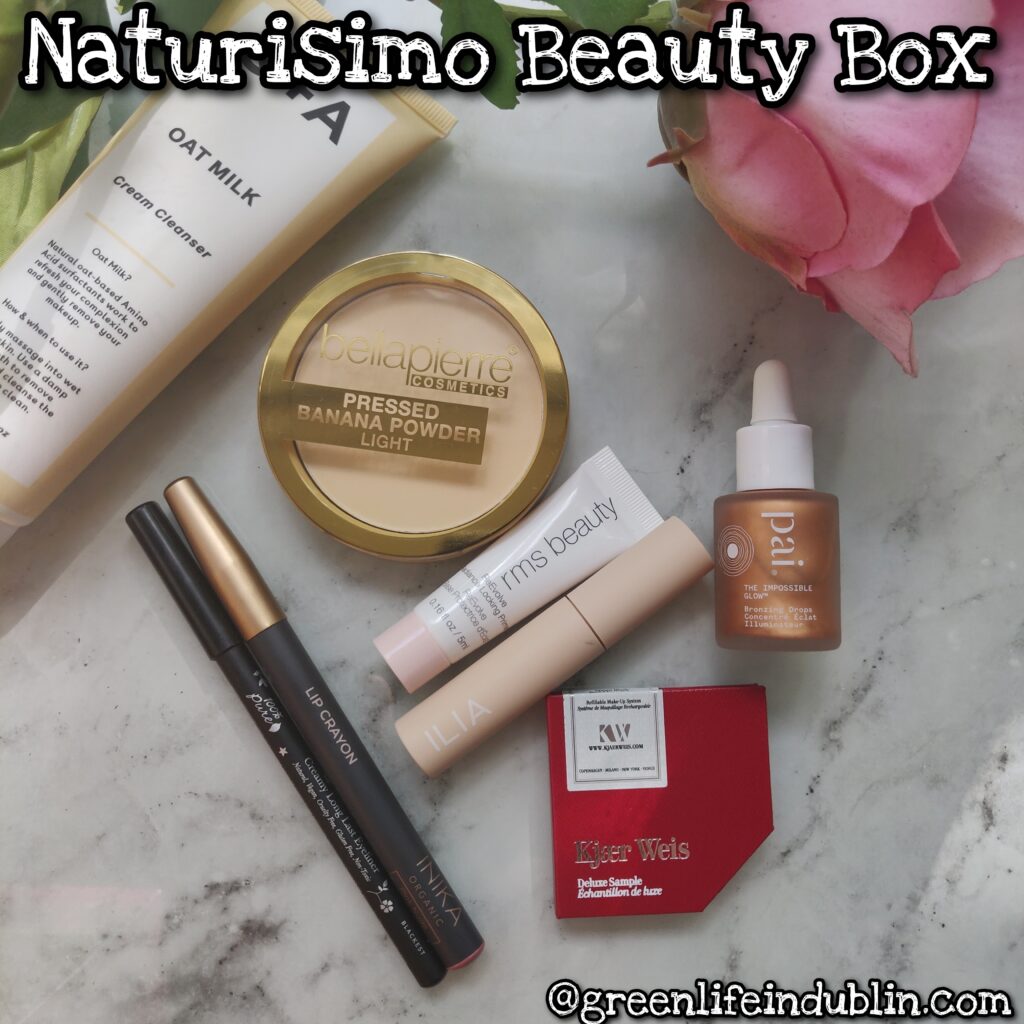 How are all of You, I hope You are well? Just a quick post about something that brought me joy lately – please step forward Naturisimo Spring Make Up Discovery Box!
*disclaimer - I bought the box myself, not a sponsored post. The thoughts are mine and always honest.
Naturisimo is one of the clean beauty websites I go to, especially if they release clean make up box(es)! They do have regular discovery boxes too.
Let's see what's inside?
RMS BEAUTY – ReEvolve Radiance Locking Primer
I've only tried it once, so I can't tell You anything else than first impressions. It was very smooth to the touch, made my make up go on much more smoothly, but I do not remember it lasting that much longer. I need to wear it a bit more to make up my mind on it. Thankfully it is 5ml sample, which will give me at least a couple more applications.
PAI SKINCARE – The Impossible Glow
I am sorry, I have no thoughts as I haven't tried it yet. I have the second sample of this, I believe from previous Naturisimo box, but I haven't tried it either.
KJAER WEIS – Cream Blush in Blossoming
Love this, it is one of the highlights for me when it comes to this box. Previous Naturisimo Beauty Box had full size KW blush/ bronzer combo with metal packaging. I still have it too. This cream blush is a sample in red cardboard box. I might invest in the full size of it when I run out.
BELLAPIERRE – Pressed Banana Setting Powder (Light)
This is a full sized product. You get to choose between two shades, I went for light. With my dry skin I do not use powders to set my make up, so I am not too sure how much use I will get out of this product. The texture felt very smooth, this I have to give it to them. It might go to Ms Green Life In Dublin Jr very soon as she is showing interest in make up and I would rather give her this and my other clean make up than allowing these cheap toxic make up kits aimed at pre-teens!
100% PURE – Creamy Long Last Eyeliner
This too is a full sized product. This was actually one of the very first clean make up products I'd tried ever. I remember liking it as it is very black and goes on smoothly. I also remember describing it as "giving me an instant rock chic eye without me having to do anything". What I meant by that is that the pencil transferred, but in a nice way.
INIKA – Lip Crayon in Pink Nude
Yet one more full sized product. As much as I would love to give You feedback on how this wears, I can't. The shade looks awful on me, I gave it away immediately. It's the second time it is happening. I need to find the shade that suits me, but no such look so far?
ILIA – Fullest Volumizing Mascara
This is the travel sized product. I have heard of Ilia mascaras giving good results, and it is true. However, the brush is massive, it is hard to use without making smudges everywhere – I feel it is bigger than my eye 🙂 At this point I can't tell if I am going for the full size just yet. There are other mascaras that give me the same results I am looking for – for cheaper and with cleaner formulas.
Q+A – Oat Milk Cream Cleanser
I was surprised to see this a full sized product, I didn't expect that. With my ultra sensitive skin, I wasn't exactly looking for a new facial cleanser, it always has this "gulp" moment for me when I try a new one. Having burned my skin for testing/ judging for various clean beauty awards and in my own personal experiences, I tend to stick to what I know works for me. I tried this and this seems to suit me fine. It looks like a face cream and it seems gentle enough for sensitive moi.
The box costs 24£, which I deem reasonable & affordable. The shipping to Ireland was further 5.95£. I had an option to add things to my order to make the total to 45£ but I decided not to, the only thing that I semi needed at this time was sold out. I didn't want to chance anything new, the extra custom fees I am getting most of the time when shopping at Naturisimo make me double and triple think what I am actually buying and is it really worth it. Some products truly are, but I am re-considering a lot of things at the moment – with the aim to minimize my stash.
So that's all for today, thanks for spending Your time with me. Did You get this box too?
What are Your best products You get from Naturisimo? Please share, I would love to know!
Sending LOVE & LIGHT!
Renata.