Hi Lovelies,
Welcome back! And welcome if you are new here ???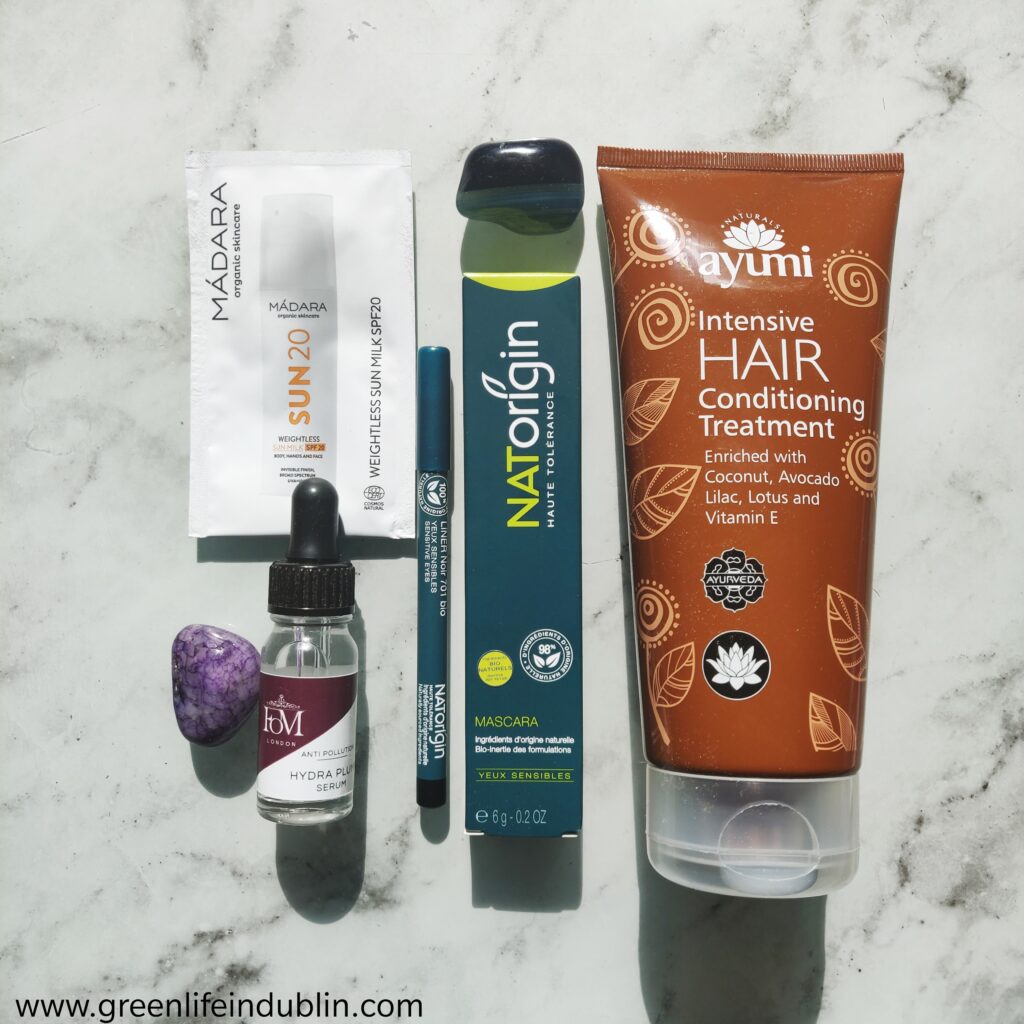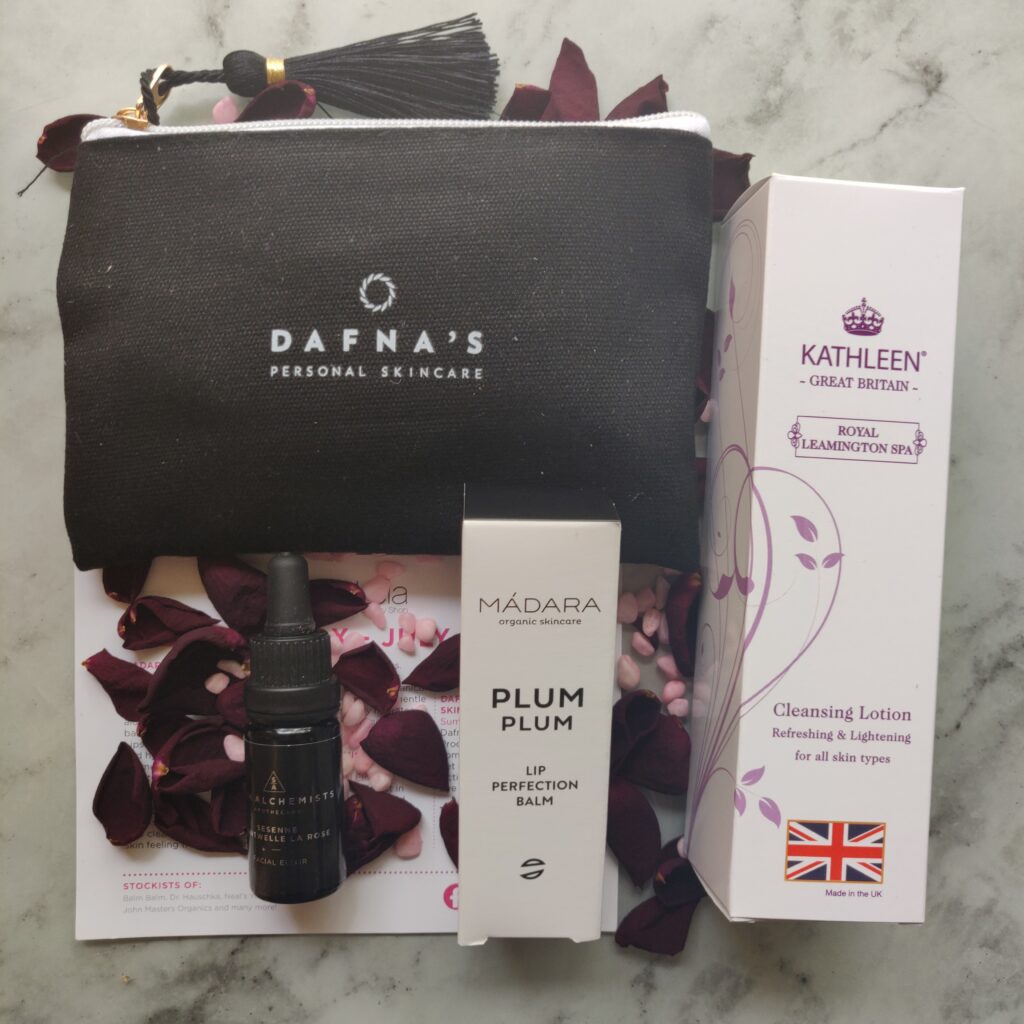 Umm, I apologise in advance, this post is gonna be a bit different from my usual Love Lula Beauty Box posts where I would not only list ingredients but also my opinions of everything, as well as previous month boxes. Reason being is that I have too many plates to spin at the moment, work/life balance isn't really in my favour right now, and as a result my health suffered. That's the story in a nutshell, normal service resuming in August 🙂 Not wanting to disappoint my readers, I am still doing a post, but shorter version of it.
Worth 48£ this box had  two products from NATOrigin  – Mascara and Eyeliner, both black (£15.95+£7.95). Mascara was too natural looking for my short lashes, so I gave it away, but the pencil is in use. Next we had Ayumi Intensive Hair Conditioning Treatment (£8.99 – 150ml) which I like, I am impressed with a lot of Ayumi products I have tried to far, see this post here. FoM London featured Anti-Pollution Hydra Plump Serum (sample size) which is ultra-light, absorbs quickly and is fragrance free. Madara's Weightless Sun Milk SPF20 sachet sample was a final addition that month.
Worth whopping 101£!!! Yes really – no kidding. Really worth subscribing, don't you think so? The box featured Dafna's Personal Skincare Summer Heroes Set in a nice cotton pouch – I will make sure to take this on my holidays (first in four years, overtired me can't wait!) to test. Next was Madara is their Plum Plum Lip Perfection Balm (15ml – £10) – I like it, seems super moisturising with a delicious fruity scent. Next we got Kathleen Natural Refreshing & Lightening Cleansing Lotion (150ml – £29.50 – I am yet to try this, so let me come back to you on this. I have been impressed with what I have tried from this brand so far though. Next we got 10ml of Skin Alchemist's Apothecary Sesenne Facial Elixir (10ml – £30), which has 26 skin loving oils in it. What a box, right?
---
So, all in all it was a great box, I say well done Love Lula! I believe this time UK box and the international box were the same (sometimes they substitute other products for the ones they can't send internationally, like nail polishes, perfumes, etc..)  Where else you would get that good of a value at the budget price you pay for? Exactly! What I like about Love Lula box is that you are guaranteed to get at least two or three full size products each month, the sample sizes are almost always deluxe samples, like travel sizes. In nearly two years I am getting this box, I've seen sample sachets less than five times, I swear. Are you interested yet? Check out here. Want to see what was in previous boxes as well as plenty of reviews on all kinds of products from Love Lula? See this FB album All Things Love Lula here.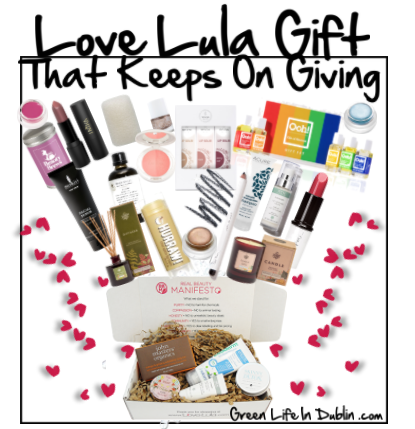 Please like and share my posts on social media, it really helps to get the green beauty word out – and you will forever have my gratitude!
FOLLOW ME ON
That's all my lovelies, thanks for reading! See You here next Tuesday if not sooner. Please allow me some time to rest, get my health together and I will come back to you with reviews/ thoughts on all of these products xo
Lots of Love,
Renata.
Enjoy my content? A  tip into my PayPal Tip Jar -  will get You my eternal gratitude and more awesome green beauty reviews Your way! I weed out all the greenwashing products so You won't have to.