Hi Lovelies,
Welcome back! And welcome if You are new here xoxo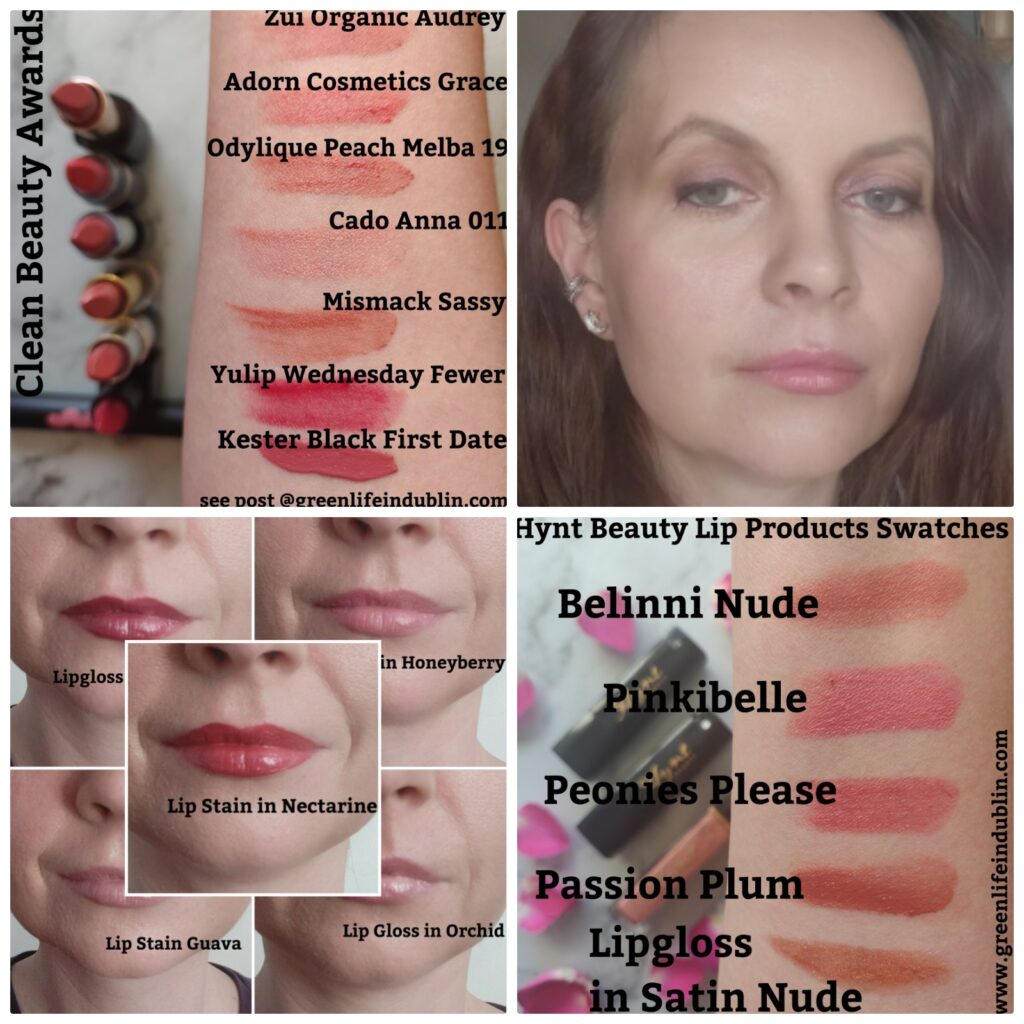 Hello Lovelies, I hope You are well! Renata here showing my natural and organic lip products. A lot of them will be featured and/or swatched on my blog, so I will link those posts for Your convenience. I also have green beauty swatch gallery on my Pinterest & Facebook, so I will invite You to check those out too – I find swatches invaluable tool when choosing new products online, so I am hoping these will be helpful to You! In order of showing, here are the products I got.
Lip glosses:
Pure Anada Mango Peach*
https://bit.ly/30Nr3ER – Live In The Light – save 15% with my code GREENLIFEINDUBLIN15
Inika Rosewood
http://tidd.ly/3285aad2 – Content Beauty
Hynt Beauty Satin Nude*
https://hyntbeauty.com/?ref=162
Lipsticks:
Hynt Beauty Pinkibelle
please see links above
Hynt Beauty Peonies Please*
RMS Beauty Vogue Rose*
RMS Beauty Pretty Vacant*
https://bit.ly/34IfTCq /Dutch Health Store/
http://tidd.ly/6db5ab3f Content Beauty
Axiology Noble
https://bit.ly/3ERzhO2- Glow Organic Brighton
100% Peach Bellini
100% Pure Magnolia
100% Pure Poppy
Yulip Wednesday Fever*
Adorn Cosmetics Grace*
https://www.adorncosmetics.com.au/
Cado Beauty Anna*
https://cadocosmetics.com/
Inika Naked Kiss*
Inika Lip Crayon Pink Nude
Inika Lip Crayon Tan Nude
http://tidd.ly/3285aad2 – Content Beauty
Kester Black Liquid Lipstick First Date*
kesterblack.com
My Natural & Organic Fall Skincare Routine – Evolve Organic Beauty, Living Libations, Alteya Organics, Khadi & More
Want more swatches & natural products reviews? I got you boo 🙂
*indicates either PR product or Clean Beauty Awards sample sent for judging.
Thanks for reading & watching my video, I appreciate you!
Love & Light,
Renata.