Hi Lovelies,
Welcome! And if you are new here, welcome xoxo
Today I am coming at you with a review of Rahua Voluminous Shampoo. If you want to hear my opinion and experience with it, you are in the right place 🙂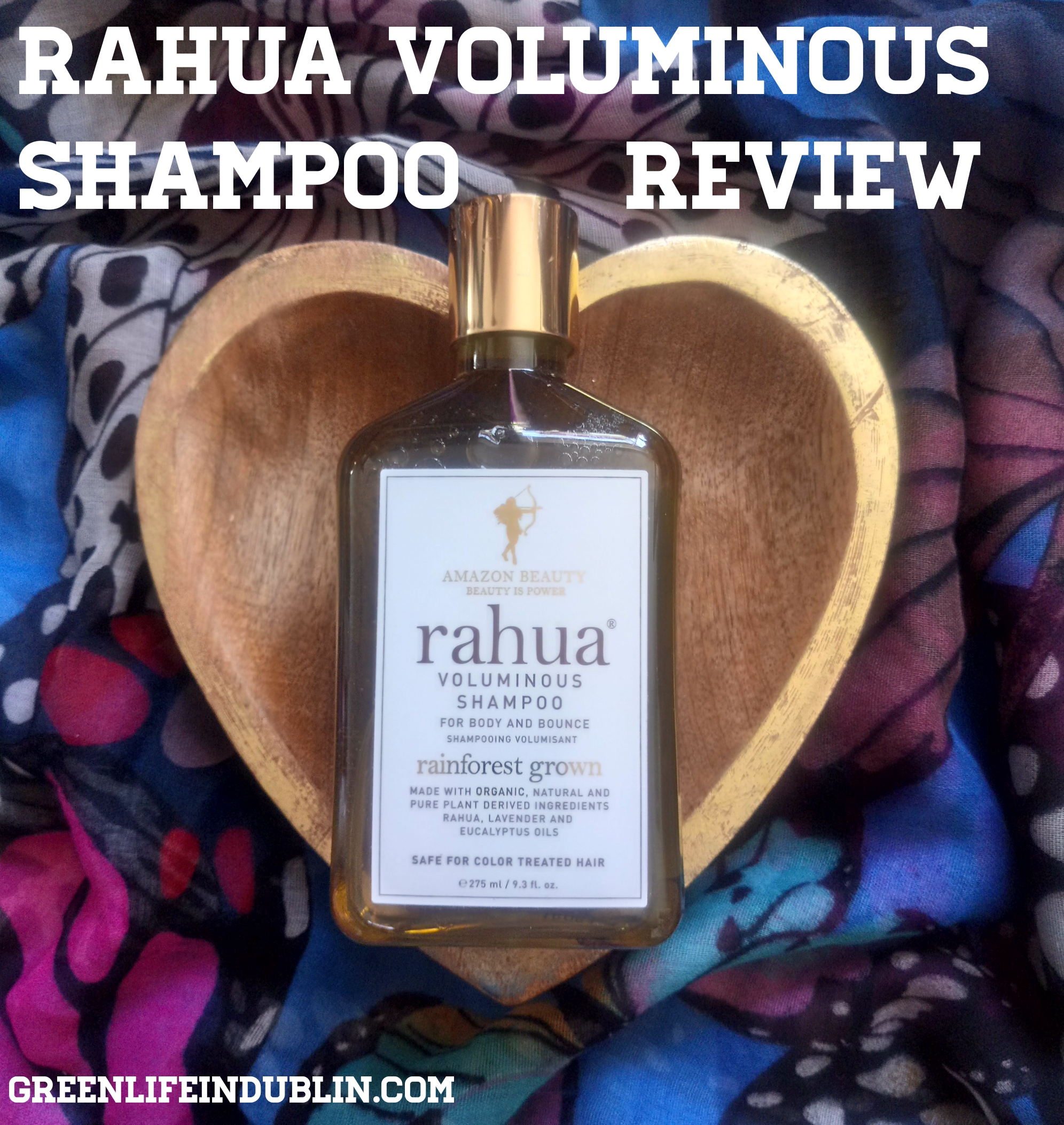 Would you believe it took me eight years into the green beauty journey to try Rahua? I can't quite believe it either! Even though I knew about them from the start of my switch (in fact their was one of the first natural products to come into my radar), but I think I know why I resisted for so long – up until recently I was a total bargain hunter when it comes to my products. I could never cough up the cost for it, seeing as way overpriced. I am still a frugal girl in many ways, but I have come to my senses when it comes to clean and natural beauty products – I am happy to pay as long as the product is working well for me. I know the costs of quality raw materials and I am prepared to pay for the quality now, whereas before I used to look for cheapest versions of products (still natural though) and cry tears of crocodile when nothing was working or I couldn't find what I want locally! Don't get me wrong, I didn't went all posh and overpriced on you, I still maintain that good and really natural products can be found at all price points, it's just I relaxed my tight grip on prices now and will happily invest, as long as the product works well for me. So let's see if I think this product is worth the money? I've been testing the Rahua Voluminous Shampoo (around 32£, link) for quite a while now and I can finally give you my two cents on it. For a start, my hair is fine, but lots of it. Very tangly and in between of wavy and straight. Waves come out nicely when using this shampoo. It smells of Palo Santo, but it does not linger.
Rahua's story began deep in the Amazon rainforest thousands of years ago where the women of the Quechua-Shuar tribe discovered the beautifying properties of Rahua oil. The oil is sourced from Rahua nut tree and its fortifying and shine-inducing effect on hair and nourishing and lasting glow on skin, quickly elevated it to an honored ingredient that has solidified its place in Amazonian beauty rituals for centuries. The ancient beauty practice was discovered by the New York hairstylist Fabian Lliguin who then went on to create Rahua with his wife Anna Ayers.
All Rahua products are vegan, organic, sulfate-free, paraben-free, gluten-free, cruelty-free and support indigenous people. The brand is based on sustainable business in partnership with women from Amazonian nations such as Waorani, Achuar, Quichua, Quechua and Shuar. They are dedicated to the preservation of the Amazon rainforest and creating learning centres too. You can certainly feel good about it when buying Rahua products! Great ingredients too! Rates at 2 on the EWG Skin Deep Database, and a quick scan with ThinkDirty gave me a score of 3. Fabulous or what?
Ingredients:

Aqua, Herbal Infusion of Camellia Sinensis (Green Tea) Leaf Extract* and Cymbopogon Schoenanthus (Lemongrass) Extract*, Cocamidopropyl Betaine, Aloe Barbadensis leaf Extract*, Coco Betaine, Sodium Chloride (Sea Salt), Saccharum Officinarum (Molasses) Extract, Glycine, Oenocarpus Bataua (Ungurahua) Oil, Hydrolyzed Quinoa, Potassium Sorbate (plant derived), Lavandula Angustifolia (Lavender) Oil*, Eucalyptus Globulus Leaf Oil*, Citric Acid, Panthenol, Chlorophyll. *denotes organic ingredients.
So, as you can see, all fabulous ingredients and extracts, but does it actually work? And how did I find it?
Well, it does work, and fabulously, actually, apart from one teeny tiny detail – I find it does not give me volume. I am fine with it though, as firstly I am yet to come across a shampoo that actually would give me volume, and secondly, I don't do much with my hair anyways, so it does not bother me one bit. Apart from this, I like it a lot, and as it isn't not the first bottle I am using I know it will give me continuous good hair days for about six months – that's how I can justify the cost for it. It lathers well and washes the hair well, you know, some shampoos are hard to wash out or don't give you that clean hair feeling – this is none of those things. My hair is shiny and soft just from the shampoo (I didn't buy the matching conditioner) and I find it passes my four day test (and by that I mean I wash my hair only every four days) with a gusto. Actually it would last even longer than four days, but my scalp gets oily and it shows, but the hair looks good! So I find myself only washing the scalp/roots now and not the full length of hair, which I've never done before. That means two things –  the shampoo will last for MONTHS, and I have long hair; and two – I am starting to eye up their dry shampoo, which isn't a part of my usual repertoire either, but after reading some glowing reviews on it, my curiosity is well piqued. I also think I will pick a travel size conditioner too – I need to see if it makes a difference, because I want to bring well rounded reviews for you guys. This is what I got myself using Love Lula Black Friday code, and there's still time – save 15% off anything until December 5. If you would like to see my Love Lula Black Friday Picks & Recommendations, click here. Also, it is perfect time to score some awesome Christmas Green Beauty Gifts and save. Happy shopping!Next time I am picking up their newly released Hydration shampoo, which came out days after I purchased this. Oh well. I sure am looking forward to another six months of good hair days 🙂
How about you guys? Have you tried this shampoo and how did it work out for you?
*sadly Love Lula no longer exists, we need to find other retailers…
Please come back next Tuesday for more green beauty posts xo
It would mean a world to me if you voted for me in the UK Blog Awards 2019 – all you have to do is press a heart next to my blog name, found in the second row in the Green & Eco category. If you did, I love you! If you will, you will have my eternal gratitude xo
Lots of Love,
Renata.

Enjoy my content? A  tip into my PayPal Tip Jar -  will get You my eternal gratitude and more awesome green beauty reviews Your way! I weed out all the greenwashing products so You won't have to.