Hi Lovelies,
Welcome back! And welcome if you are new here xoxo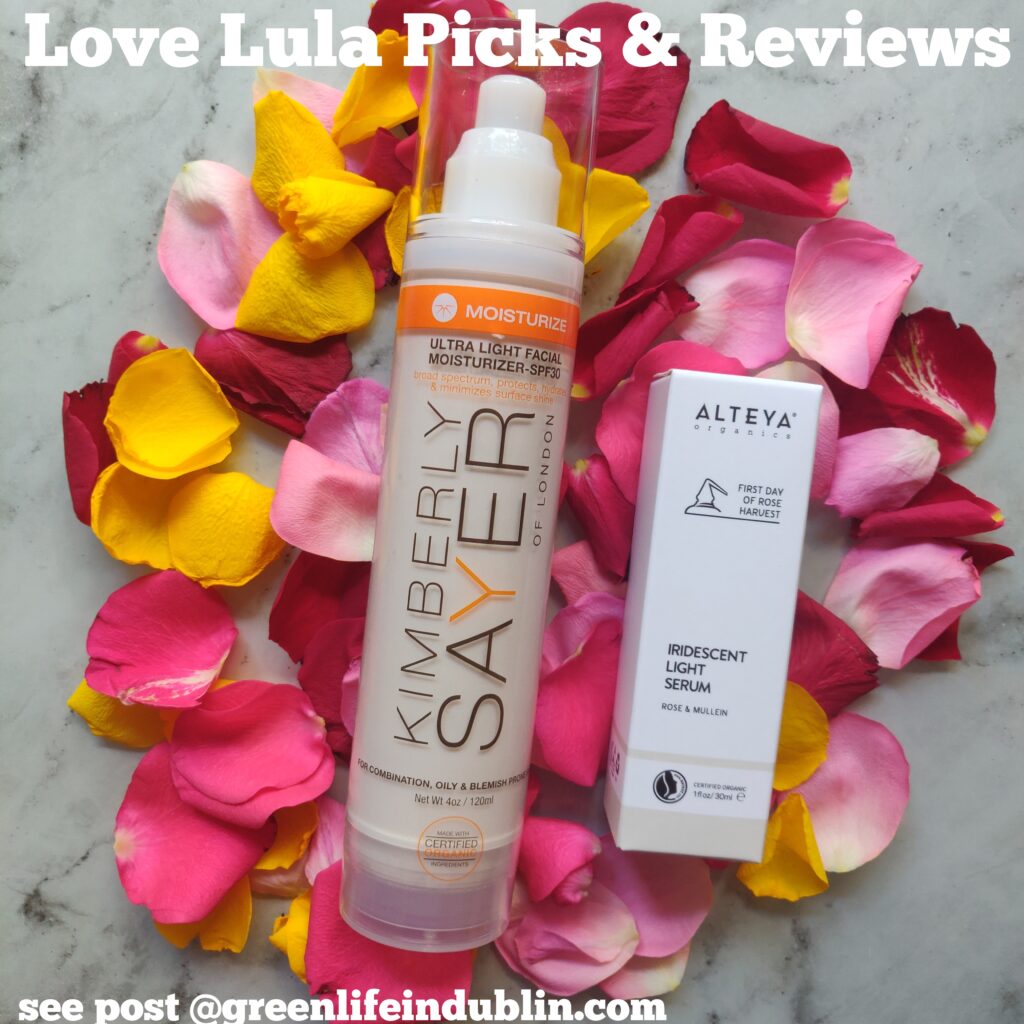 Hope You are all well in these difficult times that seem to be dragging on for what seems like forever? How much do I love Love Lula*? 80+ posts much ? How much do I love Kimberly Sayer Ultra Light Organic Facial Moisturiser – SPF30* ? Half a decade much. How much do I love Alteya Organics Certified Organic Iridescent Light Serum Rose & Mullein*? Only time will tell 🙂 Love the company and products I have tried so far, but this is a new product for me.
*sadly Love Lula is no more. Sob!
KIMBERLY SAYER Ultra Light Organic Facial Moisturiser – SPF30* (approx €33.17 or £27.70 for 120ml)
Although I never reviewed this product on it's own, this is my staple and favourite product for the last five years. It is also one of the products I recommend on Love Lula Bloggers Recommend page here (no longer). A first facial SPF not to break me out, do not clog pores or make you sweat AND no dreaded whitecast either! I use the one in a pump bottle, even though it is not designed for my skin type (which is dry and sensitive) for a couple of reasons. First of all, I have tried a few samples worth of Kimberly Sayer Anti-Oxidant Daily Moisturising Cream SPF30, which is aimed at dry and sensitive skin, and I didn't see much difference between the two if I am honest. Second reason is a practical one – you get double the amount of the product and the bottle with a pump with Kimberly Sayer Ultra Light Organic Facial Moisturiser – SPF30 – and I chose it for sanitary reasons mainly. I don't know how about you, but I don't want germs and bacteria in my face products, especially having in mind that three of us are using the same product, including my 7yr old princess – we all know kids are notorious when it comes to germy fingers, despite constant hand washing. (Do you want to know what products she uses? See here). The product lasts for absolutely ages, so you will get your money's worth for sure. As I mentioned, three of us are using it all summer long, not bad at all! Just please have in mind that I use it as a city SPF product, not a sunblock for the beach or all-day-outside situation. I would not rely on this alone if I were on a beach holidays. I am not much in the sun anyway, so I wouldn't be able to tell if the product holds up in the 40 degree heat, you know? I'd say do proceed with it, but apply common sense and caution, you know? If you have any questions, do not hesitate to contact the brand.
Ingredients:
water/aqua/eau, zinc oxide & titanium dioxide (mineral sunblockers), tinctorius (safflower) seed oil*, Citrus limonum (Lemon) oil*, wax, glycerin, Chondrus crispus (carrageenan), Butyrospermum parkii (shea) nut butter*, Aloe barbadensis (aloe vera) leaf juice*, Rosmarinus officinalis (rosemary) leaf extract*, Helianthus annuus (sunflower) seed oil*, xanthan gum, dehydroacetic acid, behenyl alcohol, citric acid.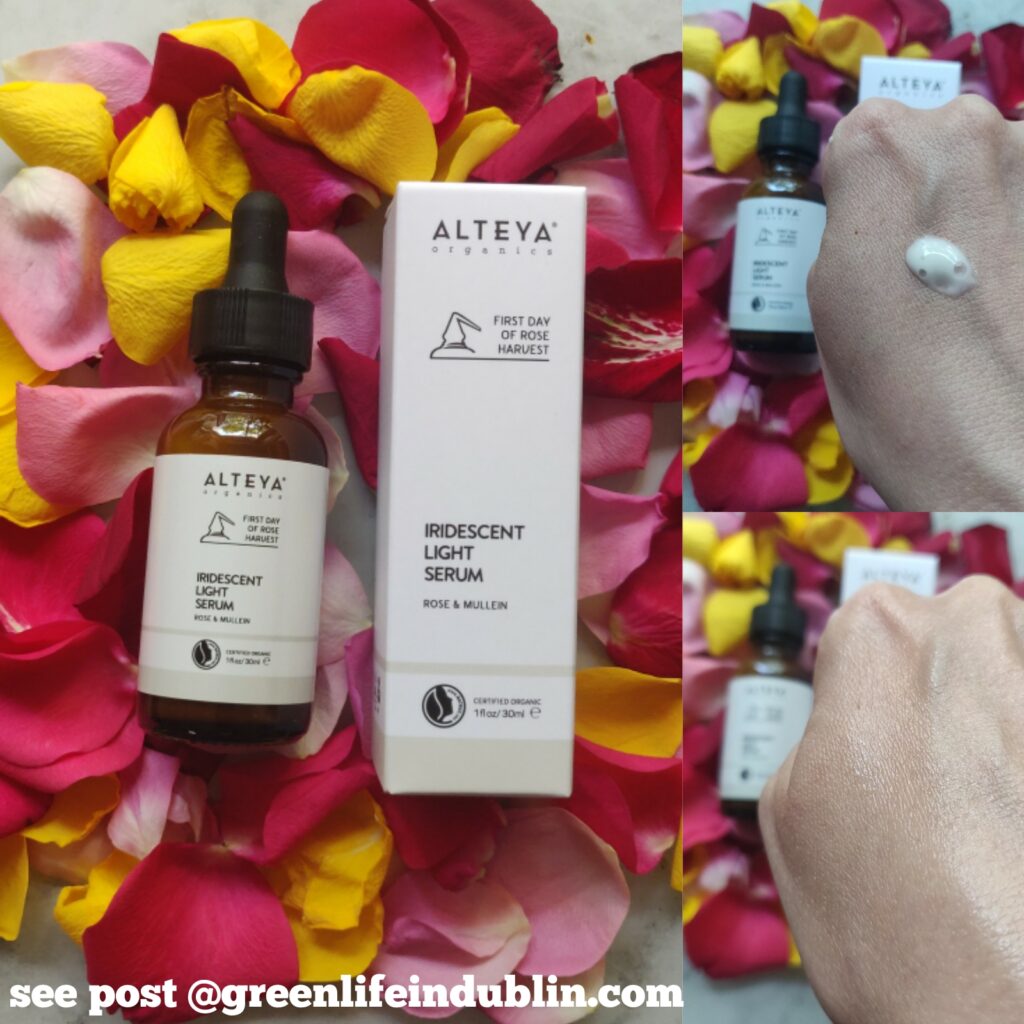 ALTEYA ORGANICS Certified Organic Iridescent Light Serum Rose & Mullein* 30ml – 19£ or 22.75€
I am a big fan of this brand that hails from Bulgaria. Alteya Organics was born in 1999 but growing and caring for roses has been a family tradition for over a century, since the early 1900s. Their organic rose fields, shielded by the slopes of two majestic mountain ranges, are in the heart of the Bulgarian Rose Valley, the land of Thracian Kings and home to the world's finest flower – the Bulgarian Rose. [I dream of visiting one day]
Let's have a look at the official blurb for Rose & Mullein range?
"We take a holistic approach to beauty. Our formulas blend pure and organic ingredients, century-old traditions, and advanced science to create this Certified Organic High-Performance Skincare Daily Regimen. We have used our experience in the creation of our Rose & Mullein line, which is characterized by the following features:
Certified Organic – free of GMOs, synthetic and toxic ingredients Reveals renewed skin radiance for a brighter-looking skin and less visible imperfections Contains high-performance actives to balance skin naturally Provides long-lasting hydration and smooth complexion Signature Bio-Actives:
Contains pure Bulgarian Rose Otto that helps illuminate complexion by having a positive toning effect on superficial capillaries. A potent Mullein flower extract helps brighten skin by absorbing invisible UV radiation and transforming it into visible light. Skin-reviving Candeia bark extract helps tame irritation, soften the appearance of fine lines and wrinkles. Our Iridescent Light Serum Rose & Mullein is Natrue certified organic. It is a potent, fast-absorbing serum which is infused with our proprietary Iridescent Light phyto-complex to fight dull, tired skin, encouraging brighter looking complexion. Upon application, skin is instantly moisturized, plumper, and toned, with significantly improved radiance and luminosity."
See why  have decided to try it? I love love love pure floral waters (review), cold pressed jojoba & rosehip oils, Rose Otto Regenerating Concentrate & Alteya Certified Organic Rose Otto Cleansing Milk, which is currently out of stock. Basically all that I have tried from the brand so far 🙂 Hoping this serum will join the favourites gang – I have high hopes for it!
Ingredients: Distilled Thermal Water, Aloe Barbadensis Leaf Juice*, Polyglyceryl-6-Stearate, Helianthus Annuus (Sunflower) Seed Oil*, Coco-Caprylate/ Caprate, Corylus Avellana (Hazelnut) Oil*, Glycerin*, Glyceryl Caprylate, Polyglyceryl-6-Behenate, Ricinus Communis (Castor) Seed Oil*, Copernicia Cerifera (Carnauba) Wax*, Pyrus Cydonia Seed Extract, Lecithin*, Hydrolyzed Verbascum Thapsus Flower*, Citric Acid, Euphorbia Cerifera (Candelilla) Wax, Dalbergia Sissoo (Rosewood) Wood Oil, Sodium Hyaluronate, Glyceryl Undecylenate, Xanthan Gum, Bisabolol*, Mallow Sylvestris (Mallow) Leaves*, Tocopherol, Rosa Damascena Flower Extract, Copaifera Officinalis Oil, Citrus Bergamia (Bergamot) Oil*, Sodium Benzoate, Potassium Sorbate, Rosa Damascena (Rose) Flower Oil*, Cananga Odorata (Ylang-Ylang) Flower Oil*, Aqua, Phenethyl Alcohol, Eugenol**, Geraniol**, Citronellol**, Linalool**. *Certified Organic Ingredients **Naturally occurring in essential oils
---
Now, I will quickly update You on the products I chose last month & my thoughts on them.
ENER C*
I love it! I cannot keep stock of these tasty vitamin C drinks in the house – everyone loves them and I love watching everyone get 1000mg of vitamin a pop? Anyone wants to sponsor me and get me a container of them? That would me super happy ? If You want to know more thoughts in them, I wrote about them in my Natural Medicine Cabinet post here.
KIKI HEALTH BAOBAB POWDER* (ORGANIC) & Chlorophyll*
Love this brand's products, will repurchase both, as well as their Magnesium oil.
SEE A FULL LIST OF MY FAVOURITE PRODUCTS:
Thanks for reading! See You here next Tuesday.
Sending LOVE & LIGHT!
Renata.

* indicated PR products chosen as Love Lula accredited blogger. Prices and ingredients correct at the time of publishing.