Hi Lovelies,
Welcome back! And welcome if You are new here xoxo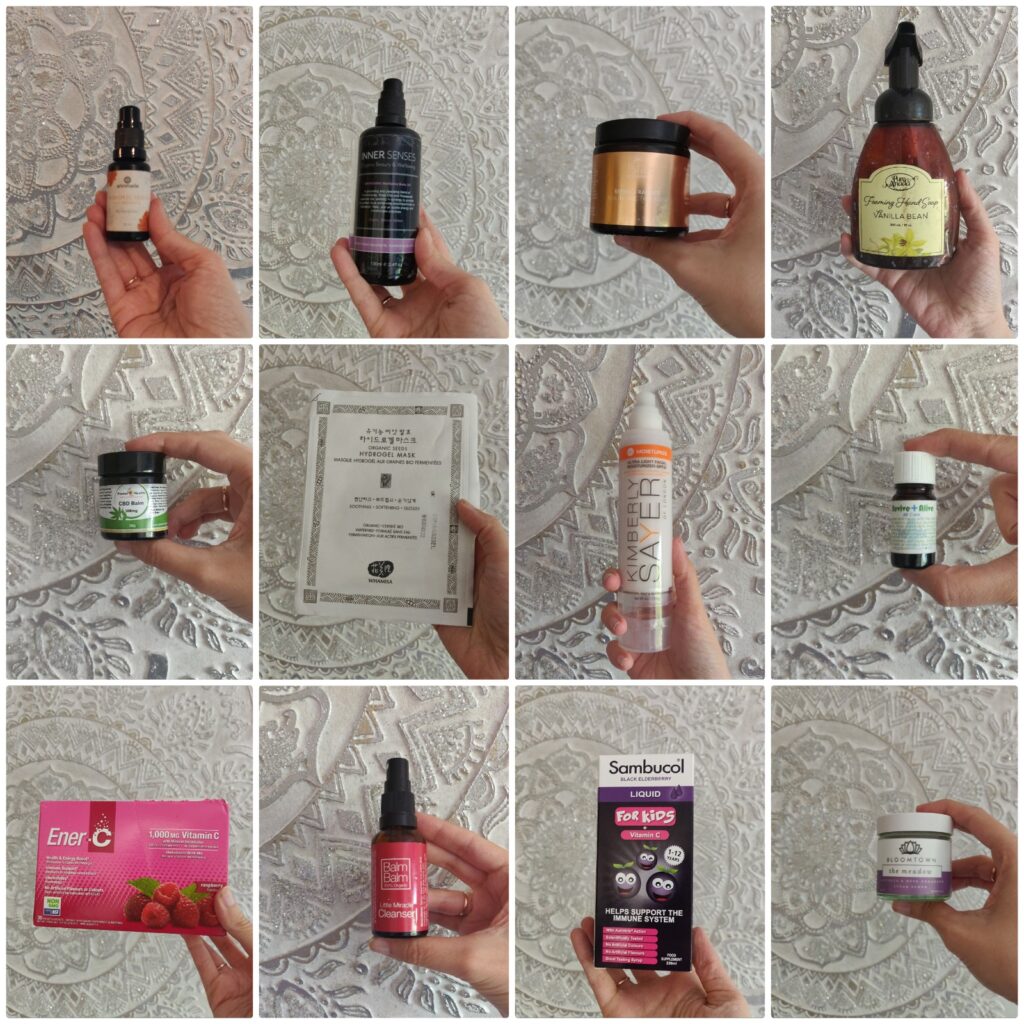 Empties. A necessary evil if you will – feels so good to be finishing products down to the very last drop, but such a drag to put these posts together.. The blogger in me wants to be onto the next best thing at all times, but it is also important to show people that the products I am reviewing are the same products I am using. Shall we get into it?
FABULOUS GREEN BEAUTY/WELLNESS PRODUCTS I WILL REPURCHASE
Related - see my best product here
Kimberly Sayer Ultra Light Organic Facial Moisturiser – SPF30*
My choice for a city SPF for the last half a decade. Huge size, not greasy, perfect under make up, no white cast – what more can you ask? Post
Living Libations Everybody Loves The Sunshine With Zinc Beach Balm
Another firm favourite when it comes to the sunscreen – Not only it has the most amazing all natural ingredients, protects from the sun, but it also healed my dermatitis outbreak – say what?? Not kidding, see review.
Foaming Hand Soap Tahitian Gardenia 300ML – £5.50
Pure Anada has my heart for a number of years, mainly for their pure natural mineral make up (post) but this time round I got a bunch of body and hair care from Live In The Light – all ended up as favourites! The love affair with Pure Anada continues. Foaming hand soap was bought for kids mainly, but ended up a hit with the whole family. Natural, non drying, smells great and is very affordable – especially if You remember to use my code 🙂
Code GREENLIFEINDUBLIN15 saves 15% at Live In The Light (UK)
Living Libations Revive + Alive essential oil blend
This for me was the big draw to the brand – knowing the (highest) standards Nadine has, I can rest assured these are as pure as you can get. There are many and many single essential oils and a few blends available, we are enjoying Longevity Liquid, Revive Alive for respiratory issues and general upkeep of good health. See this post on how I use essential oils.
100% Pure Caffeine Sheet Mask
Fell in love with the brand at the start of my green beauty journey, but the love faded because of a few reasons, the super short shelf life, inconsistency in quality in products I loved, the brand raising the postage to the EU more than triple I used to pay, etc. I don't buy much from the brand anymore, but I make exception for this and a couple of more products. This mask is amazing, makes Your skin red carpet ready, see this review post.
Hynt Beauty Duet Perfecting Concealer in Medium
I can't say enough good things about this concealer – full coverage, lasts all day without moving (and without setting I might add!) and it is my go to for the last half of a decade. A true workhorse which deserves much more love that it gets! See review & Hynt Beauty brand overview here.
Evolve Organic Beauty Climate Veil Tinted SPF20 in Light/ Medium
Another facial SPF favourite – hmm, this month I ran out of a lot of facial SPF, didn't I? You will love this if You like bronzed look, this product will give you that. Full review here and see this post where I talk about using it as body product too, post sun bronzy goodness.
DrThung's Ionic Toothbrush head
A ionic toothbrush system that repels plague? Yes please. I get mine from Dutch Health Store – see this post on what other dental products I use.
Sambucol
Ener C
OreganolP73
Yogi Throat Comfort Tea
Umm, all of those things are Holy Grail status in our casa, repurchased time and time again. See this post below on my Natural Medicine Cabinet. I shall replenish my stash very soon.
Related - my Natural Medicine Cabinet 

GREAT NATURAL ITEMS I WON'T GET FOR NOW DUE TO THE SIZE OF MY STASH
Just FIY up front, nothing wrong with these products or formulas, it's just I've been Marie Kondo-ing my stash with an aim to have only one open product in any given category, bar make up.
Balm Balm Little Miracle Cleanser
Inner Senses Awakening Meditative Body Oil
Ayumi Sensual Massage Bath & Body Oil
Bloomtown The Meadow Scrub
Isla Apothecary Refine + Radiate Mask
Whamisa Organic Seeds Hydrogel Mask
AnnMarie Skincare Probiotic Serum
Chobs Moringa Lotion & Toner
Shankara Naturals Hydrating Cleanser
Laboratoire Haut Du Segala Tahitian Monoi Body Butter
Ere Perez Quandong Serum
Biovene Citrus Dream Shampoo Bar
Kiki Health Liquid Chlorophyl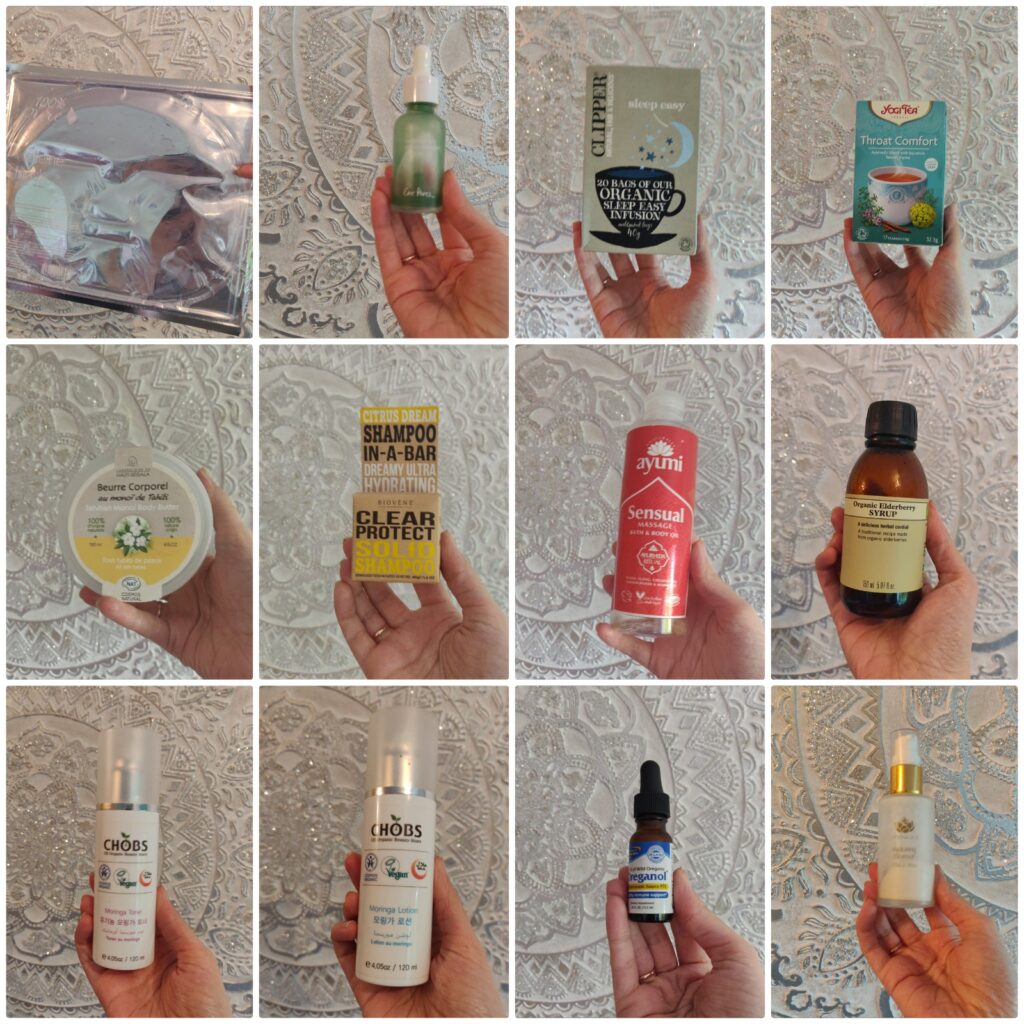 GREEN BEAUTY ITEMS I A NOT REPURCHASING 'COS THEY WEREN'T SUITABLE FOR MY NEEDS/ DIDN'T WORK FOR ME/ OTHER REASONS
Codex Beauty moisturizer – got a horrific allergic reaction, so needless to say I won't be using this brand ever again. It's just the day moisturizer that was problematic for me though, the face wash, the balm and the eye gel were ok. I think I won't be accepting any skincare offers from now on.
Random but not really:
That's it for today, thanks for reading! Have a great day & I will see you here next Tuesday, my posting day ?
Lots of Love,
Renata.