Hi Lovelies,
Welcome Back! And welcome if you are new here ???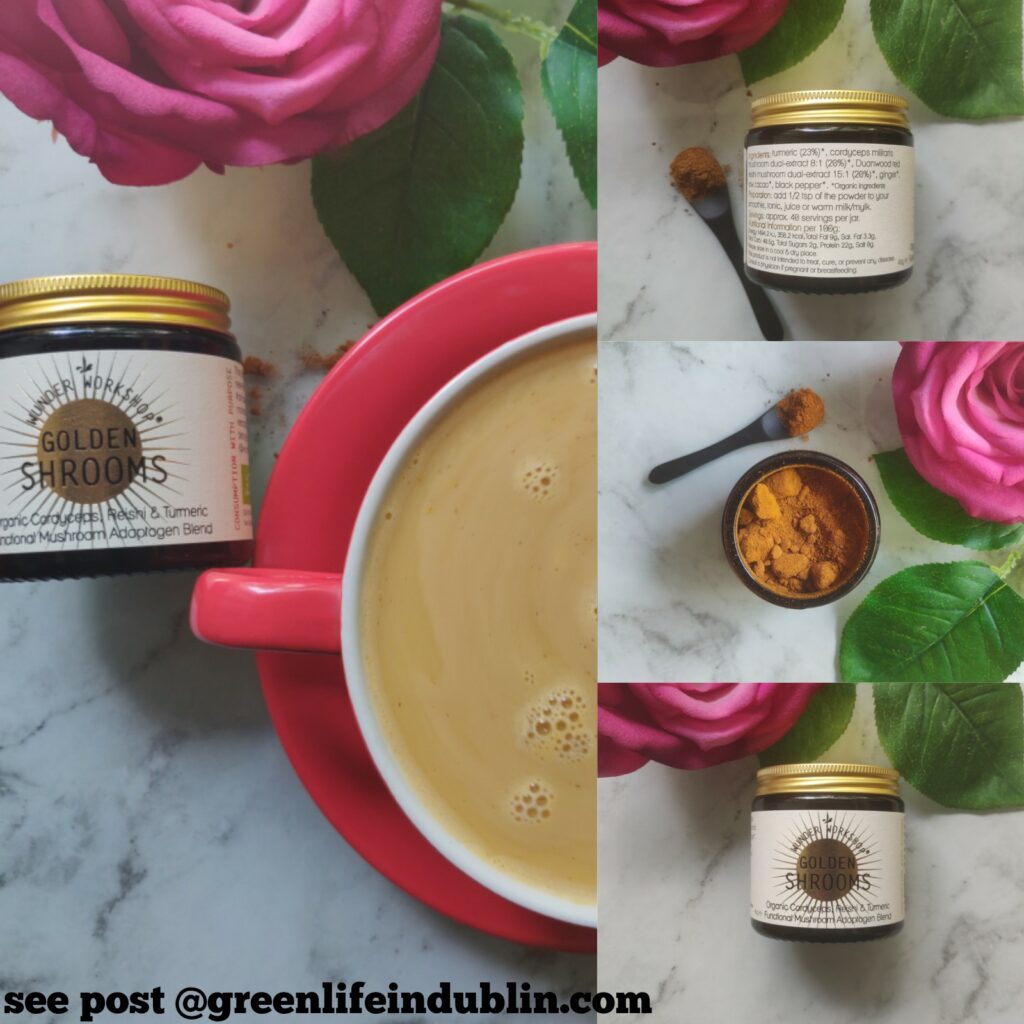 Do You guys love superfoods? Golden Milk? Medicinal mushrooms? If so, you are in the right place, I am about to review Wunder Workshop Golden Shrooms I got from Live In The Light. See the shop review here and a couple of posts I wrote can be found in this FB album I just created 🙂 Let's get started?
Wunder Workshop is a London based functional food brand making organic and ethically sourced turmeric based products. They focus on Consumption With Purpose®, by harvesting the power of plants for the ultimate wellness rituals. Wunder translates to miracle, and the focus is on plants that have a quality that can be classed as such.
Set up by Tom & Zoe in 2014, Wunder Workshop is inspired by Ayurveda – the "Science of Life", whose principles are based upon a preventive and holistic approach to health. The source functional ingredients to create products with integrity and purpose, with the farmers, the environment and customers in mind at every step of the way.
As conscious citizens themselves, all the decisions they make at Wunder Workshop are based on a set of ethical and sustainable values to promote a transparent relationship between grower and consumer.
Everything we consume carries a story, from where it was grown, who farmed it and processed it, to how it was packaged. They believe these stories are the most valuable part of the process and connect us to the origin – so they believe this should be transparent to all.
Tom & Zoe ethically source organic turmeric and most of other ingredients directly from small community farms in Sri Lanka that use a sustainable farming technique called Forest Gardening, supporting Sri Lanka's natural biodiversity, soil health, the farmers and the local community. They also source ingredients that are wild-harvested (Fair Wild certified), growing in their natural habitat, avoiding mono-cultural farms wherever possible.
THE MISSION
To share the highest quality and sustainably sourced herbs, spices, mushrooms and medicinal plants with our global community.
To cultivate awareness about where our food comes from and disrupt the outdated spice trading system that ignores the health of the planet and the wellbeing of the farmers.
To only use sustainable and ethical farming techniques that are good for the grower, environment and consumer. We therefore work with family owned, single-origin farms and small community farms.
To preserve the ancient and traditional wisdom of medicinal plants.
To educate people about food as a functional tool to enrich our bodies.
To change the attitude from curing disease to preventing disease.
To give back to community and the planet. They invest 1% of our yearly revenue into environmental, social and women empowering projects.
NUTRITION EXPERT APPROVED
The brand believes in consumption with a purpose, and therefore make sure that the products are tested and approved by a nutritional expert, to provide our customers not only with delicious products but with functional products that are an investment into your long-term health.
---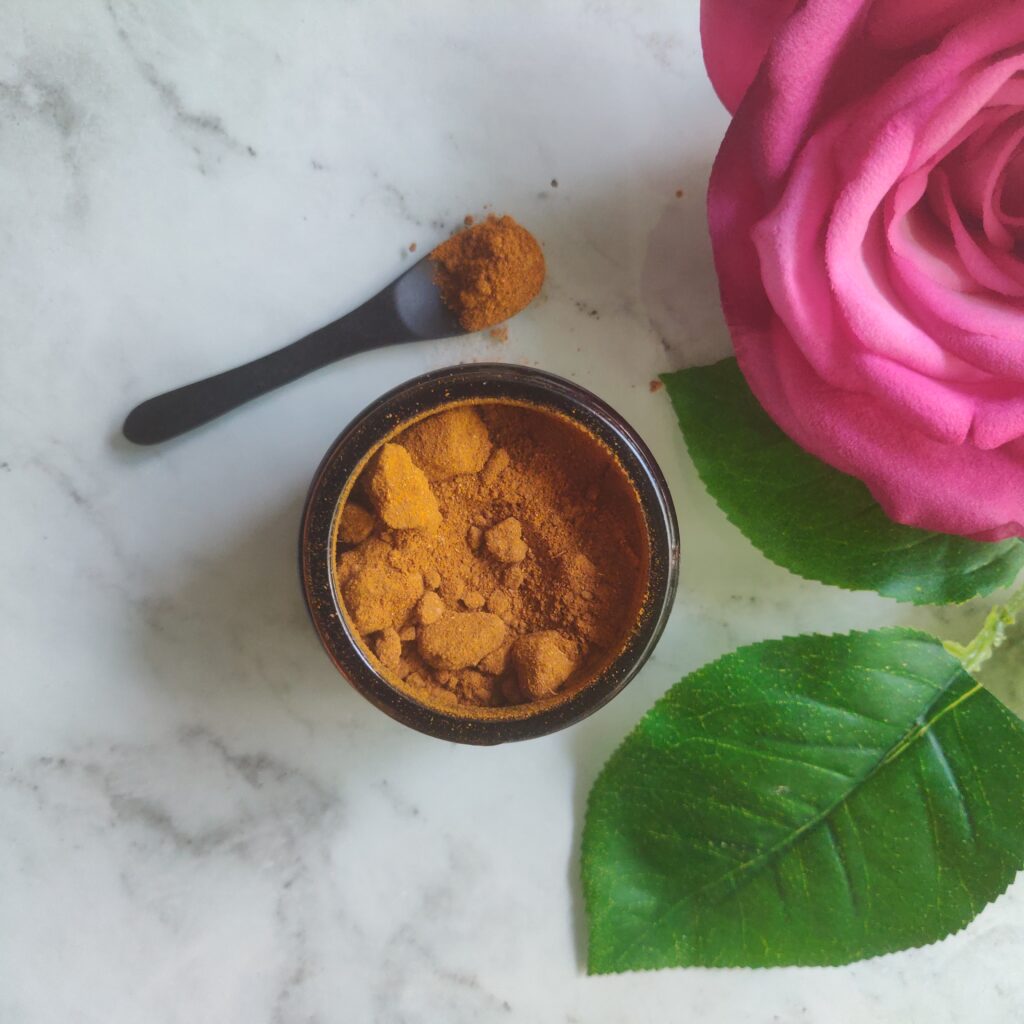 Now, how does all that sound to you? I love everything about it! From organic sourcing to consumption with a purpose, it all makes me want to do a happy dance! There are a few blends on offer, I plan to go through all of them in time, but let me start with Golden Shrooms. If you want a review in a nutshell, here it is – I love it! I am no newbie to the Golden Milk nor medicinal mushrooms, but I can honestly say this is the best tasting one! The formula is a perfection if you ask me?
This adaptogenic mushroom formula, inspired by Traditional Chinese Medicine, contains carefully selected organic ingredients that have traditionally been used to support the body in moments of exertion.
Golden Shrooms contains dual-extracted Reishi and Cordyceps mushrooms for higher bio-availability and higher levels of beta-glucans.
Reishi is a powerful adaptogenic mushroom that stabilises our immune system function, promoting a healthy immune system. It is also renowned for its ability to improve quality of sleep and has an anti-inflammatory action which is typical of adaptogens.
Cordyceps has long been used to improve physical performance and is also a natural aphrodisiac. It is a powerful adaptogen that supports immune system function and fights free radicals.
The labels are compostable and have been applied with a natural adhesive. The jar and lid are 100% infinitely recyclable.
Disclaimer: This product is not intended to treat, cure, or prevent any disease. Seek medical advice if pregnant or breastfeeding.
INGREDIENTS: Ingredients: Turmeric* (23%), Cordyceps militaris mushroom dual-extract 8:1* (20%), Duanwood red Reishi mushroom dual-extract 15:1 (Ganoderma lucidum)* (20%), Ginger*, Cacao* and Black Pepper*.* Certified organic ingredients.
How to use it: add 1/2 teaspoon (1g) of Golden Shrooms to hot water, mylk, teas and coffee. Golden Shrooms is a versatile food supplement that is an excellent addition to baking, smoothies, shakes, juices and tonics.
My personal favourite way of consuming it is Golden Milk – there's nothing better than a cup of this and a book in the evening. Pure bliss.
Wishing I could share this goodness with all of you!
Have You tried?
Code "GREENLIFEINDUBLIN15" saves You 15%
That's all for today, thanks for reading – I appreciate You x
Sending Love & Light,
Renata.