Hi Lovelies,
Welcome back! And welcome if you are new here xoxo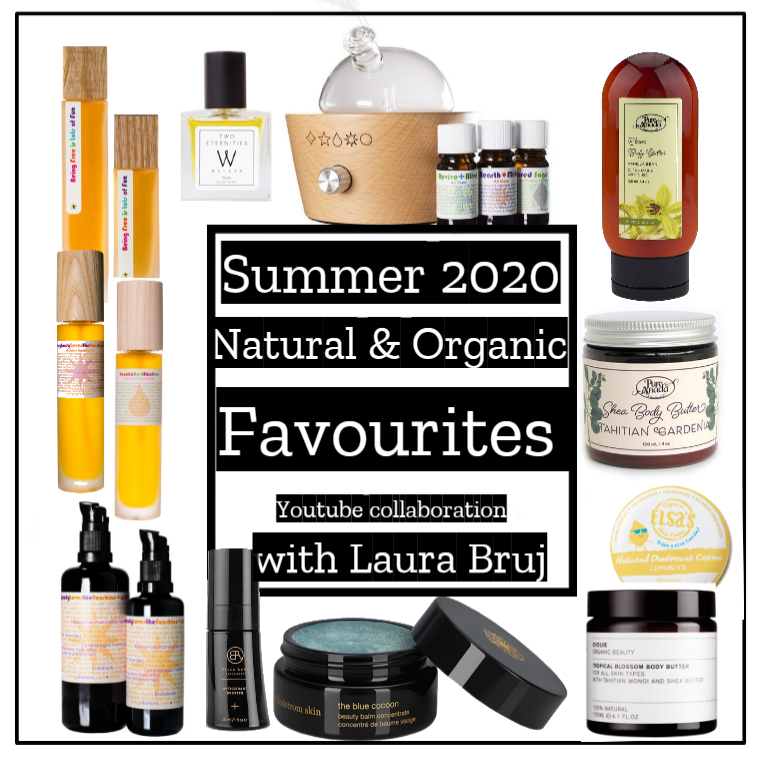 Hope You are all well & enjoying this summer as much as possible! Although it does not come naturally, I posted a YouTube video again, a Summer Favourites collaboration with my fellow green beauty sister from across the pond – Laura Bruj. She is awesome, you should check her out 🙂 She will be posting natural make up, I am talking about everything else, like skincare, body care, hair care, health & wellness, that kind of stuff. If you are interested, you can keep reading here or see my video here – whichever you prefer better ?
SKINCARE
Bella Aura line
The entire line. If you know me for any amount of time, you know that I am raving fan for more than two years and I never ever want anything else!
Review here. *Update on why I no longer stand by this brand, even though I still think their products are fantastic here, scroll down to the very end.
Living Libations Sea Buckthorn Best Skin Ever
This is one of the LL best sellers for a reason! You can use it million different ways too, making it good value for money. Follow me, I post about the green beauty sales all the time on my Facebook page here. Right now it is at 15% off at their website.
More in this My Fave Living Libations post here.
Find it at Living Libations,  Dutch Health Store,
Glow Organic Brighton
Alteya Organics Organic Rose Otto Facial Spray
Coming from the Rose Valley in Bulgaria, this stuff is pure – you can feel the difference! Love.
Full review here.
Evolve Organic Beauty Daily Defence Moisture Mist*
No specific review for this product per se, but I have loads for this brand's products, just hit the search button. Impressed with everything I have tried so far!
Find it at their website , The Dutch Health Store or Glow Organic Brighton. Or Arnotts.
Here is a brand review post if You want to know more? Almost all Evolve  products ended up as my Yearly Favourites, so be sure to look for those posts & YouTube videos too!
Brand overview – Evolve Organic Beauty – Green Life In Dublin
May Lindstrom Skin The Blue Cocoon
This has a cult following in a green beauty community – and for a good reason. Very few products rejuvenate my skin and heal dermatitis faster than this product, that's why I deem it worth the money, even though it is uber expensive. Let me know if you want a separate review or high end products I swear by?
Living Libations Everybody Loves The Sunshine with Zinc* (& Beach Balm version of that too)
see links above
Beach Balm version reviewed here. These two not only work as sunscreens, but do double duty as dermatitis healing products – yes way!
bodycare
Elsa's Organic Skinfoods Deodorants*
A favourite from 2018 that never let me down – and we all know how hard it is to find a natural deodorant that works. No baking soda in sight and there are waste free options available.
Evolve Organic Beauty Tropical Blossom Body Butter
Review here. (their Satin Body Gloss Oil smells equally amazing, with added bronze shimmer for the summer holidays feels – just letting you know)
Also available at Arnotts.ie
.
Pure Anada Tropical Coconut Bronzing Body Lotion
.
Pure Anada Shea Body Butter in Tahitian Gardenia
.
Pure Anada Shea Hand Cream in Mango Peach
All mentioned in this post here.
Health & wellness
Living Libations Nebulizing Diffuser
https://affiliates.livinglibations.com/SH6T [Living Libations]
https://bit.ly/2P4R0t8 [Dutch Health Store]
https://bit.ly/2DpwIVD [Glow Organic Brighton]
Full review here.
&
Living Libations Essential Oils
see links above
.
Soil essential oils
 [Love Lula]
.
Related post on how I use essential oils:
https://www.greenlifeindublin.com/2020/04/how-i-use-essential-oils/
.
Walden Natural Perfumes
[Love Lula]
Full review here.
.
Living Libations perfumes
find links above
.
Leahlani Mahana perfume roll on (love matching body oil too!)
https://bit.ly/2CHQEWY [Dutch Health Store]
.
Swiss Medicus Vitamin C+ (1000MG + Acerola + Rosehip + Zinc)
https://bit.ly/2UWAo9R [Live In The Light UK]
.
Related – My Natural Medicine Cabinet post:
https://www.greenlifeindublin.com/2019/09/my-natural-medicine-cabinet/
.
Wunder Wokshop Golden Shrooms
https://bit.ly/2UWAo9R [Live In The Light UK]
Review here.
.
This Works Stress Check Clean Hands No Rinse Formula
https://bit.ly/3f6H2my [Arnotts.ie]
.
Lifestyle
Susan Joy Vegan Handbag – Raw Edge with coin purse in Turquoise*
https://bit.ly/3eab0Wo – Live In The Light
Although I accept selected PR, I am also very determined to support my fave green beauty brands and online stores, buying from them with my own moolah! I thank You from the bottom of my heart if You will decide to use those links to support my mission to bring You honest reviews of natural products & weed out greenwashing, so you don't have to. We all know how this works, but if you do not, let me be honest - I get a tiny % if you purchase through my link, at no extra cost to you. Isn't it amazing that we can support each other just by using each other's links? x
Thanks for reading, your turn! What have you enjoyed recently?
Lots of Love,
Renata.