Hello Lovelies,
Welcome back! And welcome if you are new here xoxo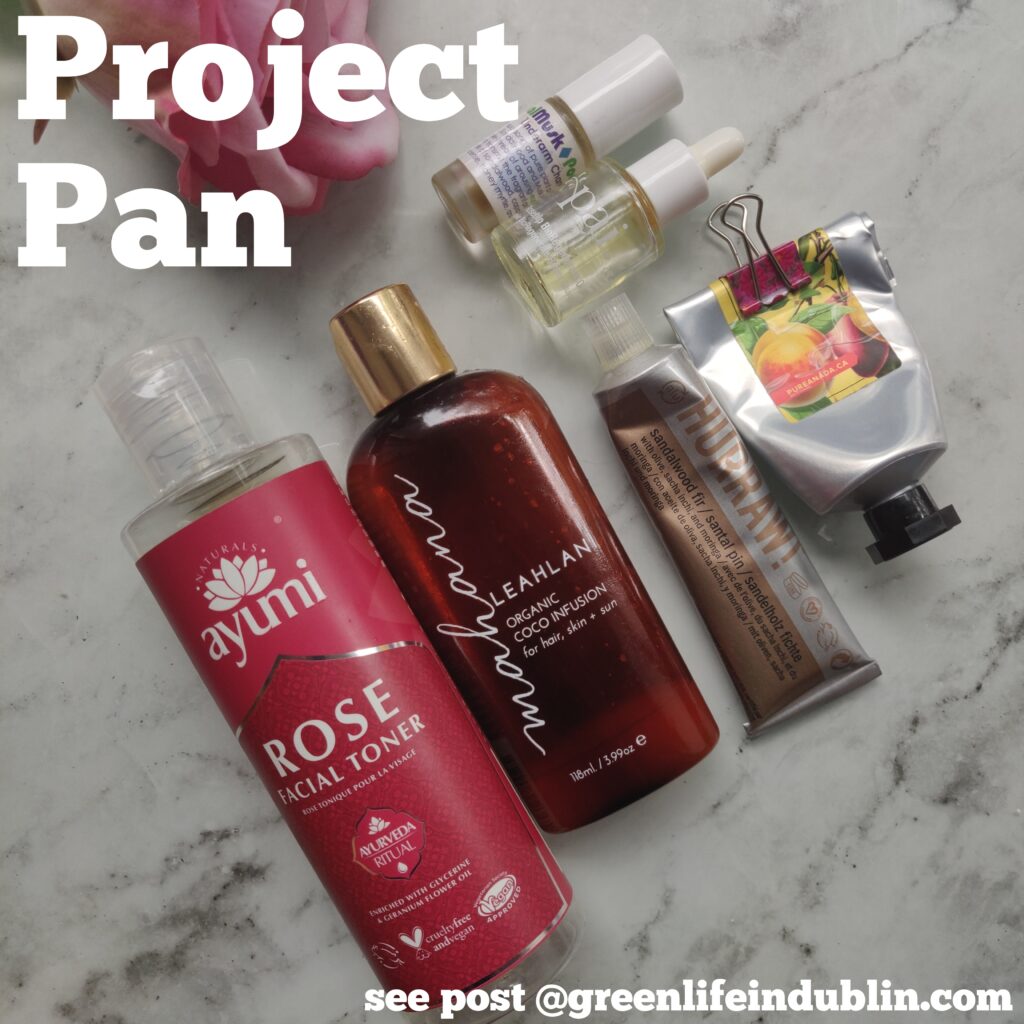 Project Pan. It is a good way to consciously use up products, especially the ones You kind of pushed aside for whatever reason, maybe something new and more exciting came into your life, maybe something quite did not work for you. As you can tell fro the photo above, today we will be talking about Ayumi, Pai, Leahlani Skincare, Pure Anada, Hurraw & Living Libations. Let's get started?
AYUMI Rose Facial Toner
Love Ayumi for body care and hair care (review) but I am a bit hesitant with the skincare – my skin is way too sensitive. I used this on the body & don't see myself repurchasing it sadly. Other products like Sandalwood scrub, shampoo, soap and Sensual body oil are constant repeats at Casa de Green Life In Dublin though.
Related - All Things Love Lula FB album [100+ posts]
LEAHLANI Skincare Mahana Coco Infusions Body Oil
Leahlani is a fantastic clean brand with a cult following in the green beauty world – and for a good reason! I adore this body oil and matching perfume roll on. Both are repurchases for me for infinity. I wish blogs and social media would have a scratch and sniff feature so I could share this amazingness with You. See 20+ Dutch Health Store reviews and posts below.
Related - Dutch Health Store FB album
PURE ANADA Mango Peach Hand Cream
If you follow me for any amount of time, You know I adore Pure Anada! Almost everything I have tried to date ended up in my Holy Grail Products (here) and this is no exception. Formula is just a perfection, nourishing without being heavy, full of gorgeous skin loving butters, yet sinks in fast leaving no residue. It is seriously one of two my best natural hand creams! Very affordable too.
Related - Live In The Light FB album
HURRAW Sandalwood Fir BALM TOO
As much as I adore their lip balms, especially Moon Balm, this didn't reasonate with me, so I am not going to repurchase. Loved the ingredients list, the fact that it is a vegan balm and the lovely sandalwood scent. But. I found this did not work for me. I tried it on my hands, face, dermatitis patches, dry patches, lips – you name it. Everywhere I put it, I found it doing nothing apart from sitting on my skin. No matter how hard I tried to rub it in, it still could be felt on the skin hours later. Did nothing in aiding skin healing either, so I am left confused about it. For the small amount it costs rather a lot, and I expect it to do something for my skin, no? If you have this, I would be very interested in your user experience with it, let me know please. It must be some trick I am missing?
*an update many many moons later. I ended up changing my mind about this product and ended up repurchasing it too. What made me change my mind is actually was this. I got a frost bite on my lips after one very cold day outside and found myself applying a product after product and nothing worked. Out of desperation, I grabbed this out of my stash and applied it thickly like a lip mask and went to bed. I woke up with smooth and healed lips, like nothing has happened to them. I am loyal to this product ever since. I see it being phased out out of a lot of shops that carried it and I do believe that it is not selling because of the high price point. But only if people knew how good it is as a lip mask/ overnight treatment!
PAI ROSEHIP OIL
I adore rosehip oil, I really do. Does amazing thing for the skin, from evening out the skin tone to fading dark spots to reducing appearance of wrinkles – all with one ingredient! Pai rosehip oil is different from all these other brands oils because it is made not only from the seeds, but also from the body of rosehip fruits too. I have gone through two full bottles of it prior to getting this travel size you see here. Definitely repurchasing at some stage, but not now, as I have a few other face oils waiting to be tested & reviewed. Oh, if You want a full review of this, let me know and I will be happy to put it together for you.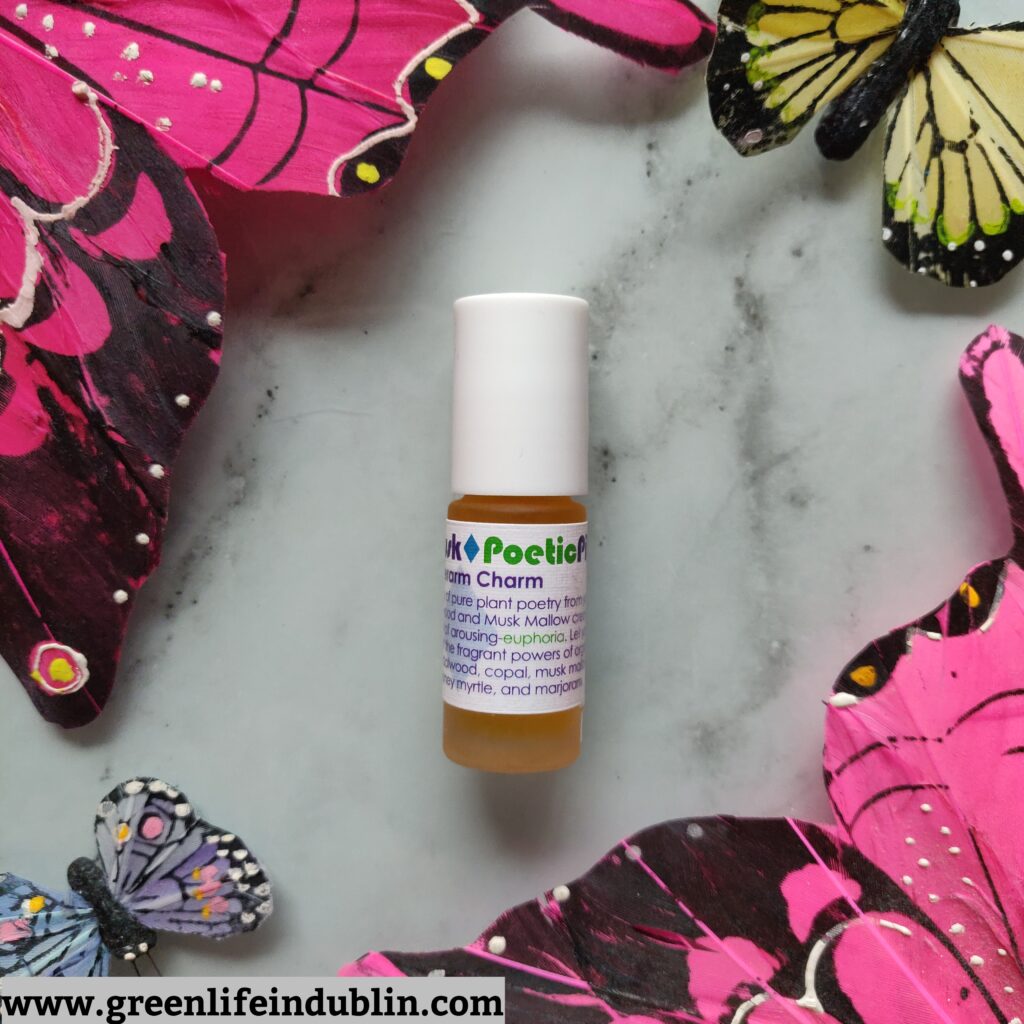 LIVING LIBATIONS COPAL MUSK poetic pits DEODORANT
Have you heard of deodorant made entirely from essential oils? Now You did, this is it! I reviewed it here and put it aside to test other products that came into my life. Now I am putting back the front row again, to finish it up, as I don't have that much of it left. Definitely getting it again, but in a different scent, thankfully Living Libations have plenty to choose from, as well as mini sizes of every single one of them. If You do not want to read the entire review, here are my thoughts in a nutshell – I adore the lightness of it, the feeling of no product in your armpit, and the gorgeous sandalwood scent every time I lifted my arms. It can be used as a perfume too. As a deodorant it works for a half day, but with scent this lovely, I did not mind reapplying one bit.
So that's it for today's post. Project pan is a good way to use up products consciously & you can then decide if you want to repurchase them or not.
What are you guys trying to use up?
Thanks for reading!
Sending Love & Light,
Renata.