Hello Lovelies,
Welcome back! And welcome if you are new here xo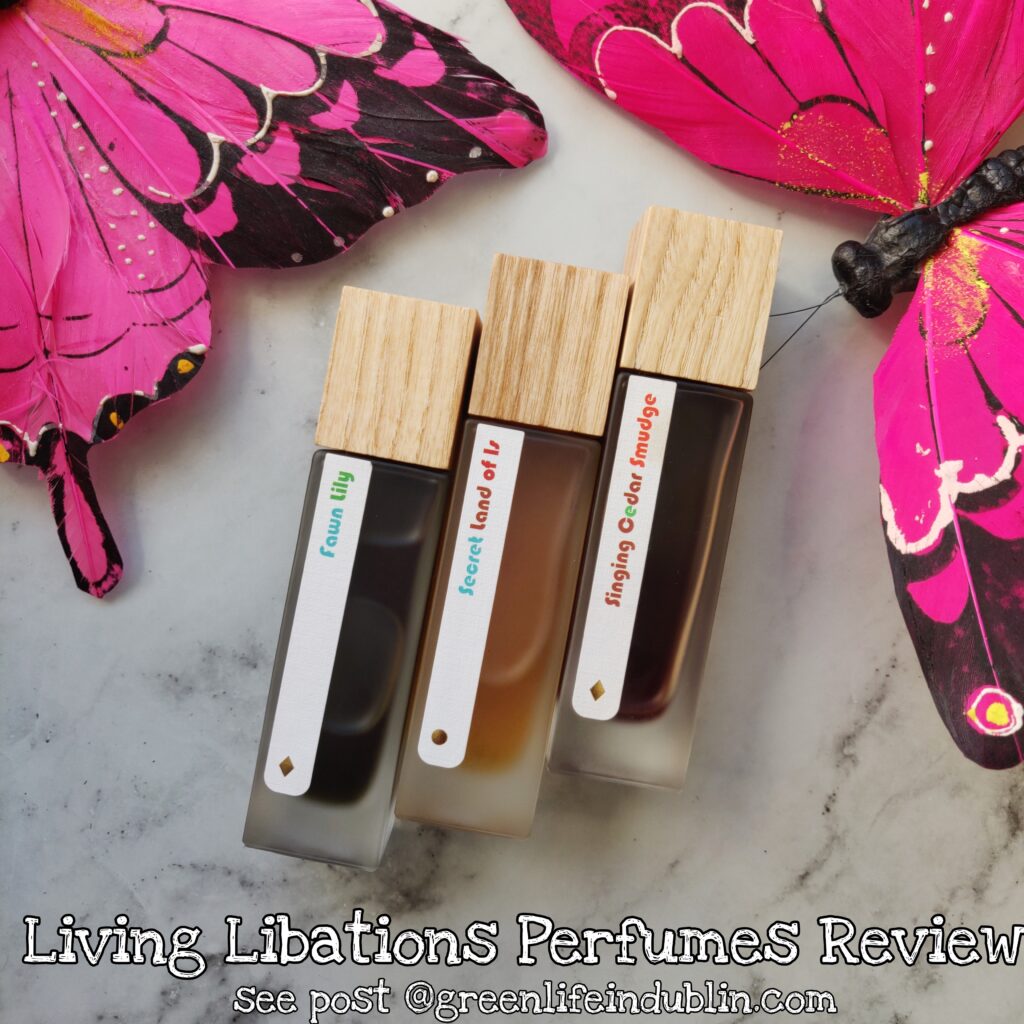 You guys know my love for Living Libations runs deep – check out this FB album for 15+ reviews. You will be pressed hard to find cleaner ingredients & products than this. And that's exactly why they have my heart!  See here for more on their philosophy. You know many and many of their products ended up in my Best Products, all the favourites ever, and I feel I am barely starting with the products. Let's see what I think of their perfumes?

Knowing the quality of the ingredients Living Libations use I expected nothing short of awesome, and awesome I got! Hear this out – not only these products are raw, beyond organic, wildcrafted, food grade, any synthetic free, beyond fair trade, gluten free & GMO free, but wait, there's more – they last for a full day on me! Today I will focus on purity of the ingredients, my user experience – and I will borrow poetic descriptions of the perfumes from Living Libations site, because I could never match it in my own words.
FAWN LILY
"Anoint the landscape of your being with Fawn Lily Petal Perfume, an ethereal floral bouquet of Tuberose petals, Linden Blossoms, Cape Chamomile buds, Neroli Blossoms, Ylang flowers and Elderberry Blossoms. This bevy of angelic blossoms is dappled with intermittent bursts of Blood Orange and wrapped in a dollop of vibrant Vanilla Beans. The imprint is a dreamy perfume that adorns the body with a fragrant garland woven from the blooms of purity. Celestial spheres of boundless beauty envelope the senses as this perfume blossoms on your body bestowing its gifts with every spritz.
Fawn Lily Petal Perfume will transport you to the first rays of dawn, descending from the heavens, forming a diaphanous gown of translucent light around every blade of grass and precious petal. As the chartreuse sunrise scent spirals ever onward, each beam winding deep into the nectary of flower upon flower, citrus groves awaken to the glorious fragrance of Neroli. Tuberose fans the flames of the heart while elderberry exhales a misty medieval fairytale. Wafts of Neroli dance upon the breeze while Blood Orange ensorcels the garden of this gracious perfume."
INGREDIENTS: Tuberose Petals - Polianthes tuberosa Tantalizing Tuberose is one the rarest, most sought-after essences in the world for its heady-honey-floral honey aroma that also exudes a fresh breath of balsamic-chypre. Named for the tubular shape of the roots of the Tuberose plant, Tuberose Absolute is known in East Indian legend as the "Mistress of the Night" because of its powerful love-potion properties. This oil produces a sultry, euphoric floral fragrance that is used in some of the world's most exquisite perfumes. Hawaiian people continue to use Tuberose to add fragrant florals to traditional Hawaiian leis.
Linden Blossoms - Tilia vulgaris Lovely Linden Blossoms sweet floral, slightly green scent of hay scent is reminiscent of pastoral June day.
Cape Chamomile Flowers - Eriocephalus punctulatus Imbibing on this beauty blossom is a delightful experience. Living Libations Cape Chamomile emits molecules of mesmerizing comfort and care. Fluffy flowers are steam distilled oil from fields of flowers grown in South Africa capturing a unique aroma that is a Lovely, berry-like, ethereal floral.
Neroli Blossoms - Citrus aurantium Gracious groves of orange trees bloom blossoms of this ambrosial aroma. The distilled essential oil, Neroli, is light and lovely and the absolute distillation is luxurious aromatic dream of heady florals and nuanced greens. To create these exquisite essence, 880 pounds of flowers are harvested to make one pound of oil. When distilled to perfection, the absolute offers a far richer, more mysterious experience than steam-distilled neroli for knowing noses. This honeyed, sultry, scent has been lovingly applied by natural perfumers and floral fans for centuries. It is unabashed, exotic, and seriously sexy
Ylang - Cananga odorata Euphoric ylang is an amorous essence that's name translates to "Flower of Flowers." While others sleep, these spellbinding blossoms exude their exotic fragrance across tropical breezes. Sweet and sultry ylang inspires the senses by dispelling negativity with its petals of perfumed positivity.
Elderflower - Sambucus nigra Elegant Elderflower blesses this perfume with tart-green-cherry notes saturated in the silky scent of dark chocolate.
Blood Orange - Citrus sinensis The sunny citrus tang of Blood Orange harmonizes frazzled feelings and washes over worries. Inhale gladness and exhale gratitude.
Vanilla Bean - Vanilla planifolia Warm, rich Vanilla wraps the senses in a sweet, sensual embrace. Velvety vanilla melts tensions away while igniting the desire to play, play, play
Organic Biodynamic Alcohol Organic Biodynamic Alcohol serves as a carrier for our petal perfumes and forest colognes, allowing each botanical to effortlessly infuse the skin with aromatic wonders. This organic, biodynamic alcohol is of the utmost quality and is triple-filtered for purity. Produced from certified organic grapes, it is independently tested to ensure it meets the United States Pharmacopeia (USP) standards for pure, organic, pharmaceutical grade alcohol.
SINGING CEDAR SMUDGE
"Anoint yourself with the sacred scent of majestic tree resins before you venture into your day or whenever you long for the fresh embrace of nature's cleansing and replenishing rays. Singing Cedar Smudge is your aromatic attendant as you dive deep into the alchemy of masculine majesty. Explore the forest through your senses. Inhale and sanctify your spirit with the wonders of white and red cedar, fulsome fir trees, sensual sandalwood, fragrant roots, and sunny citrus.
Living Libations Singing Cedar Smudge is a cedar scented coniferous cologne that elevates the aura of your charisma. Forest-bathe your body in cologne that swirls the enchanting essences of white cedar and red cedar into an aromatic song with serene sandalwood, a verve of velvety vetiver, a fusion of fruity forest air with douglas fir, and a dash of golden grapefruit."
INGREDIENTS: White Cedar - Thuja occidentalis Wondrous White Cedar is a coniferous cologne's dream that captures the deepest notes of this grand tree. Extracted from the needles of Canadian white cedar, the absolute perfectly encapsulates the richest aromatic notes of this majestic tree's essence. The absolute is a more viscous liquid, containing a forest of fragrance that adds a depth of deep deliciousness with a sweet, earthy resinous bouquet. Spiritually and emotionally, white cedar inspires clear thinking and energizes the spirit.
Red Cedar Leaf - Thuja plicata atrovirens The revelry of Red Cedar resides in its reassuring aroma that smells like sauna-wood and regales west coast rainforests with a dash of delicate forest-floral notes. This heartening essence is steam-distilled from the heartwood of harvested branches from towering trees in Canada. Known traditionally for its calming effects, red cedar expands awareness and opens the heart.
Sandalwood - Santalum album Serene Sandalwood offers notes of honey, balsam, wood and syrup, the combination of which amplifies your own natural scent. This sensual love liniment calms and soothes as it rejuvenates.
Douglas Fir - Pseudotsuga menziesi Our perfectly purifying Douglas fir will calm your disposition and inspire meditative feelings while enhancing deep breathing. Douglas fir harnesses the majestic power of these tall trees. Fresh evergreen apple notes clear the breathing, facilitating peace and improving your relations with others.
Grapefruit - Citrus paradisi This sunny citrus oil is uplifting, invigorating, and energizing. Joyous grapefruit balances the evergreen aromatics of the forest, infusing each blade of grass, every inch of moss, and each bowing bough with a dollop of sanctimonious sunshine
Organic Biodynamic Alcohol Organic Biodynamic Alcohol serves as a carrier for our petal perfumes and forest colognes, allowing each botanical to effortlessly infuse the skin with aromatic wonders. This organic, biodynamic alcohol is of the utmost quality and is triple-filtered for purity. Produced from certified organic grapes, it is independently tested to ensure it meets the United States Pharmacopeia (USP) standards for pure, organic, pharmaceutical grade alcohol. See our YouTube clip on this product:
Vetiver - Vetiveria zizanioides Distilled from the long tendrils of leafy-green wild grass, Vetiver is a full-bodied aromatic with herbaceous notes of spice and earth. The robust, heavy-scented verdancy of vetiver offers aromatherapy benefits that are stimulating, soothing, and grounding.
SECRET LAND OF IS
"Roses and roots traverse the land, walking hand in hand along a perfumed path of balanced divinity. The Secret Land of Is exists where the divine femininity of roses intermingles with Shiva's masculine shrine. Flowers and roots and Sandalwood shoots make this Secret worth uncovering!
As embedded roots shoot the first pollen of spring and petals unfold to the first rays of sun, a divine merging occurs, where two become one.
In the Secret Land of Is, spikenard and sandalwood cast a fragrant spell upon sweet, impressionable roses. Flowers and roots, petals and shoots intermingle as masculine and feminine shepherd each element down a path of divine unity. In a secret place beyond thought and separation, wet earth embraces vetiver and mitti attar. The masculine energy of Shiva himself is soothed with the yielding, receiving energy of the divine feminine Shakti.
A single spritz of this unifying fragrance transports you to the Secret Land of Is, where souls and scents unite in a sphere of sovereignty celebrating of the oneness of all life."
INGREDIENTS: Rose de Mai - Rosa centifolia This smooth, hypnotic distillation offers the fresh, delicate sweetness of a rose bouquet doused in glistening morning dew. Rose de Mai is known as the "oil of love" and brings an uplifting heart to the Secret Land of Is.
Sandalwood - Santalum album The heartwood of the sacred sandalwood tree smells of creamy honey and refreshing balsam. Sandalwood calms and rejuvenates, infusing this blend with pitch-perfect balance.
Rose Otto - Rosa damascena Intensely floral and rich, Rose otto lifts the spirits, opens the heart, cultivates trust, and eases the pain of lost love. This precious aphrodisiac soothes worried minds, alleviates anxiety, and helps heal the soul.
Mitti Attar - Santalum album + baked earth This ancient, sacred oil is steam-distilled on the banks of the River Ganges in India. Mitti attar captures the essence of fragrant, fresh soil just after a rainstorm. This essence revitalizes body and mind while creating an instantaneous connection with the earth.
Spikenard - Nardostachys jatamansi Deeply penetrating spikenard roots complements Mitti attar with exciting notes of woody, earth, and springtime soil. Spikenard is harmonizing, relaxing and balancing for body and mind.
Vetiver - Vetiveria zizanioides Rich, spicy, earthy vetiver balances the sweet floral essences of Rose de Mai and Rose otto. Vetiver is grounding and stabilizing, bringing the perfect amount of yang energy to rose's yin.
Organic Biodynamic Alcohol Our bio-dynamically grown, organic, 190 proof neutral grape alcohol is filtered in three stages to assure the highest level of purity. Furthermore, it is tested by an independent lab to insure that this organic spirit is pharmaceutical grade and meets United States Pharmacopeia standards.
---
If You want my thoughts in short, I say they are amazing and You should definitely go for it. They are potent, beautiful, truly natural and multi-layered spritzes of happiness!  If this did not sink in yet, let me repeat myself – not only these products are raw, beyond organic, wildcrafted, food grade, any synthetic free, beyond fair trade, gluten free & GMO free, but wait, there's more – they last for a full day on me. Unheard of these days, no? I frigging love them! I hope Living Libations never ceases making them, because I never want to be without them, just like so many other Living Libations products. There are 20 of perfume scents to choose from and truth to be told, I want to get all of them to sample. Some of them might not be Your (or mine) cup of tea, so it is very important to read the description carefully to try to gauge the scent profile – or get sample sizes first. Oh, how I wish blogs and social media would have a scratch-and-sniff feature for natural perfumes. I am culling a lot of products this year, but these are going nowhere! Out of the three I currently have, I will repurchase Secret Lands Of, because of dreamy combo of roses and sandalwood – that is more of a scent profile I like, the other two I would describe more of a forest-y, earthy scents. They are beautiful in their own way, do not get me wrong, but perfume is such a personal thing, isn't it? What might not be for me, it might be next person's best product. I have my eyes on Chocolate Vanilla Velvet next. One more thing about these perfumes that I absolutely adore and just have to mention in this review – You will be guaranteed to be unique, no one around will be smelling like You, take my word for it. People will be intrigued and You will be asked what You are wearing on the daily. Personally for me, it feels good to stand out in the sea of same-ness, and if You are reading this, I think You are the same. So I invite You to check them out for Yourself, and You might discover Your signature scent and Your best perfume. I know I did and I want that for all of You lovelies too.
Have You discovered Living Libations perfumes yet? Are You interested? What about other Living Libations products, what are Your Holy Grails? I have many, so I will invite You to hit that search button to discover more – I have more than 10 reviews and almost all the products ended up as my Yearly Best products – and that, my friends, is saying a lot!
*update many many moons later. After my initial review post I received a feedback from a few people saying that their perfumes do not last and thus are not worth the money. Other people were backing me up saying that they do last. I was initially a bit confused about this and thought to myself maybe they do last differently on us based on our different constitution and genetic make up? Products can last differently even by what we eat, our different ph levels.. But. Long story short, I purchased their Chocolate Cologne – Vanilla Velvet perfume because I was a bit obsessed with chocolate beauty products at one stage. Surprisingly that only lasted 4 to 5 hours on me at the time. So I finally got it what those people were saying. Let's just come to a conclusion that different perfumes have different lasting power. I rest my case.
CHECK THEM OUT AT:
Living Libations Online Shop
The Dutch Health Store
Live In The Light - 

use GREENLIFEINDUBLIN15 to save 15%
That is all my friends, thanks for reading, I appreciate that!
Sending Love & Light,
Renata.

see everything I own