Hi Lovelies,
Welcome back! And welcome if You are new here xoxo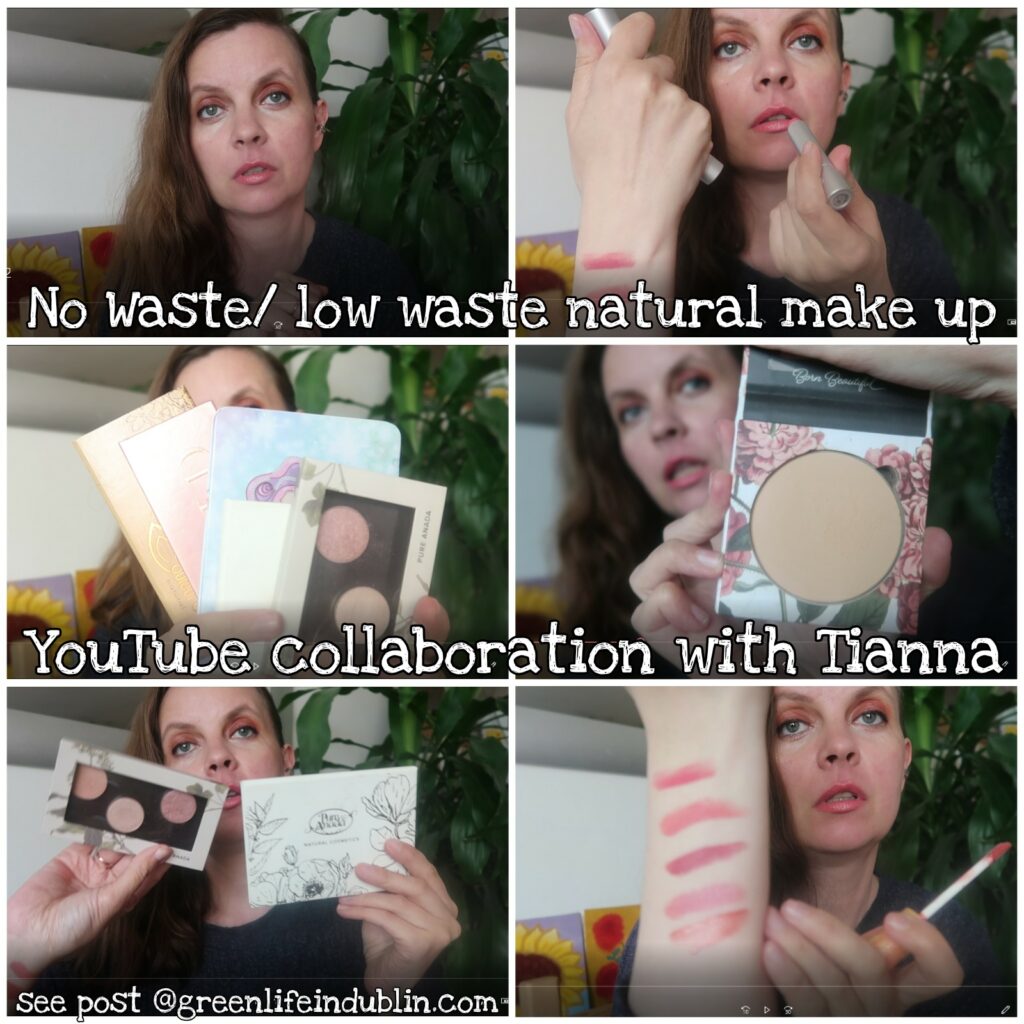 Hi Lovelies! I am here showing You my low waste/ no waste natural and organic make up. This is a collaboration with beautiful fellow green beauty Youtuber Tianna, who goes by Green Beauty Glamours on IG – her video linked on my Youtbe video. Scroll all the way down to see video if You prefer videos to reading posts ?
PRODUCTS GROUPED BY THE SHOPS
LOVE LULA
RMS Beauty 
Love lipsticks, they have multiples and concealer + mascara in glass packaging (lids are plastic though)
SoulTree
Mascara & lipsticks in metal tubes. Beautiful colourful kajals too.
Ere Perez
Beautiful multiples & highlight in glass jars. Love concealer too, full coverage and stays put! Quinoa foundation in glass.
Emani Vegan Cosmetics
Mascaras and lipstics in metal tubes. Foundations in glass.
Benecos
Cardboard palettes you can customise.
PHB Ethical Beauty
Liquid foundation in glass packaging. Pressed one in cardboard palette, as well as eye make up.
The Organic Pharmacy
Concealer in glass tube. Light coverage though, just wanted to point that out before You purchased that. Foundation and liquid blush in glass too.  Looks like the highlight too?
Madara
Foundation only, the rest of the make up is sadly in plastic.
Odylique
Eye shadows in cardboard pans.
Natorigin
Wooden jumbo eye shadow pencils.
Inika 
Living Colour lipsticks in metal tubes. Lipstick crayons in wooden jumbo pencil format. Full coverage concealer in glass. Love this brand so much, wish all the products weren't in plastic!
Lavera
Eye and lip pencils in wood. Looks like mouse foundation in glass and some lipstics are in metal, but can't really tell by looking at the screen.
Living Nature
Illuminating foundation in glass – loved this enough to review it on my old blog, I should revisit it soon.
Esse Skincare
Probiotic foundation in glass jar – this definitely calls my name.
Hurraw
Highlights called Aura Balms in glass.
Hiro
Cardboard palettes and shadow refills.
Wow, I am really impressed. Sooo many brands and products to choose from! Looks like You could put Your whole low waste collection at this online shop alone – reason #3457y2056 to love Love Lula! I have written well over 100 posts and reviews, be sure to hit that search box 🙂
Natural & Organic Make Up Starter Kit – Green Life In Dublin
RMS Beauty
Like mentioned, lipsticks, concealers, foundation & mascara are all in eco packaging.
Delizioso Skincare
Foundation and lip and cheek shine in glass.
Living Libations
Blushing balms and shimmers. This brand does not do make up per se, but their skincare and body care are are on another level!
Living Libations
See above.
Fat & The Moon
If You want fully no waste, this is the brand to check out. All make up is housed in glass and metal, even the lids.
Pure Anada
Oh how I love Pure Anada! Palettes, refills, singles of eye shadows, blushes, bronzers, pressed foundation, oh my. Pigmentation is insane (see video at the end) and everything is so affordable. Wooden pencils and mascara in metal. Lipsticks too.  Multiples called rouges are gorgeous and so so pigmented. I could talk all day about Pure Anada.
Carlucce
They promise sustainable packaging and great pigmentation, as well as natural ingredients.
Green Beauty Swatch Gallery
Axiology Beauty
They are famous for sustainable packaging, no introductions needed.
Zao Make Up
Kjaer Weiss
Couleur Caramel
Gressa
Sappho
Ere Perez
Nui Cosmetics
Hynt Beauty
Rms Beauty
Inika
Kjaer WEISS
ERE PEREZ
The video for those of You who prefer videos to reading blogs:
That's it for today, thanks for reading & watching – I appreciate You ???
What are Your favourite low waste/ no waste make up product? I am sure I missed some, let me know?
Sending LOVE & LIGHT!
Renata.