Hello Lovelies,
Welcome back! And welcome if You are new here xoxo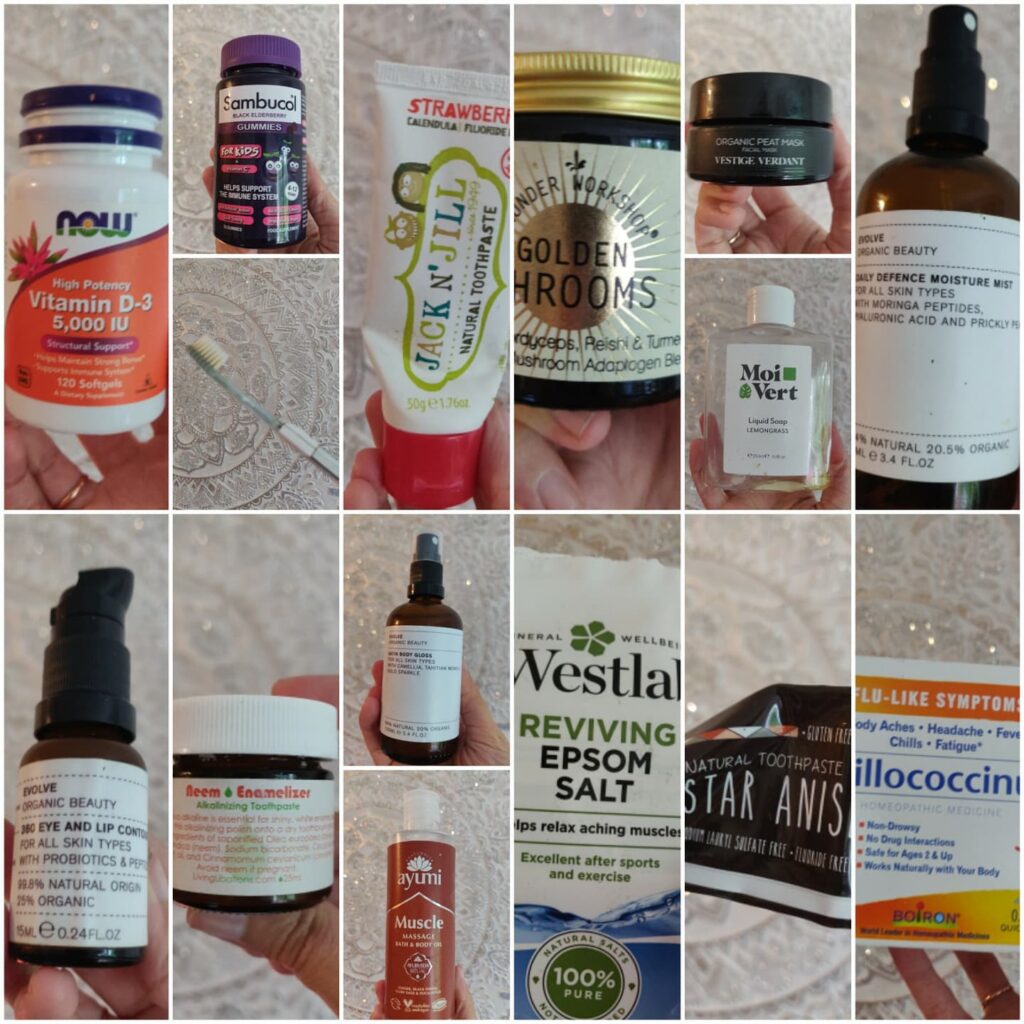 How are all of You, I hope You are well? If You enjoy empties posts, then this is for You! I made a video this month too (here) for those of You who prefer to watch videos vs. reading posts. There's one thing I myself won't be enjoying though – adding up the costs. I started tracking the costs this year and oh boy, it has been a real eye opener.
* disclaimer - PR products and some affiliate links featured, many thanks if You will decide to use them, at no additional cost to you xo
Pictures collaged in random order.

FABULOUS GREEN BEAUTY/WELLNESS PRODUCTS I WILL REPURCHASE
Many & many of these products have reviews, please hit the search box for more in depth posts on them.
Boiron Coryzalia
Homeopathic remedy I take at the first sights of cold/flu. Works for most of the time, but if I feel it is evolving into full blown flu, I move onto Osccollococinum (I think I've misspelled that) also from Boiron as more heavy duty approach to heal quick and that works every time. I use both of these remedies for at least fifteen years and I cannot recommend highly enough You take a look into them too. See more in my holistic medicine cabinet post below.
Sambucol Gummies x2
Now High Potency vit D3
Jack N Jill Strawberry Toothpaste
Check iHerb for Boiron, Sambucol. Now & more
Code CDI1500 saves $£€ for Your first order
Ayumi Moringa & Neem Shampoo
This affordable brand is a hit in our house for years now. I like Sandalwood range, Moringa & Neem helps MrGreen Life In Dublin with his "scalpacne" and the kids love Hibiscus range.
Check Love Lula for Rahua, Inika, Sarya, NYR, Alteya Organics, DrHauschka & more
Wunder Workshop Golden Shrooms
Holy Grail me-time grounding-time product from this brand, although they have many other beautiful teas and coffees. I have Reishi coffee too. Will I repurchase? I already did ? Did I review it? Yes I did ?
SAVE 15% WITH GREENLIFEINDUBLIN15 AT LIVE IN THE LIGHT (UK)
Evolve Organic Beauty Epic Finish Off:
HA Eye Complex
36o Eye & Lip Contour
Hyaluronic Serum 200
Daily Renew Facial Cream
Daily Defence Moisture Mist
Brand overview – Evolve Organic Beauty – Green Life In Dublin
Hynt Beauty concealer
DrThung Ionic toothbrush
Living Libations Neem Enamelizer Toothpaste
Check Dutch Health Store for Evolve, Living Libations & so much more
Epsom Salts
GREAT NATURAL ITEMS I WON'T GET FOR NOW DUE TO THE SIZE OF MY STASH/ OTHER
Miaroma frankincense EO
Miaroma turmeric EO
Pure Anada Bronzing Body Lotion
Evolve Organic Beauty Satin Body Gloss
Moi Vert Liquid Soap
Ayumi Muscle Body Oil
Green Beaver Star Anise Toothpaste
natural products i won't be getting again
alverde brow pomade
Discontinued. Welp!
---
For those of You who love watching videos more than reading, here is the video:
---
TOTALS FOR THE LAST TWO MONTHS:
Uhh, I might be regretting my decision to put this out in public already ?
Skincare – 5 products – €155
Eeek! I want to go back to head-in-the-sand method!
Bodycare – 5 products – €63
Make Up – 1 product – 30€
Health & Wellness – 8 products – €104.5
Other – 6 products – 59€
Totals for the month – 25 products – €411.5
---
TOTALS PER YEAR SO FAR
Skincare – 34 products – €962.5
Body care – 19 products – 311€
Make Up – 7 products – 133€
Hair – 6 product – 109€
Health & Wellness – 48 products – 599.5€
Other – 18 products – 169.5€
Totals this year to date: 132 products – 2285.5€
Now, Your turn – what have You guys finished lately? Have You ever budgeted what You are spending on skincare & stuff? Let me know, I want to hear from You.
Sending Love & Light,
Renata.