Hello Lovelies,
Hello Lovelies, Welcome back! And welcome if You are new here xoxo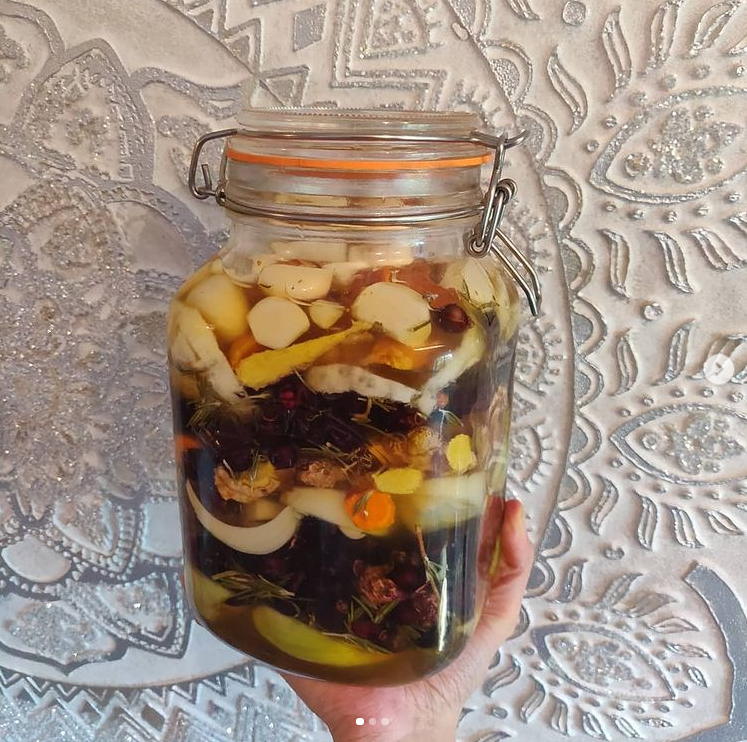 Today is making lame reels & fire cider day! Want to know more? Let me tell You all about it 🙂
Hope You are all well! I am preparing for the upcoming Fall & Winter, aka Flu Season by stocking on as much of healing remedies as I can, including this healing/ fire cider. I believe this was started by the legendary herbalist Rosemary Gladstar – she has won a court case against one brand trying to trademark it. She chose it to make it free to people and has released a book on it (here). I am yet to get my paws on it, but I love that it is such a forgiving recipe letting You to freestyle a lot.
Let me go back a little bit in the case You have never heard of fire cider – it is basically lots of healing herbs/ roots/ superfoods macerated into apple cider vinegar. You can take it daily diluted in water or juice to boost the immune system.
You can buy it ready made, but I prefer to make my own because it is way cheaper this way & I am in full control of ingredients. Organic is best, but use what you have. It is basically lots of healing things in apple cider vinegar. Make sure to use raw unpasteurized vinegar with the "mother" to get full healing properties of it.
This recipe requires no strict measurements, perfect for me. Here are rough measurements for 2l jar.
? 2-3 lemons
?️ 1-5 fresh chillies
? 1-2 onions
? 1-2 bulbs of garlic
? Fresh or powdered ginger
? A handful of rosehips/ juniper berries/ goji berries or any healing berries you have
? Thyme/ rosemary /oregano or any other healing herb you have
? Organic cinnamon sticks or powder
? Fresh or powdered turmeric
.
Top up with enough apple cider vinegar to cover it. Keep in dark(ish) place for about 6 weeks, shake daily or when you remember. Make sure the mass is submerged below the surface to avoid mold growth & it might need occasional vinegar top up if it gets lower. If You use jar with the metal lid, make sure to use paper or parchment paper in the lid to avoid it rusting.
.
After 6-8 weeks strain it into cute glass bottle & keep it for winter. Take 1 teaspoon of it into water as a booster for your immune system. Never drink it straight! This can be used in recipes like salad dressing, but do not heat it as not to lose precious enzymes and healing properties of the plants.
Check iHerb for organic herbs & ACV
Related posts:
Not a fan of vinegar? No worries, I have just the thing for You that is also very healing & can be used in cooking. Just make a batch & freeze in ice cube trays to last a while.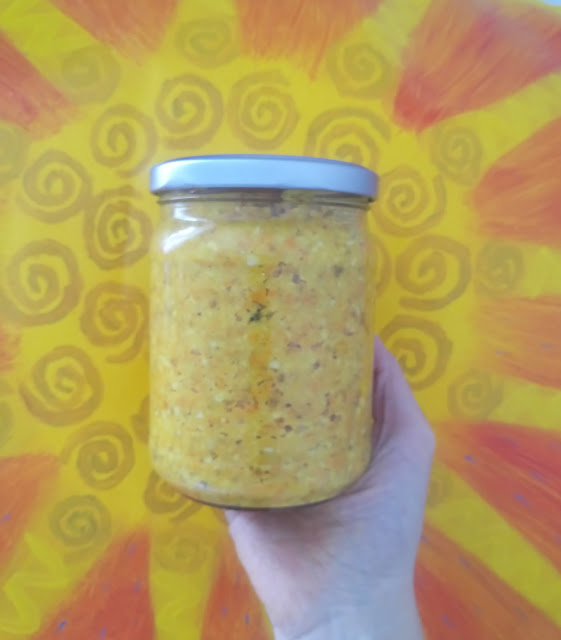 If You want to know more of the natural ready made remedies I buy, see this post. These are tried and tested in Casa Green Life In Dublin for well over a decade and they are something I am never ever without them in the cold time of the year.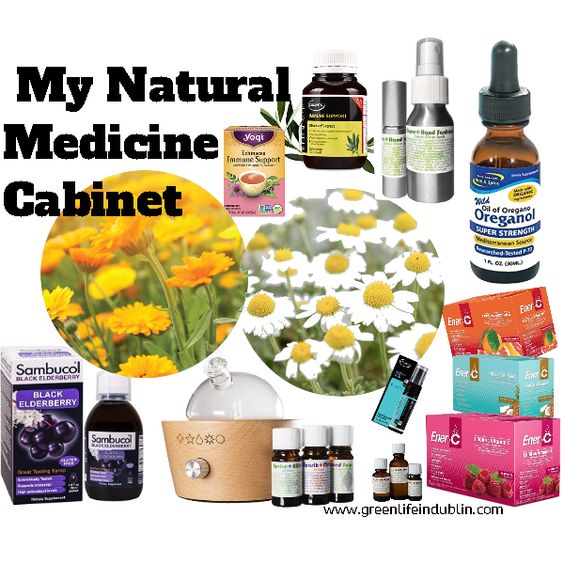 I also find essential oils very good in aiding in healing all kinds of boo-boos, see this post on how I use them: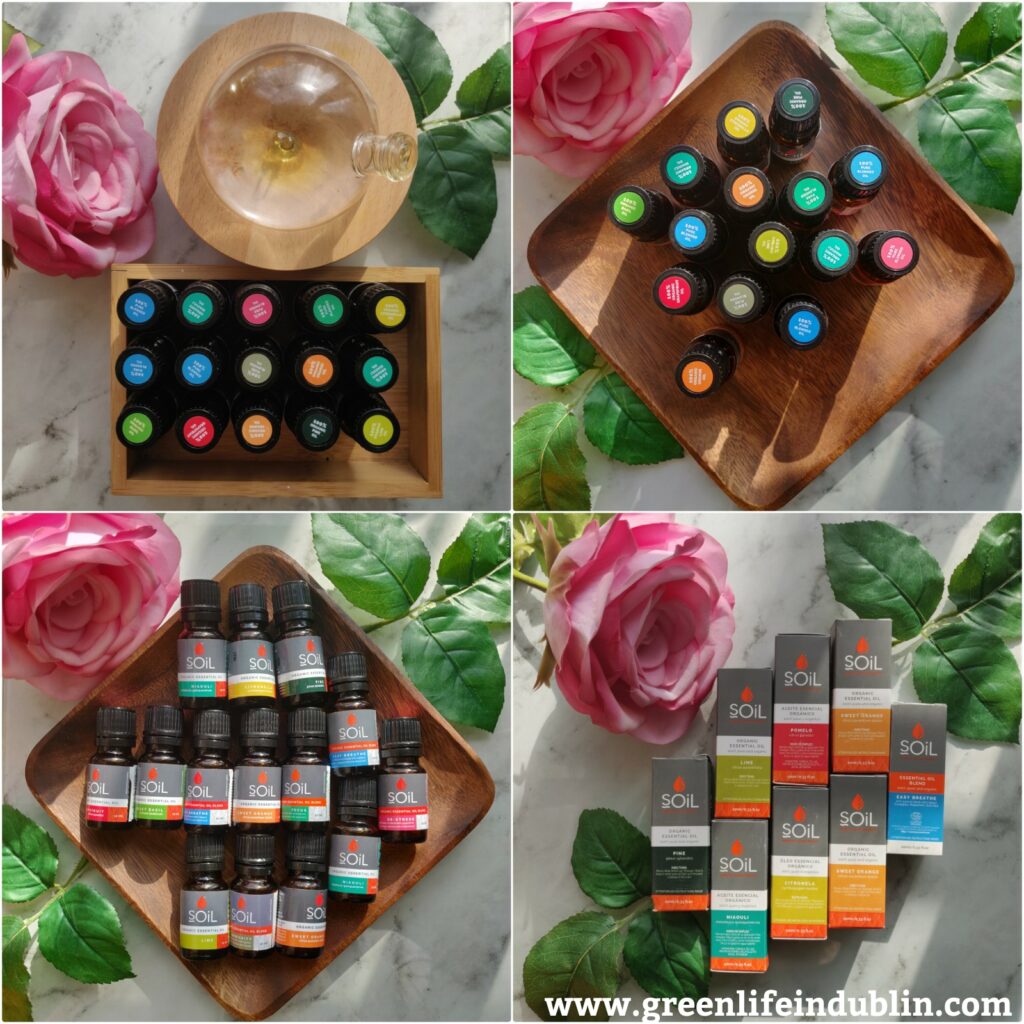 So that's it for today, I would love to hear from You – do You also make fire cider? What about other natural remedies, what are You using & find working well for You? Please share, I would LOVE to hear all about it!
Speaking of lame reels, here's one on my "secret" Green Life In Dublin Eats page 🙂
Till next time.
Sending Love & Light!
Love You guys 
?
Renata.