Hello Lovelies,
Welcome back! And back if You are new here xoxo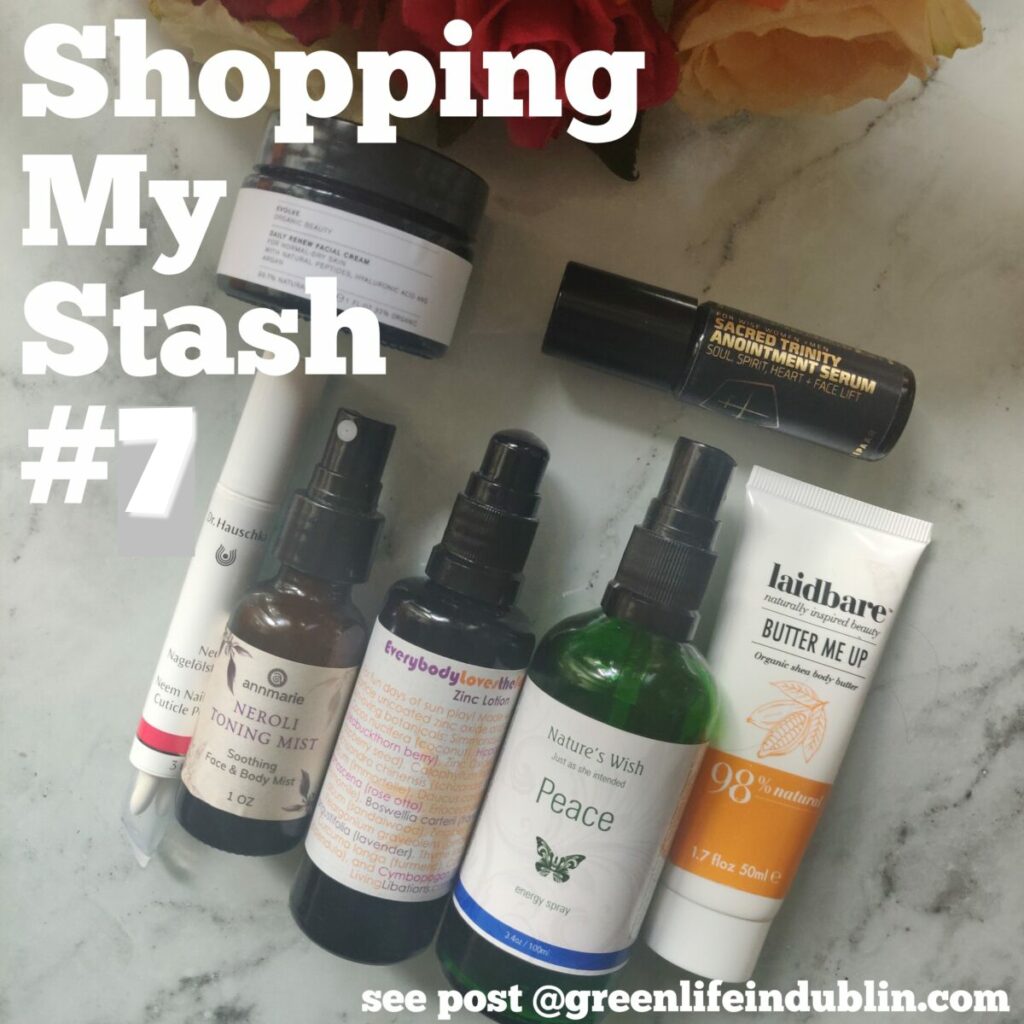 I hope You are all well? Today I'll shop my stash, because it is time 🙂 It's been ages since I did my last one.
LIVING LIBATIONS Everybody Loves the sunshine zinc lotion*
Let's start with my favourite product from the bunch. shall we? This face lotion with zinc I use as my face SPF – because sun ages our skin regardless of the season. I talked about it in my Youtube video & I fully intend to review it in detail later.
Living Libations Everybody Loves the Sunshine with Zinc Beach Balm Review
Beautiful product indeed, if You are new to AnnMarie Skincare and don't know where to start, I suggest this product.
https://greenlifeindublin.blogspot.com/2017/05/live-in-light-online-store-review.html
Evolve fast became my favourite brand for skincare and body care & I cannot stop talking about them. This has been repurchased over and over and over again. See more thoughts & brand overview here:
Brand overview – Evolve Organic Beauty – Green Life In Dublin
Nature's wish Peace Energy Spray
This is an old product I am digging out to be used up. As gorgeous as it is, I am not repurchasing it, the brand is no longer stocked at Love Lula and if I tried to seek it elsewhere I would probably overpay in postage charges. Wishing the brand well & hoping to order someday when I will come into money.
DR.HAUSCHKA Neem Nail & Cuticle Pen
Cute little gift when I purchased DrHauschka Rose Day Cream from Love Lula a while ago. After initial novelty wore off, I misplaced it somewhere at the back of my stash and did not even look at it for the last few months – not a fault of the product, it's just because of the recent events in the world, I neglected my stash. Now I put it next to my laptop, so I remember to use it. Probably not repurchasing, it was fun to try, but it is not an essential for me. I could use any oil on the nails & cuticles sans fancy packaging. Plus, living la vida broka.
LAIDBARE Butter Me Up organic shea body butter
Another product to be used up and not repurchased. Although this has great ingredients and should work on paper, it somehow doesn't for me. It is thin  consistency for a butter and manages to be both watery and oily at the same time – not a fan of it. I have butters that feel and last so much better than this.
LEPAAR Sacred Trinity Annointment Serum – Soul, Spirit, Heart + facelift
Be still my ❤️! Lepaar is now available at The Dutch Health Store! I have been dying to try this brand for absolutely ages and now it is in my hands. I will keep you posted, but I want you to know I like this. This is an oil based serum with gorgeous ingredients and smell. Would be perfect for travel.
That's it for today, thanks for reading! Your turn now, do You shop Your stash?
Lots of Love,
Renata.