Hi Lovelies!
Welcome back and welcome if you are new here ???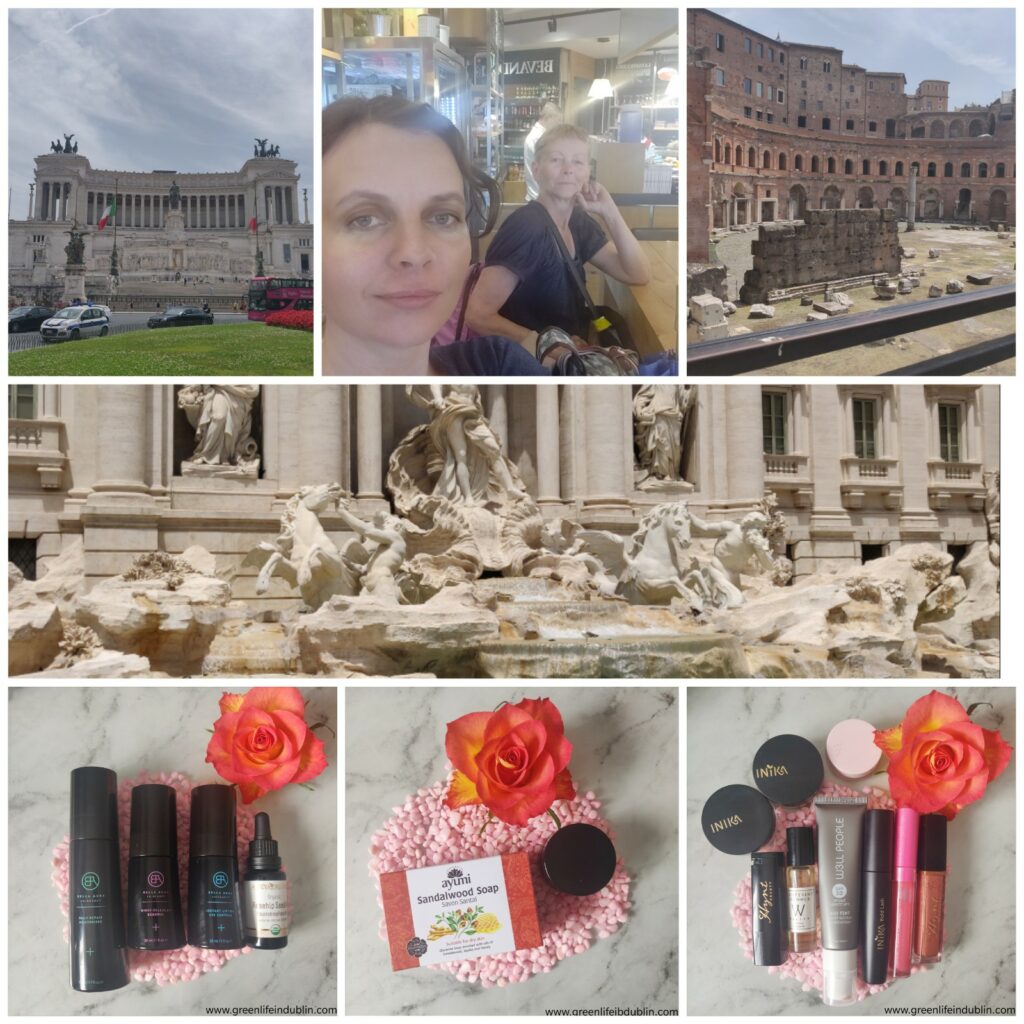 How are all of you, I hope you are well?
Today is going to be a quick post on what natural and organic products I took to Rome for a mini getaway to treat Mom for her birthday. For those of you who might not know, my mom had a breast cancer about a year and a half ago. She won, which pleases me to no end, but being aware of the limited time we had left, I got this idea in my head to whisk my mom away for her ultimate Birthday this year and I didn't rest until I made that happen.
I got request to see what exactly I took with me, so this post is for you guys – here is the breakdown of the products.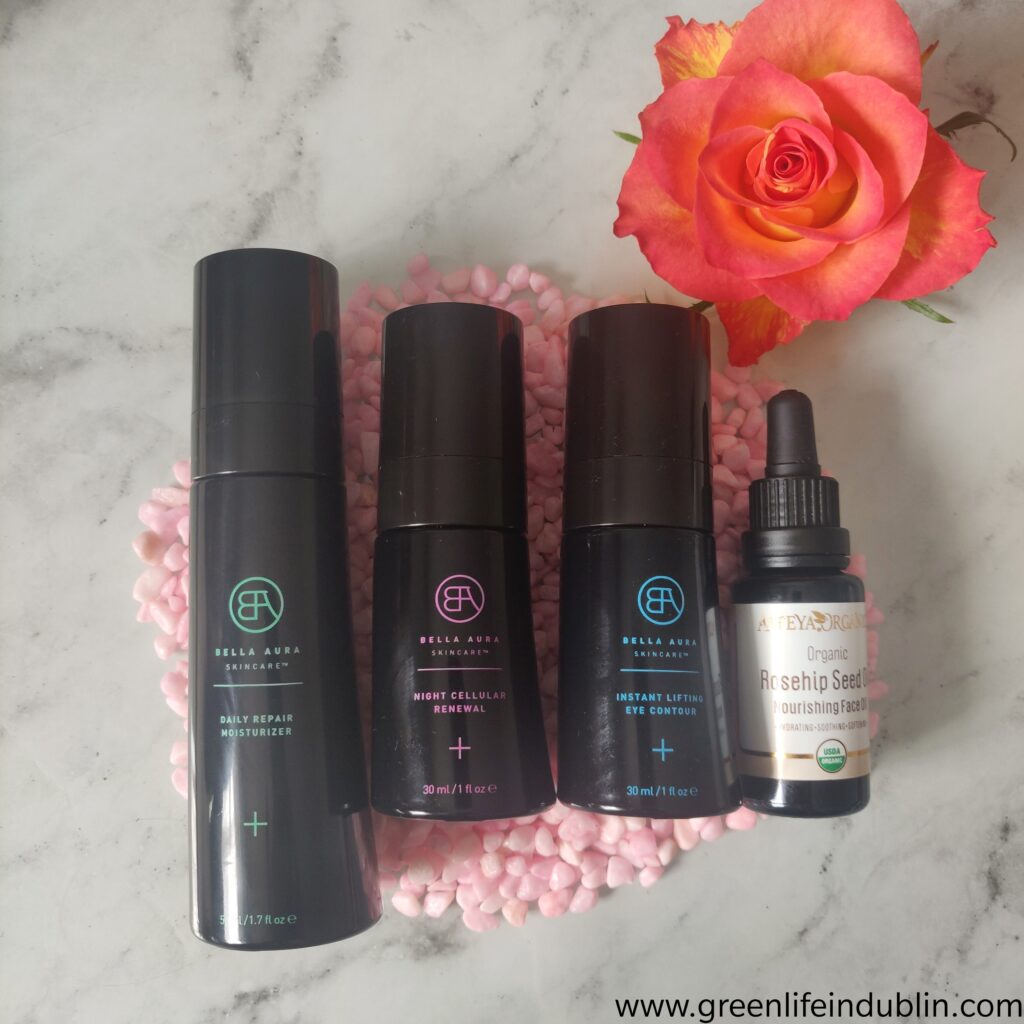 Skincare:
To take care of all my skincare needs I took all of my Bella Aura* products – yes, really! l can't be, won't be without my Bella Aura skincare! Full review here, as well as some discount codes. A desert island pick, Holy Grail, The Best! I think you get the idea of how much l love the brand. Next was Alteya Organics Certified Organic Rosehip Oil* – to take my eye make up off, as well as moisturize my body, and my hands. Love products that do double & triple duty. It would be kind of expensive to do that every day, but l figured it would do for two days. I also took Alteya Organics Organic Rose Water (not pictured, review here) but l didn't use it as much as I thought l would – Rome if famed for pickpockets, so I didn't want to keep opening my bag too much. One thing I forgot and immediately regretted though was Coola Liplux, a lip SPF product – and I cursed myself the whole time for it. We all know that nose and the lips are the first to burn, and while my skin was protected by W3LL People BioTint Multiaction Moisturizer SPF30, my lips weren't so lucky and I had to spend some time healing them afterwards. Side note or rather a request – please feel free to recommend your fave tinted natural lip SPF products, I want to try something else next time. Thanks in advance!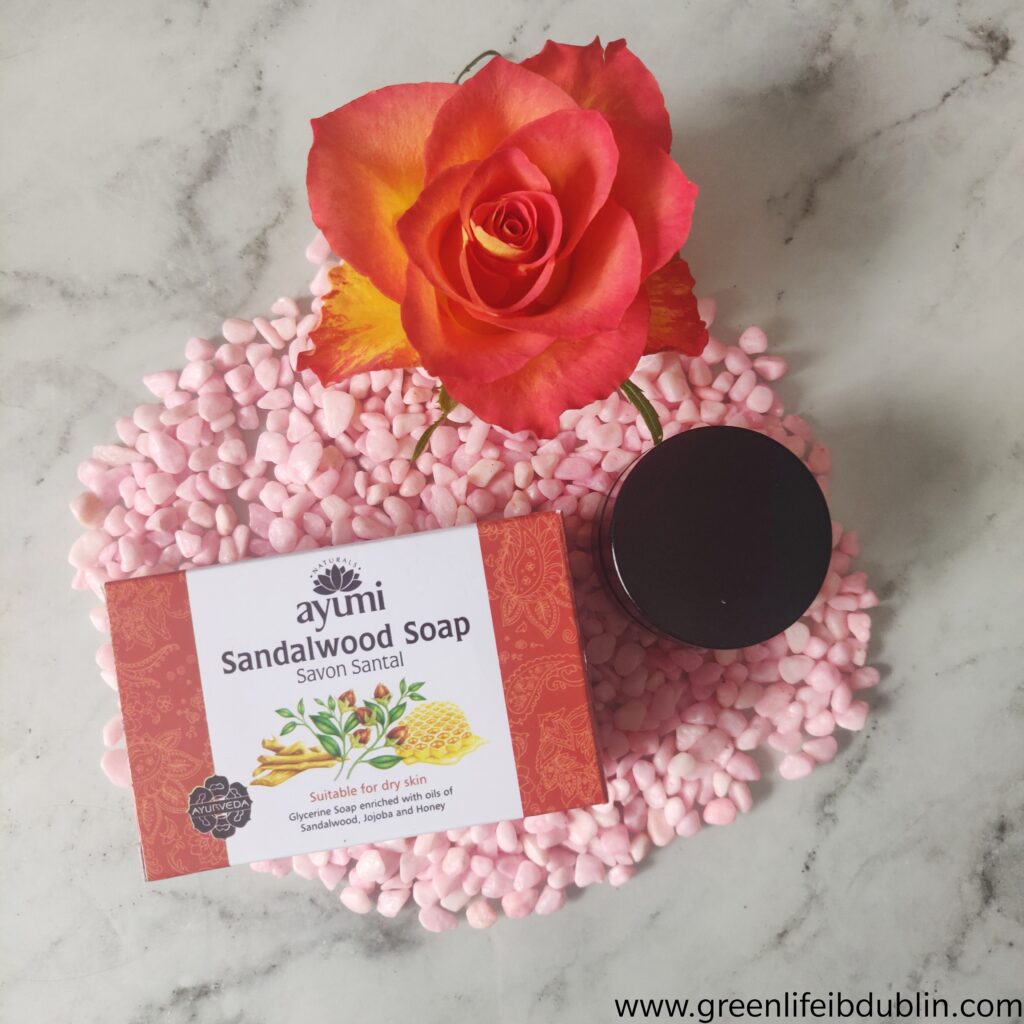 Bodycare & Haircare
I tried to pack as light as I can, as we only had hand luggage, so there's only few products here, Sandalwood soap by Ayumi (brand review here) and my DIY deodorant ("recipe" here). As it was 35°C I knew I will have to wash my hair, so I took travel size Rahua Voluminous Shampoo, (review) which is my favorite. I will be taking that to all of my trips, as I think travels aren't a good time to test new shampoos (or skincare for that matter) – what if it doesn't work and you are left with straw like hair? You want to look and feel your best when you are away 🙂 As I already mentioned, Certified Organic Rosehip Oil by Alteya Organics* served a purpose of body oil for those two days. Of, one thing also not pictured is the Coola Mineral BB Cream SPF 30 – l didn't really liked it on my face, so l used it for my body.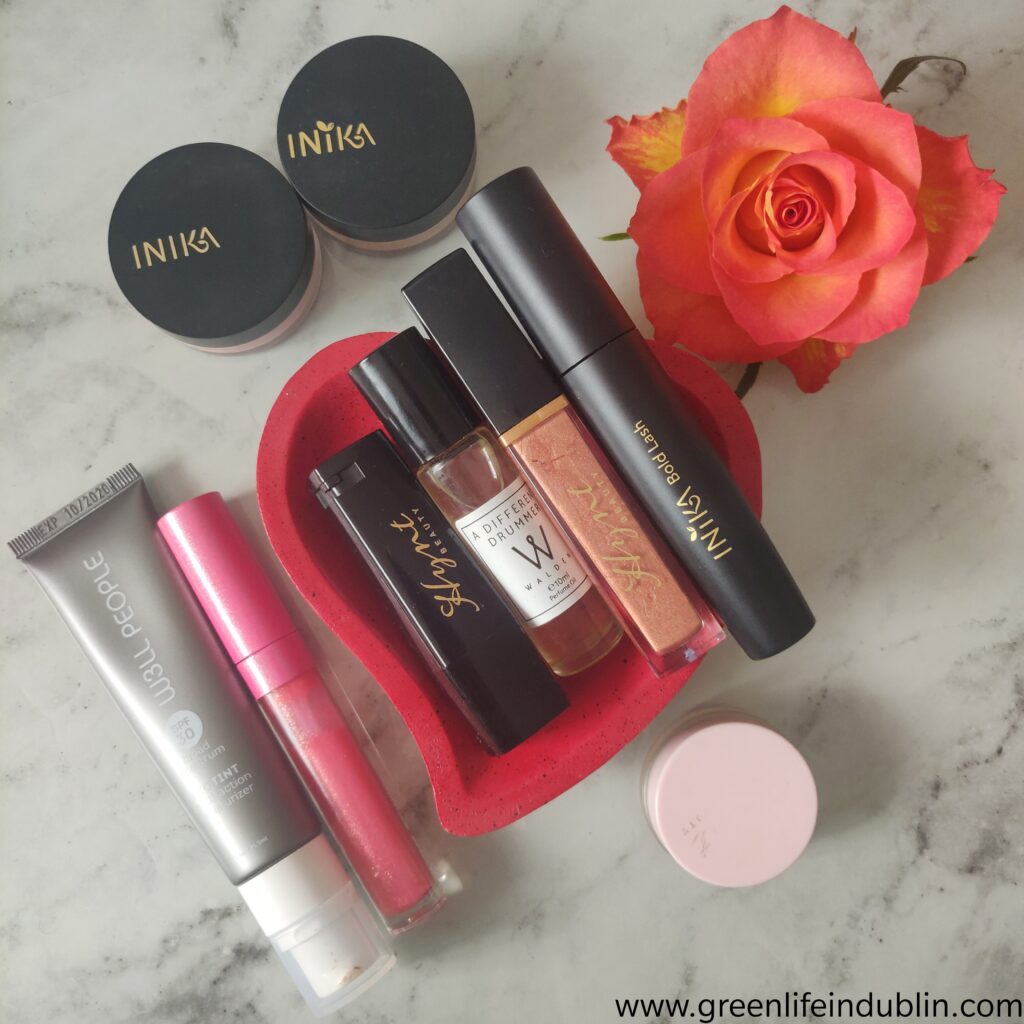 Make UP:
I love make up as much as the next girl, so l had a hard time scaling down my products, and while I thought I did a good job at taking only minimal products, in reality l could have taken even less – but a girl needs options, goddamit 🙂 So l took W3LL People BioTint Multiaction Moisturizer SPF30 to act as my facial SPF and a foundation – my favorite product for the last year or so! Has very good medium coverage for a tinted moisturizer, does not break me out, does not move on my face – let me know if you want a separate review of it? Next, two of my favorite Inika products – blush in Peachy Keen, truly gorgeous and natural Nars Orgasm dupe (see this post on more than 20 natural dupes for it) and bronzer in Sunkissed (see me recommending it on Love Lula here), as well as one of their newer mascaras, Inika Bold Lash Mascara Black – I like it as much as their old favourite Long Lash mascara, but this one seems more clumpy to me. I used the bronzer as my eye shadow too. For under eyes, there is One & Only Duet Perfecting Concealer by Hynt Beauty, used daily for the last five or six years (review). It is one of those things I am never ever without, and it is replaced before it runs out. For lips, I thought I would want options, so I took 100%Pure Gemmed Lip Gloss in Peacock Ore (my favourite lip gloss of the last couple of years, perfect natural dupe for my previously loved Juicy Tubes by Lancome, see this post. What's more, they contains real gems – no kidding!) & of course my favourite lipstick of all time, Pinkibelle by Hynt Beauty, had to go with me too – say hello to my signature lipstick, coming from the lady who never had one before. I also took two of my favourite perfume oils, Mahana by Leahlani Skincare & The Different Drummer by Walden (review) – I love both so much, I never want to run out! I will let you in a little secret, I mix my perfumes to create bespoke scents that no one else would have, and this is one of my secret concoctions 🙂
So there it is, my picks for the short trip. We are actually going away on holidays in three weeks, our first in four years, so it will be interesting to see if I will take the same products again or will go for something entirely different?
FOLLOW ME ON:
Please like and share my posts on social media, it really helps to get the green beauty word out – and you will forever have my gratitude!
Lots of Love,
Renata.
Enjoy my content? A  tip into my PayPal Tip Jar -  will get You my eternal gratitude and more awesome green beauty reviews Your way! I weed out all the greenwashing products so You won't have to.