Hi Lovelies,
Welcome back! And welcome if you are new here xoxo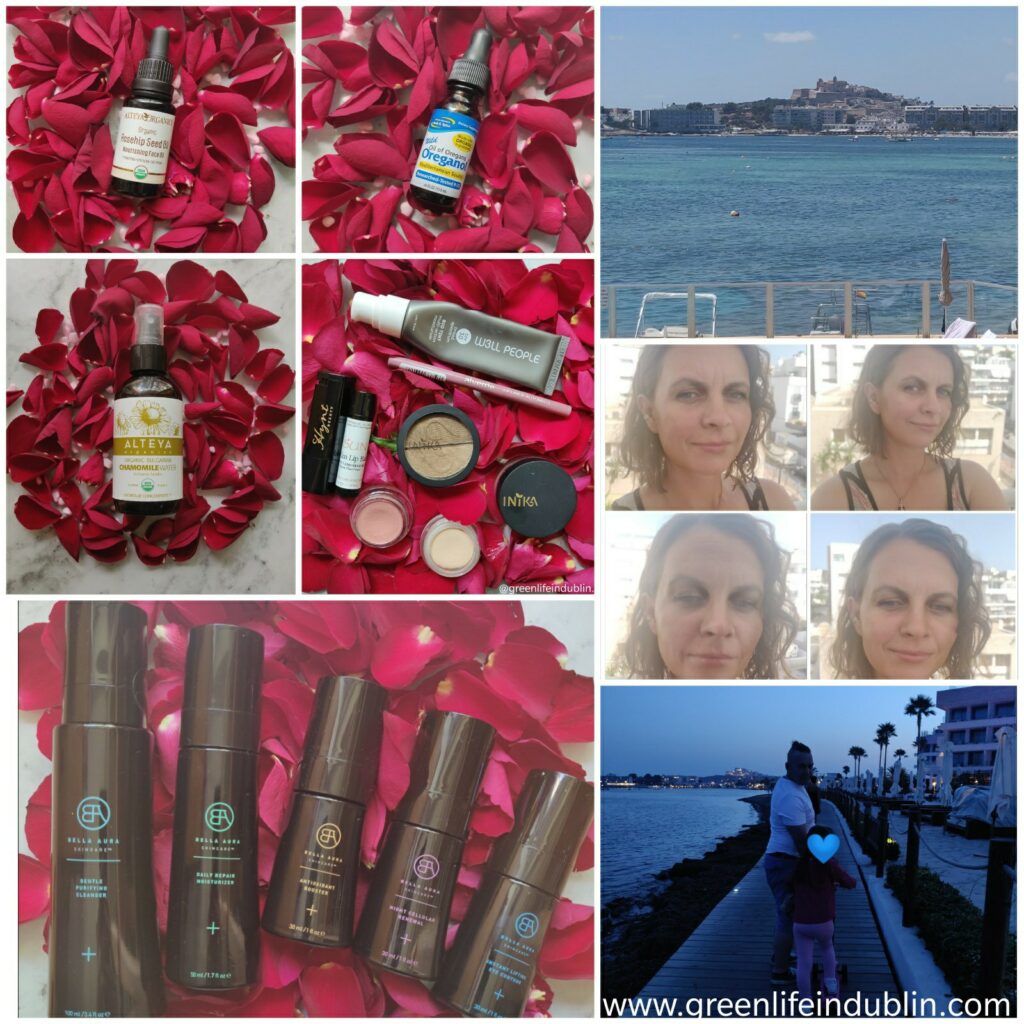 As you might know, I went on holidays recently – first in four years, so it was a big deal to me 🙂 I asked you if you want me to post about what natural and organic products I took with me and you said yes, so this post is for you guys! I will be very honest with you here and will let you know what products ended up working and NOT working in the different climate. You see, I live in the cold, rainy and humid climate here in Ireland (hello +14*C to 20*C summers with rain daily or trice weekly at the very least. Heatwave? What heatwave?) and Mediterranean ain't that, we all know it. So a couple of products I counted on working for me turned out complete disappointments while one other spoiled as soon as we touched down, I swear. I will also make a list of products I will take on my next holidays, while my mind is still fresh on what worked and not. Shall we get started?
I thought you would never ask 🙂


Skincare
BELLA AURA CORE COLLECTION*
I am impressed time and time again with Bella Aura – my love for the brand is never ending! Not only Yasmine created the products that encapsulate oils into these microemulsions using cutting edge science technologies, but these are the very products that saved my skin when it was at it's worst (face dermatitis, anyone?) but it continues to look good as long as I stay faithful and not test too much of the other stuff. It took me only three days to fall in love with the brand, because I saw changes that fast – and I am happy to witness the same over and over again with other people, bloggers and not. It is the line that I come back to no matter what, and honestly, come to think of it, I haven't even tested anything new on my face for well over six months or so, because I don't want to use anything else quite frankly. See my full review here and please know I am so so pleased to tell you it worked equally well in the heat and dry air, as well as cold and humid. Isn't it amazing knowing your favourite skincare line won't fail you no matter where you are in the world? I can't recommend it enough! (PS. Find the discounts in the review post, you are welcome!)
*Update on why I no longer stand by this brand, even though I still think their products are fantastic here, scroll down to the very end.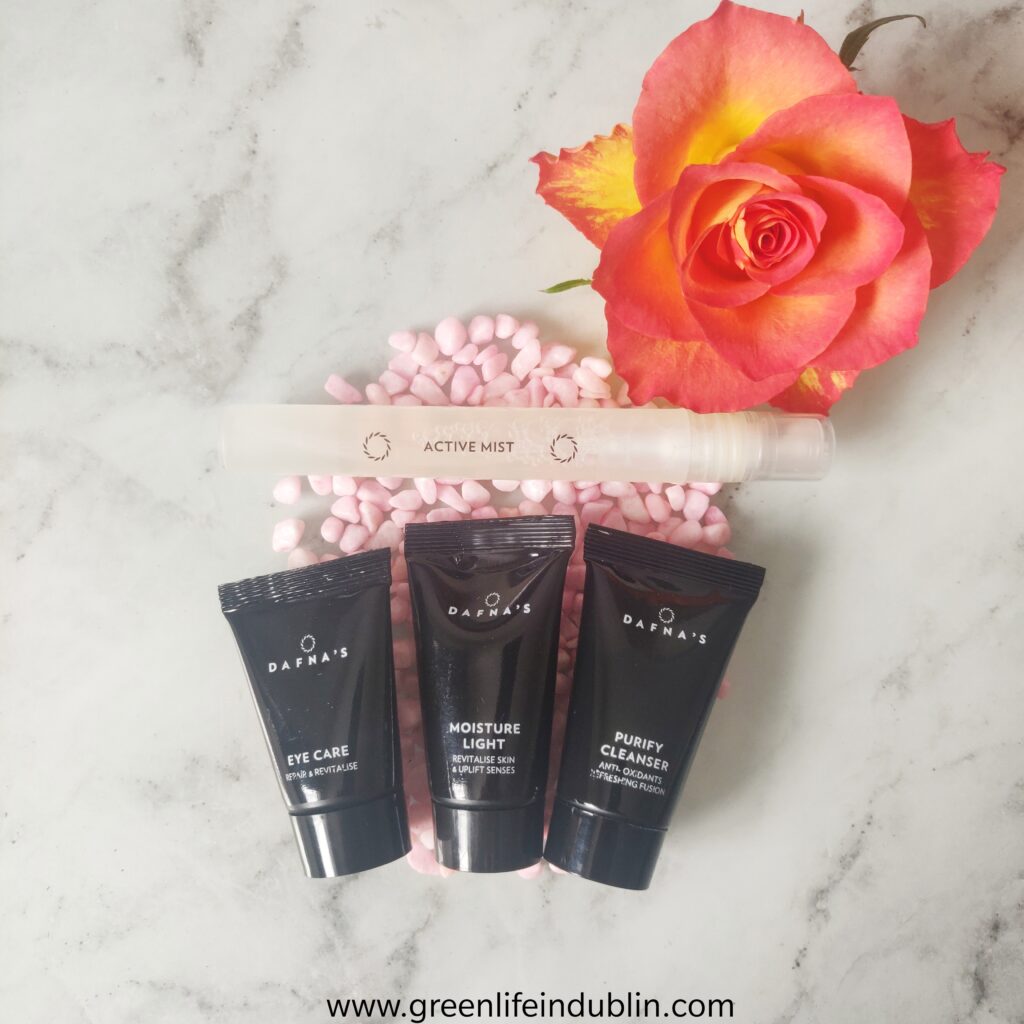 DAFNA'S SKINCARE MINIATURE SET*
It came via Love Lula Beauty Box last month (post here) and I have to say I really liked the products. My favourites from the bunch was definitely the Active Mist & Purity Cleanser, something I already own full sizes of. The other products are nice but due to already having my Holy Grail in skincare (see above) I will leave it here. Currently downsizing my collection with the aim of having only one open product in any given category, with the exception of make up 🙂 It was nice to test them out though, as I have been really curious about the brand, thanks Love Lula!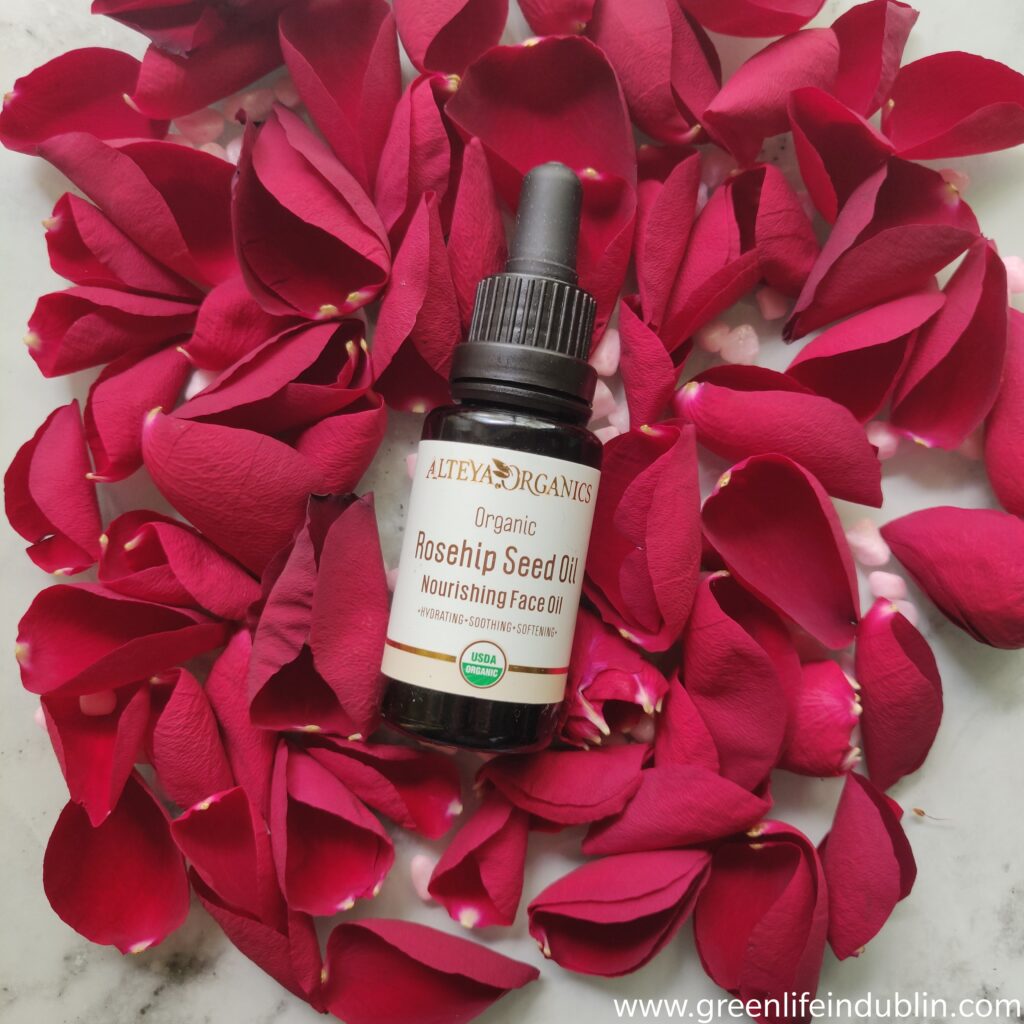 ALTEYA ORGANICS ORGANIC COLD PRESSED ROSEHIP OIL*
Another favourite brand and product – I really loved what I have tried from them, this being no exception. Rosehip oil is my favourite & knowing how good it is to the skin, I had no hesitation over which oil should I pick for the trip. It was used for absolutely everything, not just a drop or two for the face. I used it for body skin too (mixed with Chobs moringa lotion), for the hands, for the hair and even to take my eye make up off. I squeezed every last drop of it and was very sad to part with it – will repurchase the first chance I will get, as soon as I will use up some of the other oils.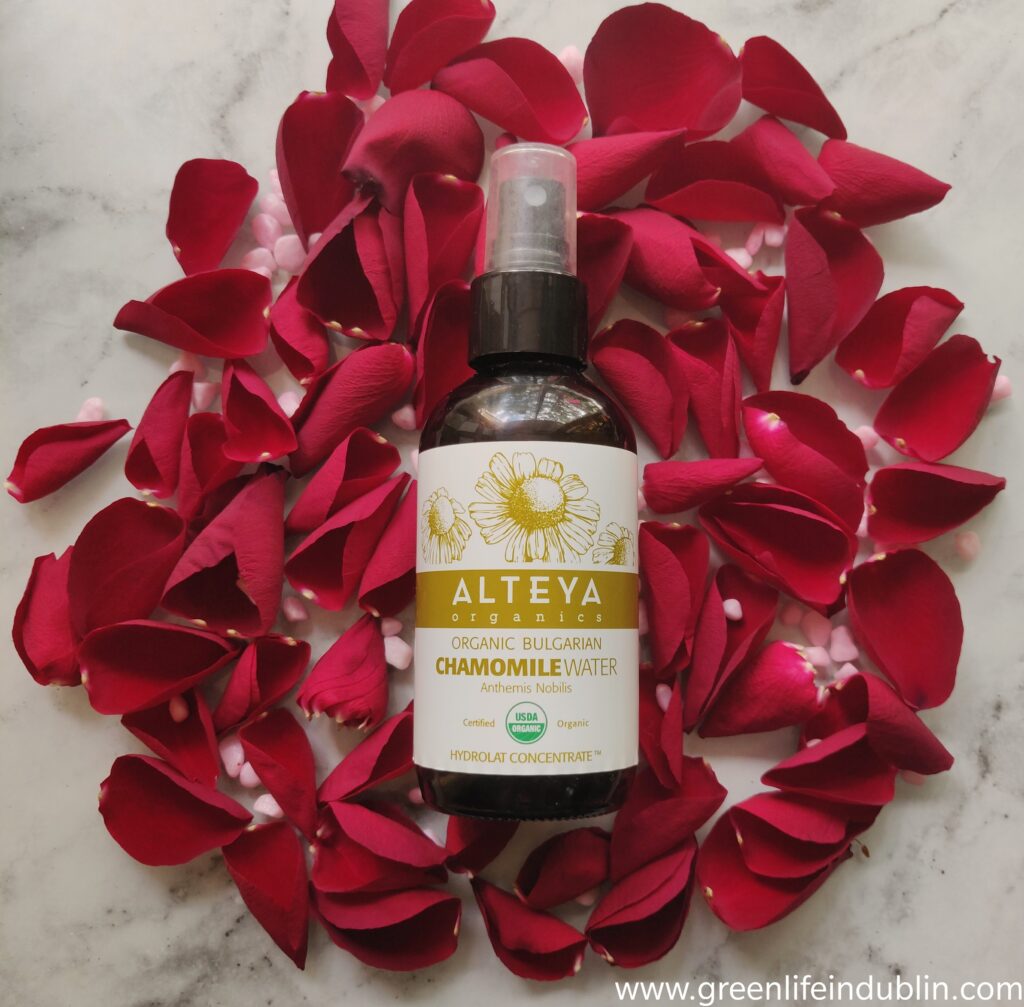 ALTEYA ORGANICS ORGANIC CHAMOMILE WATER
Even though it is something super simple, it is another Holy Grail item in my stash – it is really good for sensitive skin. I used it constantly to cool the skin off & was sad to leave it too. See full review and a bit about the Alteya Organics as a company here. A repurchase for sure.
ALTEYA ORGANICS ROSE OTTO FACE SUNSCREEN SPF 25*
I was really excited to try it, but on it's own, I found it too drying, too dark and I think it *maybe* broke me out, so I mixed it with Evolve facial sunscreen and even body sunscreen to tone the colour down. Not too sure if I am repurchasing it on it's own, but I would try their other facial sunscreen, which I am assuming it is not tinted?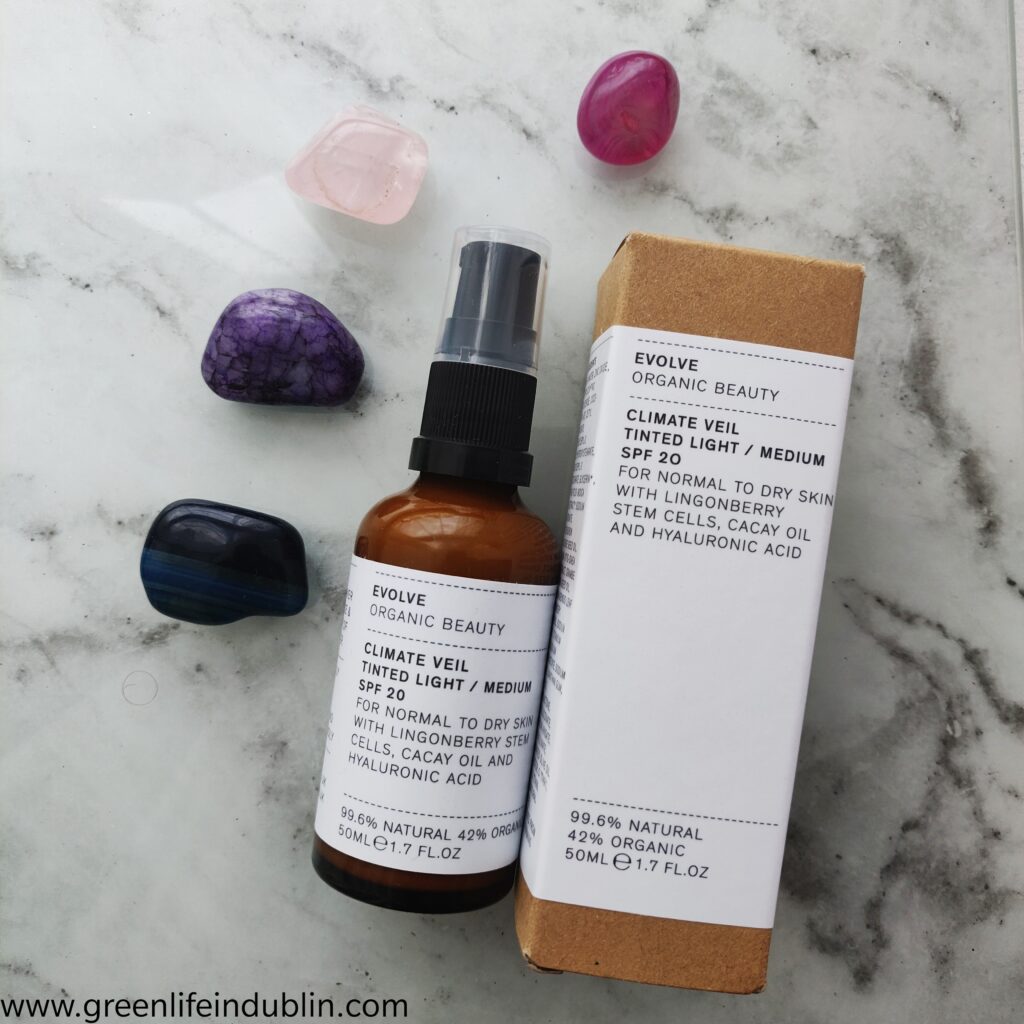 This was another tinted facial sunscreen that quite didn't work out for me on it's own (too dark) so I mixed it with other products. However, this came to shine on it's own when I used it on my arms, legs, derriere, etc prior dinners – it gives the most amazing bronzy glow to the skin, whilst still protecting it from the sun. I was really happy to find out it doubles as a bronzy body oil too, and I will happily repurchase it come next summer. It would be quite expensive to use it on the whole body, so I will file it away under "for when I will come into money" file and use it quite sparingly for now.  Full review here. Definitely a repurchase & here's hoping they will come out with more lighter shade(s), so I could use it on it's own for my face.
P.S. I bought their Tropical Blossom Body Butter scented with Tahitian Monoi and it is amaaaazing! I wish blogs and social media would have scratch-and-sniff feature so I could share the scent with you. Very keen to try more from the brand, expect a review soon 🙂
COOLA LIPLUX SPF30 IN NUDE BEACH
While this worked quite alright for me here in Ireland, it failed me when it came the time to prove it's worth – my lips were BURNING and I was really disappointed it failed me when I counted on it to work. I do not think I am going to repurchase it for this reason, at least not for sun holidays.
I was also quite mad at myself for forgetting two lip SPF products at home – Alteya Certified Organic Sunscreen Lip Balm Rose SPF15 & Everybody Loves Sunshine Beach Balm by Living Libations. Doh! Thanks goodness for the following product that saved the day.
EQ EVOA SPF30 LIP STICK
Yes it is white as a Tippex or a chalk, but your lips (and nose) will be well protected from those burning (and harmful) sun rays! I didn't want to bring this because of that whiteness initially, but oh-how-I-changed-my-mind! Bookmarked for my next holiday for sure. They are reef safe and they do have fun colours stick balms for kids too.
P.S. I wish I'd brought my May Lindstrom Blue Cocoon and a couple of sheet masks, like 100%Pure Caffeine or Chobs Aloe Masks. We all know skin needs special love and care post sun, especially if it is not used to that. With my Bella Aura my skin managed just fine, I just made sure I applied it a couple times per day, but I would have loved to have those extra steps in my routine if I needed that.
BODY & HAIR CARE
GALLINEE PREBIOTIC SOOTHING CLEANSING CREAM*
This was the only shampoo I took with me, we all used and liked it, but I am still not too sure if I will repurchase it because of the fragrance – it was not my style and it lingers. If you are interested in this French brand which does products with probiotics and probiotics, my review is here. Of the haircare anyway 🙂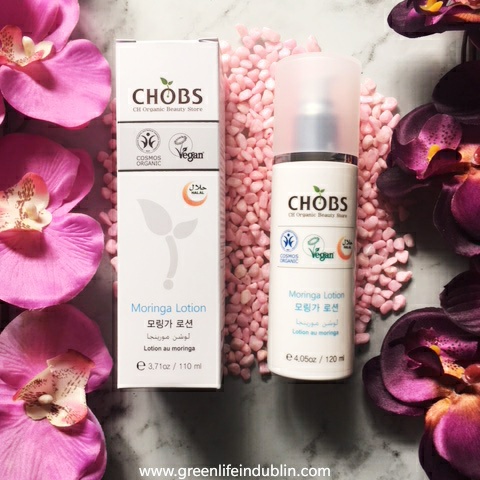 CHOBS MORINGA LOTION*
This was the only lotion I took, and the opinions were quite divided on it. My hubby, who was the only one who got sunburn (didn't use sunscreen one day) looved it's soothing action. Me, however, craved something more heavy and more nourishing – maybe it is because I am so used to using body oils instead of body creams. We are all different and that's ok. This works for the face too. Chobs review here for those of you interested 🙂
DR.BOTANICALS LEMON SUPERFOOD ALL-IN-ONE RESCUE BUTTER*
AYAN MULTI LAVENDER BUTTER BODY-HANDS-FEET
The first came via Love Lula Beauty Box, the latter made in just hours prior us leaving, I very nearly missed it. Having already reviewed it (here), I knew how good it is, and I wasn't wrong – we all loved the moment the butters soothed and softened sun parched skin. Highly recommend taking body butter.
GREEN PEOPLE ORGANIC CHILDREN SUN LOTION SPF30 SCENT FREE X 2
Tried and trusted body sunscreen for well over a decade in our house now. Definitely a repurchase, never failed us and I don't want to stray – yes I might find something cheaper, but why take a risk of new product not working? Am I right or am I right? I don't have a picture of it thanks to my 7yr old but if you scrolled waaaay back on my IG, you would find a picture of it from our last holidays four years ago.
MAKE UP
Now, for the most fun part, right? Right!
I love make up as much as the next girl, so l had a hard time scaling down my products ? So l took W3LL People BioTint Multiaction Moisturizer SPF30 to act as my facial SPF and a foundation – it was my favorite product for the last year or so after all. Has very good medium coverage for a tinted moisturizer, does not break me out, does not move on my face – let me know if you want a separate review of it? However, I have to be honest and tell you it didn't hold up in the heat at all, all the coverage has melted off the face in a matter of minutes. Shame on me for not talking any setting powders or mineral foundation. So much for streamlining products, eh?Next, two of my favorite Inika products – blush in Peachy Keen, truly gorgeous and natural Nars Orgasm dupe (see this post on more than 20 natural dupes for it) and bronzer in Sunkissed (see me recommending it on Love Lula here), as well as one of their newer mascaras, Inika Bold Lash Mascara Black – I like it as much as their old favourite Long Lash mascara, but this one seems more clumpy to me. For under eyes, there is One & Only Duet Perfecting Concealer by Hynt Beauty, used daily for the last five or six years (review). It is one of those things I am never ever without, and it is replaced before it runs out. For lips, I thought I would want options, so I took 100%Pure Gemmed Lip Gloss in Peacock Ore (my favourite lip gloss of the last couple of years, perfect natural dupe for my previously loved Juicy Tubes by Lancome, see this post. What's more, they contains real gems – no kidding!) & of course my favourite lipstick of all time, Pinkibelle by Hynt Beauty, had to go with me too – say hello to my signature lipstick, coming from the lady who never had one before. I also took two of my favourite perfume oils, Mahana by Leahlani Skincare & The Different Drummer by Walden (review) – I love both so much, I never want to run out! I will let you in a little secret, I mix my perfumes to create bespoke scents that no one else would have, and this is one of my secret concoctions ?
And last, but not least, my list on what I will take on our next family vacay. This list is only a guide, some products might change formulations or cease all together, I might find my new fave products by the next summer, so it is a give or take 🙂 This might seem like colossal and unnecessary for some of you, but please bear in mind I always take luggage so I can bring all of my products with me -I always found it very stressful to fly over with no products and try to buy everything I need at a destination, even before I went natural. And since the switch it is even more of a problem, I find I can.not.find.a.single natural thing once I arrive, not even a jar of coconut oil. Ibiza, I am looking at you here!
 Bella Aura *
 Rose or chamomile water, most likely Alteya Organics again.
May Lindstrom Blue Cocoon or Mahalo Rare Indigo – either one
Some kind of sheet mask, like 100%Pure Caffeine or Chobs Aloe Masks.
Dr.Hauschka Rose Day Cream
Some kind of single oil, most likely to be rosehip again
(to be used as both sun and post sun care)
Evolve Organic Beauty Satin Body Gloss (same scent plus a hint of gold shimmer)
EQ EVOA SPF30 LIP STICK (whiteness is better than non working spf product, no?
Green People Organic Children Sun Lotion SPF30 Scent Free x 2 or 3
Rahua Volume Shampoo or travel set
Soap of some kind
Aloe vera to calm down and soothe the skin post sun. Also doubles up as hair gel and a face mask in a pinch
oreganolP73 – just in case anyone got sick
Organic cotton plasters – you never know. Cuts & blisters are never cute. The also hold up so well & the glue never irritates skin.
hand sanitiser, most likely Green People Organic Children one
For the make up, I like to leave myself wriggle room, so I won't make lists. Discovering new make up is a part of life's pleasures, so let's allow ourselves the pure joy of it. I am kind of interested myself what I will like in a year's time 🙂
That's all for now. Please like and share this or any of my other posts on social media, it really helps to get the green beauty word out – and you will forever have my gratitude!
FOLLOW ME ON:
Lots of Love,
Renata.
Enjoy my content? A  tip into my PayPal Tip Jar -  will get You my eternal gratitude and more awesome green beauty reviews Your way! I weed out all the greenwashing products so You won't have to.