Hi Lovelies,
Welcome back! And welcome if you are new here xoxo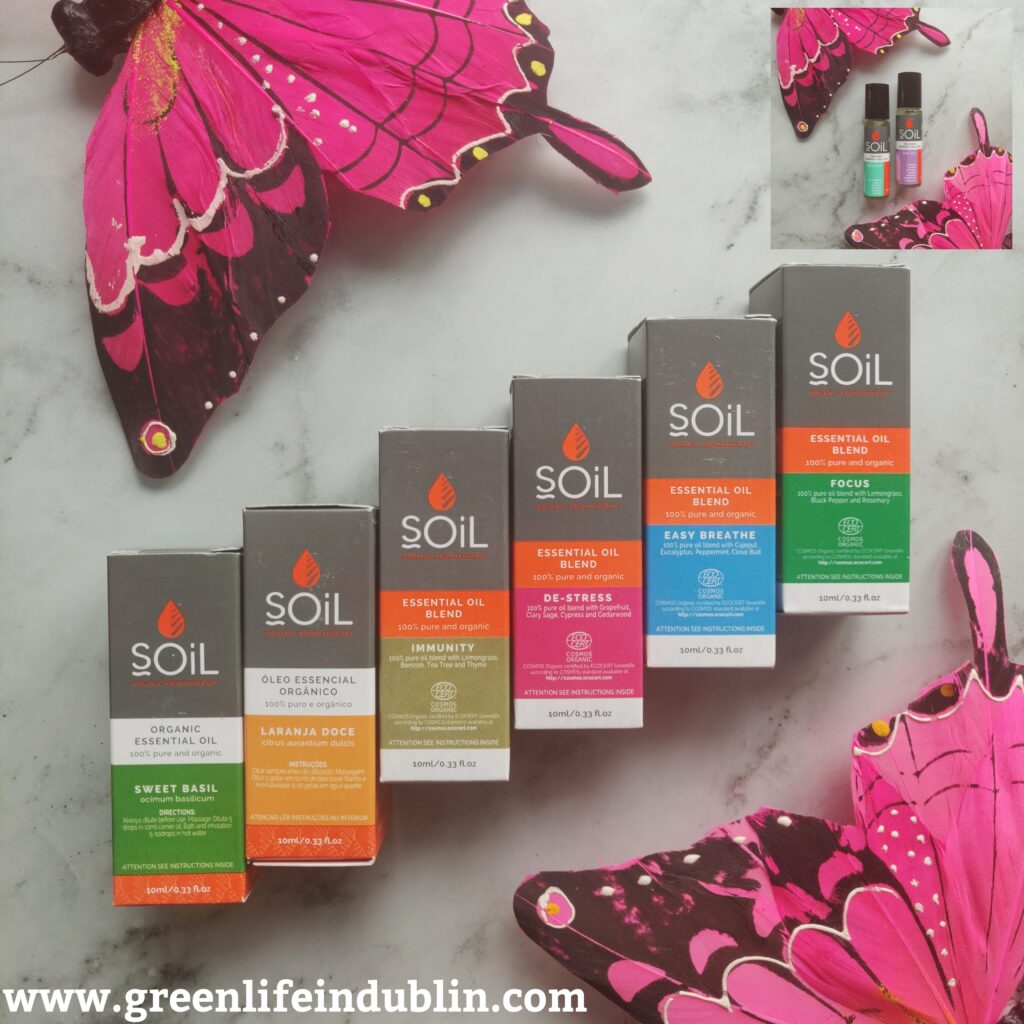 Hope You are all well? Today I am coming with my 78th Love Lula* review post (see the rest here) and it is a quick, sort of first impressions review of Soil essential oils.
*sadly Love Lula is no more…
They caught my eye for two reasons, the organic certification by Ecocert & the affordable price point. I wanted to know more, so I picked up quite a few of them to test – all that you can see in the photo came at a bit over 50£. Needless to say, the order shipped free, all orders of £15+ do – worldwide.
Let's learn a bit more about the brand, shall we?
SOiL is a family managed organic essential oil farming operation in Zululand, who have been growing and distilling aromatic plants for their precious oils since 2001. The manufacturing, packaging and distribution of all SOiL products is managed directly from their farm, thereby encouraging local economic growth, creating employment and utilising local, renewable resources.
SOiL were the first company in South Africa to sell a complete range of 100% certified organic (BCS) essential oils, many of which they grew themselves. They also launched South Africa's first line of certified organic massage oil blends and skin care products. They continue to grow their farm, brand and range with the aim of expanding their products both locally and globally.
SOiL's family farm, Groenkop (translated into English this means 'Green Hill') is situated in the heart of Zululand overlooking the eMakhoseni Valley, the sacred burial place of Zulu kings. The farm's isolation from industrial centres means it has some of the cleanest air and water in South Africa, enhancing the quality of their products. Groenkop is one of four farms owned by the McMurray family and their head-office has been relocated to Windermere Farm which is situated closer to ports, airports and highways, this way they can manage distribution more efficiently and effectively.
The SOiL product range brings vitality, energy and a sense of well-being to life. SOiL was built on the love of farming and nature. From farm to shelf, the commitment to quality, integrity and fair trading means that SOiL products are not only conscientious but effective too, delivering results that you can really experience
Values:
SOiL believes in organic
SOiL promotes natural and abstains from harmful
SOiL supports local
SOiL cares about the quality, efficacy and purity of its products
SOiL products are not tested on animals
SOiL products do not contain parabens or petrochemicals
Now, can you see why I wanted to know more? At the moment there are a few types of products on offer – essential oils, carrier oils, ready made roll on remedies & massage oils. For a start I went for quite a few essential oils, blends and two roll ons – I find I like to have at least one on me at all times lately, so handy to relieve anxiety! I got:
IMMUNITY [£9.90 FOR 10ML]
INGREDIENTS: Lemongrass, Benzoin, Tea Tree and Thyme
DE STRESS [£9.90FOR 10ML]
INGREDIENTS: Clary Sage, Ylang Ylang and Patchouli
Easy Breathe [£6.90 FOR 1OML]
INGREDIENTS: Cajeput, Eucalyptus, Peppermint and Clove Oil
Focus [6.90£ for 10ml]
INGREDIENTS: Lemongrass, Rosemary oil and Black Pepper
These blends that can be diffused into the air, used in an oil burner or added to a carrier oil for topical application and massage.
SWEET BASIL [6.20£ for 10ml]
Chosen purely because I haven't tried it before. The smell reminds me of licorice and I like it. No need to list the ingredients, it is just pure sweet basil oil 🙂 This popular culinary herb produces its oil by steam distillation of the leaves and flowering tops of the plant. There are many chemotypes of this oil but this chemotype has a higher percentage of thymol, which is regarded as being useful for respiratory and throat infections. Sweet basil is enlivening, comforting and helpful for clarity and strength of mind as well as body systems as it has beneficial action on the respiratory and digestive systems.
When essential oils are released into the air, the beneficial effects include mood enhancement, a sense of well-being, improved breathing and decongestion, heightened energy and awareness, relaxation of mind and body and even aid in combating insomnia – the benefits are plenty, just make sure to choose the right kind of oils for the desired effects. Luckily the blends are balanced in the right proportions and ready for our consumption. Or you can get individual ones.
Specially designed for aromatherapy on the go, SOiL ready to roll remedies contain a synergy of essential oils blended in a base of organic Soya and Sesame oils. Fine, organic essential oils have been carefully selected for their therapeutic benefits and diluted to the correct concentration to be effective when applied to pulse points or affected areas. Handy sized roller ball tubes make for easy application and portability when travelling. Yes,  know they are easy to DIY and are diluted already, but I also realize not everyone wants to DIY things or purchase all the essential oils, carrier oils or roll on bottles separately and try to play aromatherapist on their own. I chose two remedies, one for work, which required to flex my mind muscle quite a lot, stressful situations happen &  I am not one of those persons who can close the door at work & leave all the problems there. I bring them home and stress far more than I really should. Enter Relax remedy, which I hope will help. There are more to choose from and they are all very reasonably priced at 4.70£ a pop.
SOiL – Remedy Rollers – Relax [4.70£ for 11ml]
INGREDIENTS: Glycine Soja (Soybean Oil), Sesamum Indicum (Sesame) Oil, Tocopherol, Lavandula Angustifolia (Lavender Oil), Citrus Aurantium (Neroli) Oil, Salvia Sclarea (Clary Sage) Oil, Anthemis Nobilis (Roman Chamomile) Oil, Origanum Majorana (Sweet Marjoram) Oil, Phytosterol, Helianthus Annuus Seed Oil.
SOiL – Remedy Rollers – Revive [4.70£ FOR 11ml]
Glycine Soja (Soybean Oil), Sesamum Indicum (Sesame) Oil, Tocopherol, Citrus Paradisi (Grapefruit) Oil, Rosemarinus Officianalis (Rosemary) Oil, Pelargonium Graveolens (Rose Geranium) Oil, Mentha Piperita (Peppermint) Oil, Ocimum Basilicum (Basil) Oil, Phytosterol, Helianthus Annuus Seed Oil.
So what's my verdict? So far I love what I see! I am about two weeks into it, but I am happy to report none adverse reactions or anything like that, it has been great. I have two identical diffusers at home ( this is nebulizing one) & I have been using the blends regularly. There were a few times when my family looked/sounded/were feeling close to getting sick – a few swipes of IMMUNITY on the soles of the feet at night and a few extra inhalations straight from the bottle a day, sorted that. What's not to love about that? Everything else is still a work in a progress & I will report back.
Now, your turn – have you tried SOIL essential oils? What brands do you use & which essential oils are your favourites? Please share, I would love to know!
Related - my holistic Medicine Cabinet
See over 100 Love Lula related posts here
*Update a month later – I thank Heavens for them every day! Dark times has consumed the world (you know what I am talking about) and I diffuse them daily (post) in my Living Libations Nebulizing (Waterless) Diffuser (review) – I can't recommend both, essential oils & the diffuser, enough!
See You here next Tuesday, my posting day ?
Lots of Love,
Renata.