Hello Lovelies,
Welcome Back! And welcome if You are new here xoxo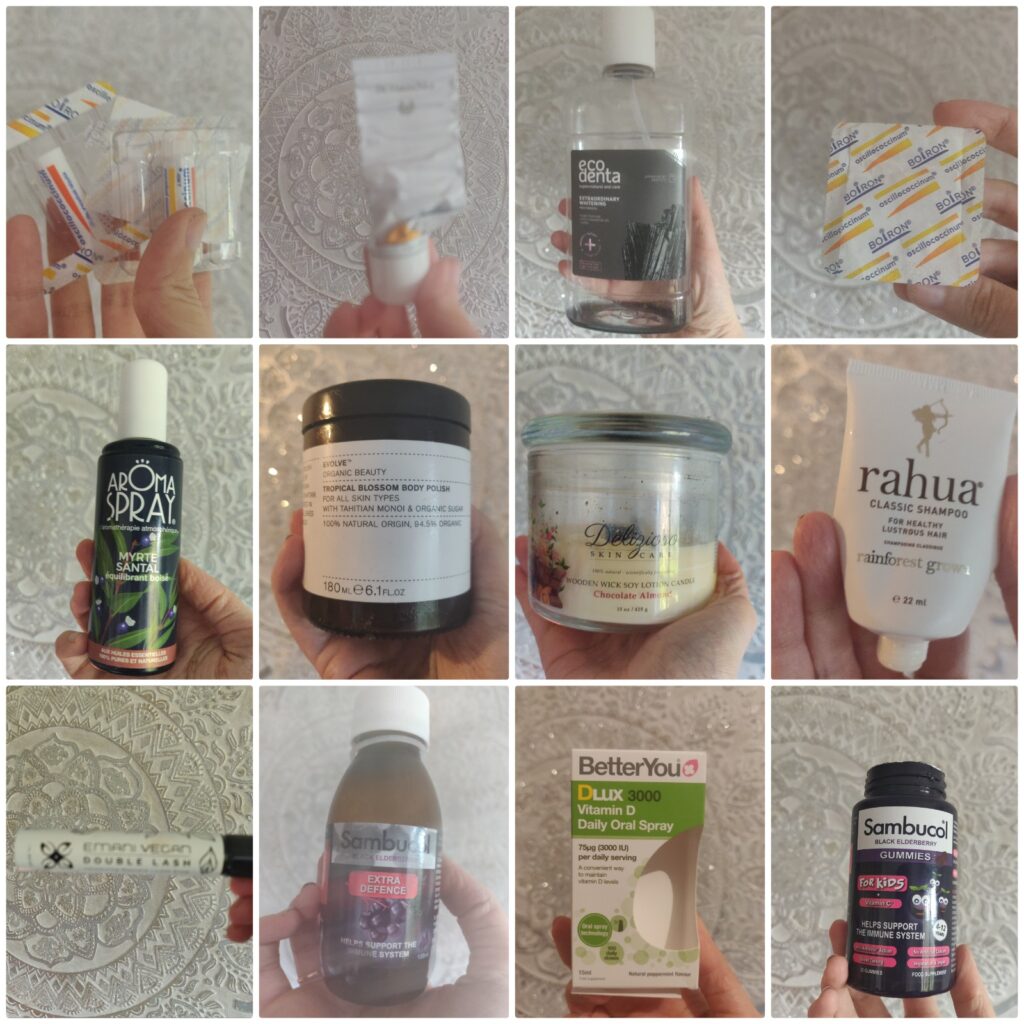 Empties! Feels good to finish products to the last drop, but a drag to post about them at the end of the day. But! You guys love it, so I am dutifully serving my followers. Let's see what I used up this month? This year I am also adding up the costs, something I *might* regret already 🙂 Not too sure I am ready to face to totals I am spending on my beauty 🙂
So, in no particular order, here are the products I and my family finished this month. I group them by Holy Grails, Maybe's and NOs. I will explain my thoughts why and will link some reviews where appropriate.
FABULOUS GREEN BEAUTY/WELLNESS PRODUCTS I WILL REPURCHASE
Both Holy Grails in my natural medicine cabinet and constant stock in my house!
Alteya Organics Certified Organic Nappy Rash Cream
Favourite out of necessity, it helped tremendously with my latest dermatitis outbreak. Due to trial and (expensive) error, I figured my perioral dermatitis outbreaks heal the best with products with high zinc percentage, meaning natural sunscreens and nappy rash creams. No kidding.
DrDauschka Rose Day Cream
A must for winter and amazing product for my dry, sensitive and dermatitis prone skin. Holy Grail status since 2018, ever since I discovered it. Actually, I used to use their Rose body oil as a face oil for many many years when I was broke AF – I used to get travel size for around 7,50 and it used to last for ages!
Check Love Lula for Rahua, Alteya Organics, DrHauschka & more
Rahua Classic Shampoo Mini
Better You D-lux vitamin D 3000iu
Better You Magnesium Oil, Joint formula
Both staples in my house for many years. I am about to blog about this brand soon, so please keep Your eyes peeled!
Alaffia Coconut Strawberry hair & body lotion
Both of them are my iHerb must haves, along with some other great products, see below.
Rewards code CDI1500 saves You $£€ on Your 1st order at iHerb
Saint Come Myrtle Santal Essential Oils Spray
Sadly the brand paused production due the pandemic, so everything is sold out everywhere for a year. I am definitely watching this space and stocking up like a mad woman once it is available again!
Evolve Organic Beauty Tropical Blossom Body Polish
Beautiful addition to the Tropical Blossom Body Butter, something that is in my Holy Grail list forever! Oh how I wish You would be able to scratch-and-sniff this beautiful holiday-in-the-jar scent… All natural of course. Practically everything in the line up is my Holy Grail, a discovery of the year for sure. Repurchased already, I treated myself to a couple of sets of this together with body butter. Now I am thinking I need a back up for a back up 🙂 Yes, I love it that much!
Brand overview – Evolve Organic Beauty – Green Life In Dublin
GREAT NATURAL ITEMS I WON'T GET FOR NOW DUE TO THE SIZE OF MY STASH/ OTHER
Ecodenta Charcoal Whitening Mouthwash
This is Lithuanian brand that I get in H&B – happy to support both. The reason I put this in this category is because I just got two other Ecodenta mouthwashes in their sale, they will last me a while.
Fushi Defence Tincture
Great product, but I won't be needing it till next winter. Definitely repurchasing it some day though.
GREEN BEAUTY ITEMS I A NOT REPURCHASING 'COS THEY WEREN'T SUITABLE FOR MY NEEDS/ DIDN'T WORK FOR ME/ OTHER REASONS
Emani Vegan Double Lash Mascara
I'll start with the plus side – it gives amazing lashes, same like Inika. But it was incredibly clumpy straight from the get go and started flaking soon after. Both are pet peeves of mine, but I am willing to give this product the benefit of a doubt, I might get it again. Not for now though, I went back to my beloved Inika.
Delizioso Soy Wax Candle
This was candle to skin oil situation, so I was intrigued, plus I liked the wooden wick. Not repurchasing, as  I do not see it in The Dutch Health Store anymore. Not too sure if it's coming back or not.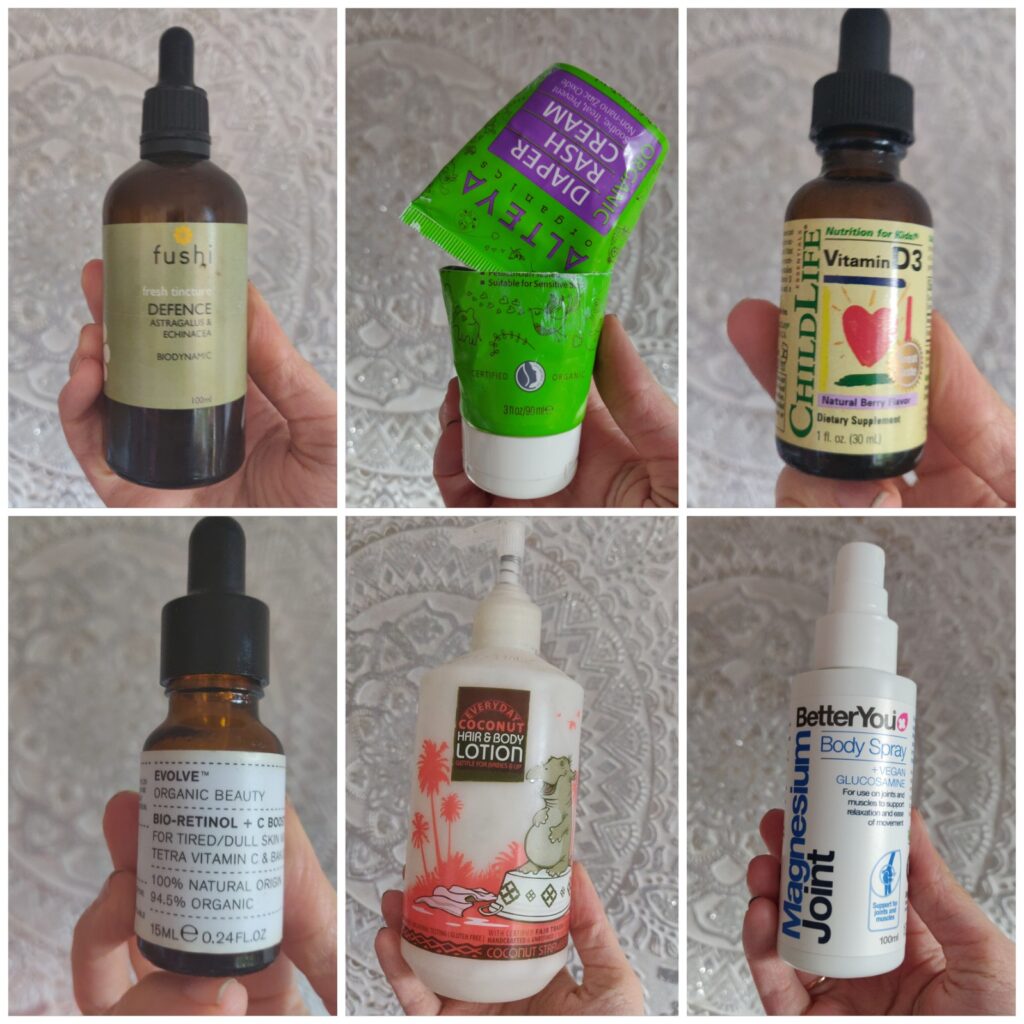 Totals
Uhh, I might be regretting my decision to put this out in public already 🙂
Skincare  – 1 product – 30€
Hair – 1 product – 10€
Body care – 3 products – 45€
Make up – 1 product – 28€
Health & Wellness – 7 products – 79€
Other – 2 products – 20€
Total this month: 212€ – 14 products
Totals per year so far
Skincare – 4 products – 251€
Body care – 4 products – 61€
Hair – 1 product – 10€
Make up – 1 product – 28€
Health & Wellness – 15 products – 196€
Other – 5 products – 45€
Totals this year to date: 30 products – 591€
Ok, I am ready to faint now! Never have I ever thought I am spending that much – eek! Don't show this to my husband, it is between us girls.
RANDOM BUT NOT REALLY:
Thanks for reading and spending time here, you are a rockstar and I appreciate you! What have You guys finished? Repurchasing? Not? I would love to know, please share with me.
Sending Love & Light,
Renata.