Hi Lovelies,
Welcome back! And welcome if You are new here xo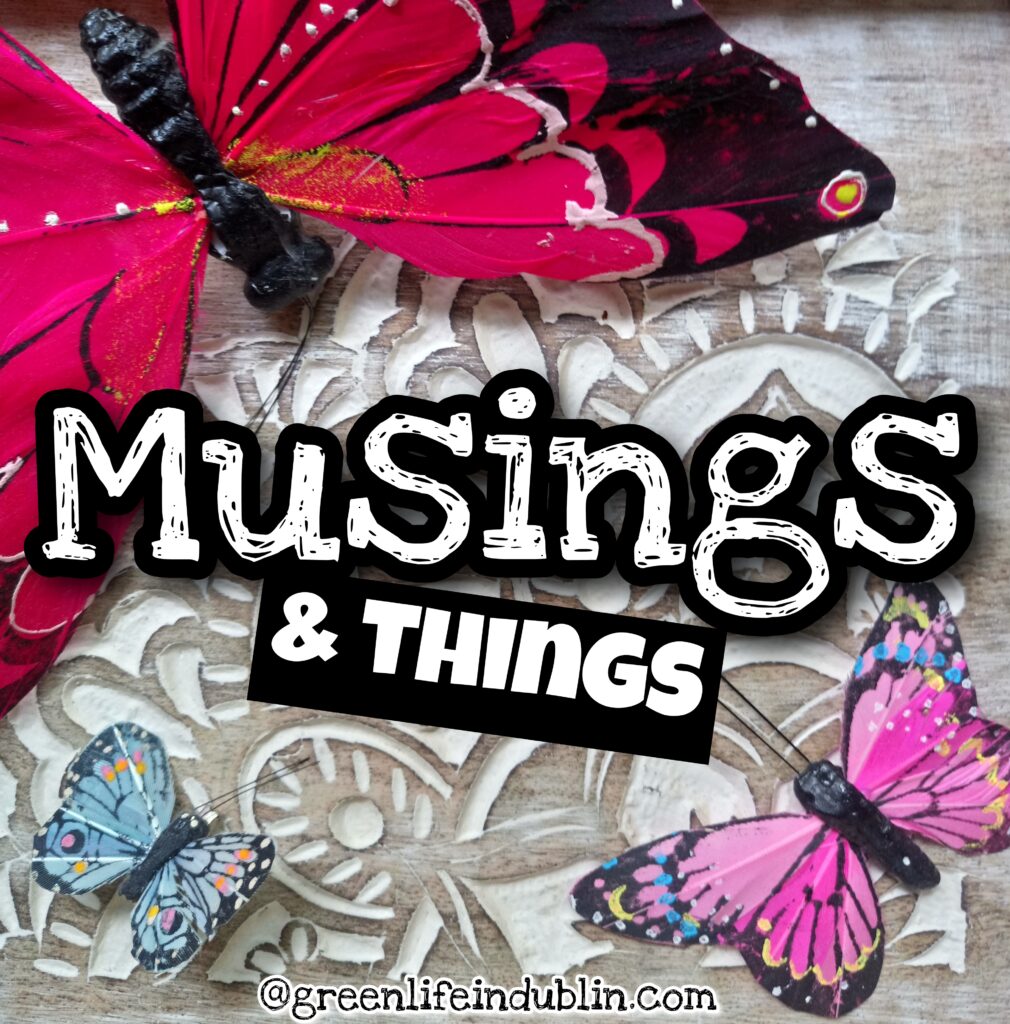 Hello Lovelies, how are all of You, I hope You are all good? Today I will talk about new (to me) products that came into my life. I know You want a peak, so let's dive in?
So without further ado, let's see what's new in my world this month?
Ecco Verde order
Hurraw Sandalwood Balm Too 
This is actually spurred me to make the order. Let me explain. I have loved Hurraw lip balms for years. When the BalmToo came to the scene, I was initially put of by the price, but still went for it, courtesy of Love Lula (sadly no more, welp). Having tried it as a skin balm I wasn't impressed, because for me it just sat there on the skin, without absorbing or doing anything. So I shelved it for a bit. One very cold day I got a frost bite on the lips and nothing was working to soothe or heal it, so I grabbed this, applied it thickly like a mask and lo behold, it worked like a charm. So I started using it nightly and fell in love with it at second chance. I only blogged about it briefly here and there, but it ended up in my favourite products list. It even inspired me to blog about the products that You initially didn't like but ended up changing Your mind about. Stay tuned! The thing is, I see this product being phased out of a lot of shops I know carry Hurraw brand. It probably does not sell because of the high price point. I mean I understand that, it is forty euros for a small tube. But only if people knew how good it is as a lip mask/ overnight treatment!
My Favourite Natural & Organic Lip Balms [That Stay On The Lips]
Crazy Rumors BIGGIE Cloudberry Lip Balm
Another product from Love Lula I thought I lost – not really lost, but I wasn't going to start importing lip balms from the US (which is where the brand is from) and paying crazy shipping prices + custom fees. So I was really glad to come across them at Ecco Verde, thirteen euros for the balm and free postage, that I can do 🙂 Conveniently I finished one of them very recently – and surprised myself by doing so. I mean they are four times the size, I thought it would take me years.
Side note, I just realized I spend over fifty euros on friggin lip balm! Am I crazy?
Evolve Organic Beauty Tropical Blossom Body Butter
Oh, this little beauty has my heart forever! It was one of the very first products I have tried from the brand and I never want to be without it, ever. I was without it for a little while and I was sad not having it. That's how You know it is a Holy Grail status product.
Brand overview – Evolve Organic Beauty – Green Life In Dublin
Little Siberica Baby Massage Oil
I ran out of almost all of my body oils and I decided to try this, as I had my eye on it for a while now. It's very affordable product and it's 200ml bottle. Despite it being massage oil, I find it sinks in fast and leaves the skin very soft. Oh, and I intend to use it as a body oil. Sometimes I forget that people do not read my mind 🙂
Suncoatgirl Girl Nail Polish x2
What can I say, my little pre- teen is growing up and starting to request things. She is very aware that mom uses natural things and she is down to trying them too. The other family members, less so. We aren't familiar with this brand, so it was a shot in the dark for me. Thankfully two bottles of this is less than 15eu, so if it does not work out, it won't be a big of a deal. One nail polish brand I know is good is by Pure Anada. I know it lasts, it's pigmented and it is many "free" formula. I currently have only one bottle of nail polish in the house and it is by them, but Ms Green Life In Dublin Jr rejected it because it is golden colour. Oh well. Let's see how Suncoatgirl will compare.
Najel Dead Sea Water Concentrate
I don't really understand this product yet, as it is something I have never heard of. The salt water concentrate to rub on your skin pre shower to add minerals? And aid exfoliation? I was intrigued enough, it has only one ingredient, plus was very affordable. I will keep You posted.
---
ELISABETH33 solid shampoo
This shampoo bar is so good that it ended up in my 2022 Best Hair Products post! Many and many shampoo bars make my hair look like a birds nest, but this is one of the very few exceptions. It makes my hair look like I just left the salon, no less. Lisa Gustafson, the owner of the brand was kind enough to send me more to show You guys in my upcoming YouTube video.
2022 Best Series – Natural & Organic Hair Care – Green Life In Dublin
---
Healthier Planet Healthier You cookbook
https://www.instagram.com/p/Co79IjMIuMJ/
I'd like to thank @anniebellcook and @bluebirdbooksforlife for kindly sending me a copy of Healthier Planet Healthier You book. It looks awesome and it is packed full of awesome recipes and health data to make better choices whether we are vegan, vegetarian, pescatarian or flexitarian. The author is a nutritionist, so I can count on all the macros to be balanced. What's more, this cookbook also takes skyrocketing shopping bills. More kudos to her! Please let me know if You would like me to make a few meals from it, because I am excited!
---
English Mineral Make Up refills
Despite the postal restrictions, Jeanette from English Mineral Make Up Company managed to hook me up with refills of their fabulous foundation & eyebrow pencil. This was in the wrong shade for me, but I will try to make it work or pass it on if I can't. Both of these products ended up in my Best 2022 Products list, do check it out. I also have a separate review of the brand, hit that search button if You would like to learn more.
2022 Best Series – Natural & Organic Make Up – Green Life In Dublin
---
Coasences Change of Air balm & roll on
The arrival of this Irish brand products was so timely – I was just getting over the flu when it came and it helped me to kick it so much faster. Let me explain. These natural products contain Grapefruit Essential Oil, which contains a compound, limonene, that is proven to be a very effective antibacterial agent. It works beautifully in combination with Tea Tree Oil to purify the air you breathe. You put a little bit in Your nose and it instantly can be felt – it unblocks the nose, it gives You a jolt of freshness and alertness due to the essential oils in it. I bet these products can be multitasking too, for example I plan to use the roll on my temples for when I'll get a headache next time. I'll keep You posted, but first impressions are good. I know a good thing when I see it!
---
That's the list of the "things" for this month. Although come to think of it, I might post another "thing" on my Green Life In Dublin Wears IG page soon – I managed to score an original Mulberry bag for only a tenner in a charity shop, so happy as a seal I am. It needs a little fixing before the reveal though, a few stiches here, a little fixing of the hardware there.
---
MUSINGS
Monthly Musings – Quitting Algorithms – Green Life In Dublin
After a long thinking sesh I posted about quitting algorithms in my last post (above) and it seems it resonated with You. I want to thanks Shannon Marie who goes under the name of rawdorable on IG, for making my day with this comment: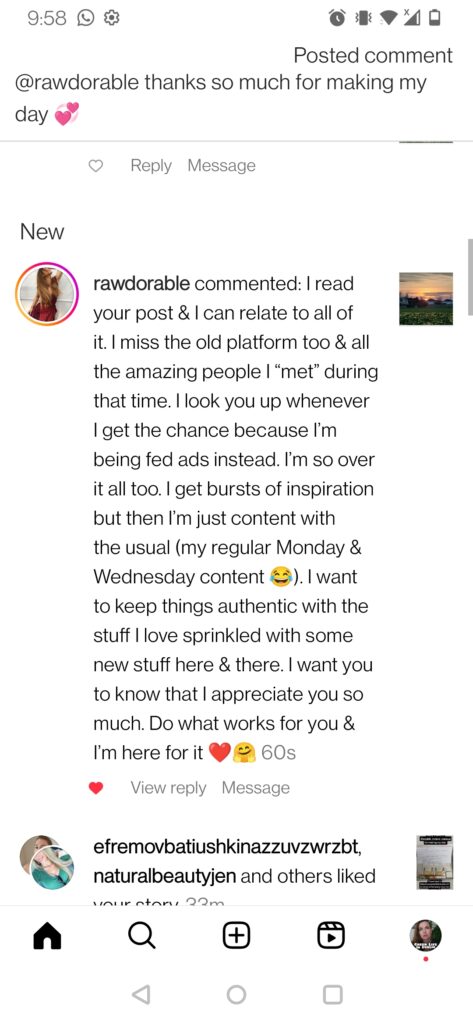 That's all for today, many thanks for visiting my little corner of internet. I appreciate You taking the time of the day to read my posts. See You here next Tuesday, my posting days.
Sending LOVE & LIGHT,
Renata.