Hi Lovelies,
Welcome back! And if you are new here, welcome xoxo
Hope You are all well and enjoying various exciting activities leading up to Christmas? Today I am coming at you with a review of three body oils by a wonderful UK brand Inner Senses. They captured my attention since the very start of the launch some years ago, and they are still one of my favourite products to this date – mark my words to see them in my upcoming 2018 Best Products post.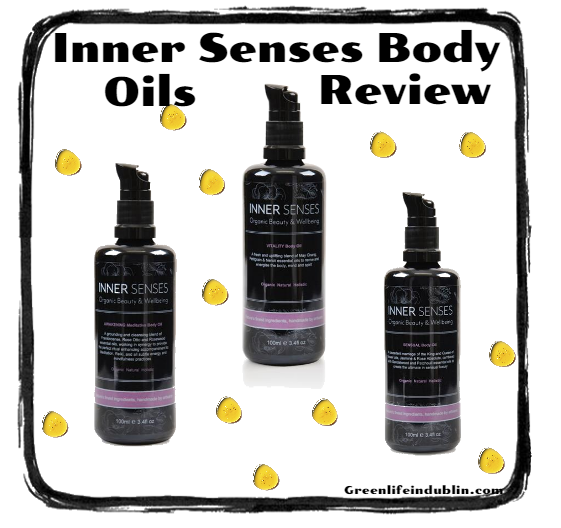 This artisan brand was started by Lisa Basso, who has over two decades of professional experience and knowledge in the Aromatherapy industry and went on to develop the Inner Senses range which is hand-crafted and made in small batches to ensure freshness. The oils are about 92% – 98% organic (depending on the product) and 100% natural and comes in beautiful luxe dark glass bottles (there was a packaging chance happening a while ago). The range expanded over time and now includes body oils, face oils, mama and baby oils, all available as single products or in beautifully curated gift boxes. I have used a few of the body oils to date and this is exactly what I'll talk about today. Stay tuned for more reviews!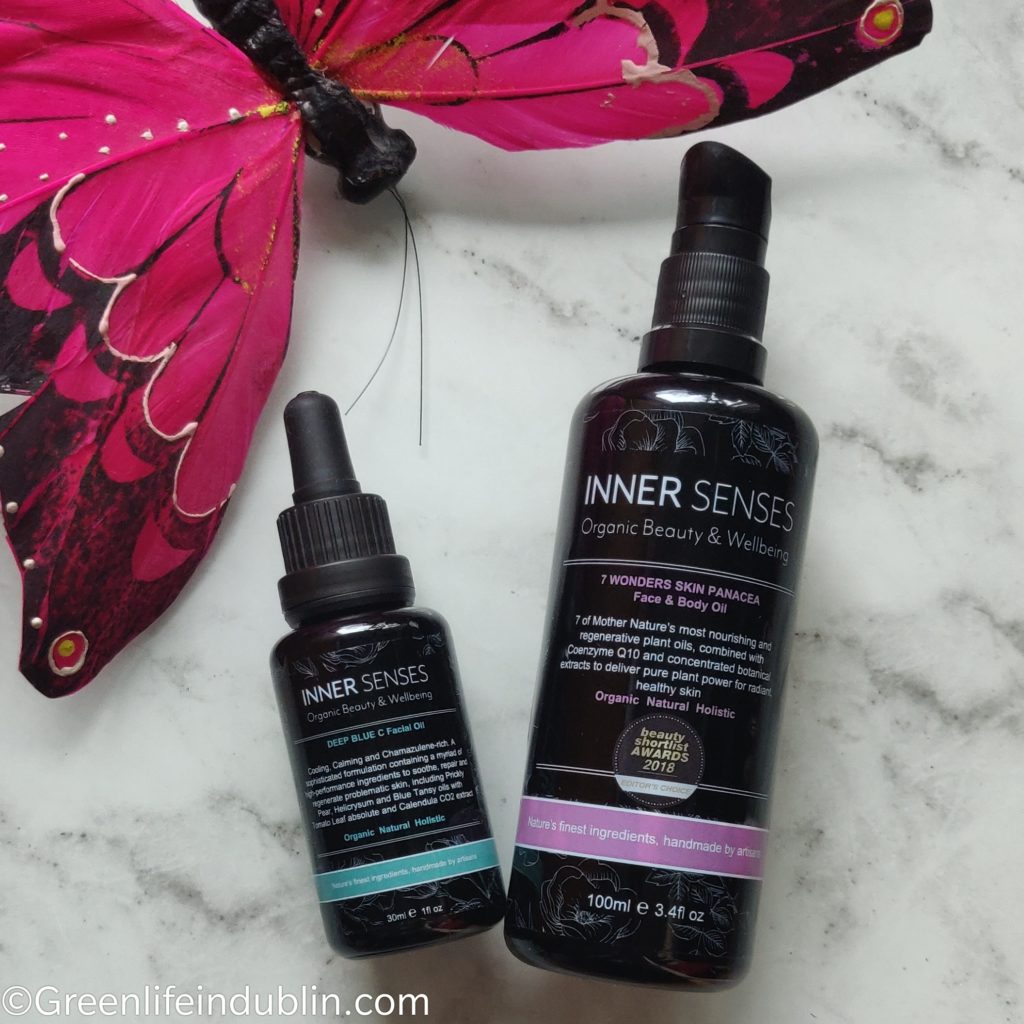 Inner Senses offers powerful (and great smelling) range of facial oils, body oils, carrier oils, essential oils & maternity and baby range formed of purely plant based ingredients. Inner Senses wants to take you on a journey of natural health & wellbeing through its lovingly blended ingredients to soothe, nourish & revitalise you. Lisa takes great care to select only the best ingredients there is (organic where possible) and this does reflect in the quality of her products. She is sourcing from only well established, reputable suppliers who are members of the Aromatherapy Trade Council, which goes some way towards guaranteeing the quality and purity of the product. And only purchases ingredients with full safety data sheets. Quality, purity, sustainability and fair trade are keys for her trade, and I really respect that. In short amount of time the brand has started collecting awards, so don't just take my word for it!
---

---
Awakening Meditative Oil
Awakening blend is my favourite from all of the four body oils of their I currently have, and I have a feeling I will always want to have it in my life. It is a grounding and cleansing blend which provides the perfect ritual enhancing accompaniment to Meditation, Reiki, and all subtle energy and mindfulness practices. Formulated with Frankincense, Rosewood & Rose Otto oils, renowned for their ability to enhance spiritual connection, clear the mind, encourage deep breathing and bring about deep relaxation.
Umm, I have to be really honest here – I am not someone who meditates (can't master this thing no matter how much I try), so I simply used this as a body oil. I have to tell you it smells DIVINE! I wish blogs and social media would have a scratch-and-sniff feature, because I would love to be able to translate that gorgeous smell that got me addicted at a first sniff! It is not strong, mind you, and you can feel it is all natural, scented with essential oils only, no nasties whatsoever. But it subtly lingers on your skin for a good couple of hours, and it sort of cocoons you into this blissful state of mind without you having to do anything. So I really can second it would be beneficial in aiding you into reaching meditative state. If you do use it for that, here's how you do it – place between 6-10 drops of oil into the palm of hands and gently rub together to release the aroma. Cup hands in front of face and inhale deeply for a few seconds. Gently massage the oil into chest, arms, shoulders, neck etc as desired. For use on-the-go, simply dab a couple of drops onto wrists, temples and other pulse points when you need a little extra calm and clarity. Lisa, if you are reading this, please come out with a roller oil based perfume of it, please!  The oil is nice and lightweight, perfectly formulated if you ask me – sinks in quickly, leaving you with no greasiness on your skin (no clothes were ruined in the process of testing this) but it leaves your skin nice and moisturized for hours if not days!
After going through it like there is no tomorrow, I couldn't stop thinking about it (despite having plenty of other body oils) – and went on to purchase it with my own money. If that's not an indication of how good the product is, then I don't know what is 🙂 I wish social media and blogs would have a scratch and sniff feature, so I could share this dreamy scent with you.  I got plenty of compliments on it.
Ingredients: (98% Organic & 100% Natural)
*Prunus Armeniaca (Apricot) Kernel Oil, Tocopherol (Non-GMO), Boswellia Carteri (Frankincense) oil, Aniba Rosaeodora (Rosewood) oil, *Rosa Damascena (Rose Otto) flower oil, ** Linalool, Limonene, D-limonene, Citronellol, Geraniol, Coumarin, Eugenol
* Of organic origin ** Naturally present in essential oils
VITALITY BODY OIL
Vitality is my second favourite due to the uplifting scent of of May Chang, Petitgrain and Neroli to revive and energise the body and mind. Perfect for the morning showers, or any time of the day, really.
Ingredients:
*Prunus Armeniaca (Apricot) kernel oil, Tocopherol (Non-GMO), Citrus Aurantium Amara (Petitgrain) leaf oil, Litsea Cubeba (May Chang) fruit oil, Citrus Aurantium (Neroli) flower oil ** Linalool, Limonene, Citral, Geraniol, Citronellol * Of organic origin ** Naturally present in essential oils
SENSUAL BODY OIL
This body oil marries the King and Queen of flowers – Jasmine & Rose Otto – in combination with Sandalwood to create a luxurious treat for the skin and the senses. Jasmine and Rose Otto essential oils have been know as aphrodisiacs for centuries if not for thousands of years – and that is exactly the reason I chose this, I was so so curious what it smells like! Sadly this is my least favourite I should say – I don't like jasmine, and this smell overpowers the other two. Oh well, I am glad I tried it though, and I will have to remember not to choose products containing jasmine. I am sure one of my friends will lap it up. As for myself, I will either try Dream body oil or will go back to my beloved Awakening Meditative one, because if You can't tell by now, I frigging LOVE it! Pardon the language 🙂
INGREDIENTS/INCI: *Prunus Armeniaca (Apricot) kernel oil, *Simmondsia Chinensis (Jojoba) seed oil, *Helianthus Annus (Sunflower) seed oil, *Caprylic/Capric Triglyceride (Fractionated Coconut) oil, Tocopherol (Vitamin E/non-GMO), **Santalum Album (Sandalwood) oil, Rosa Damascena (Rose) flower extract, Jasminum Grandiflorum (Jasmine) flower extract, Pogostemon Cablin (Patchouli) leaf oil † Geraniol, Citronellol, Linalool, Limonene
* Organic origin † Naturally present in essential oils **Ethically traded through Indian state sponsored auctions.
This product is 96% organic and 100% natural.
So that's all for now. Have You tried any of the Inner Senses products and what are your thoughts on them?
Subscribe & share this or any of my blog posts on social media – it helps to get the green beauty word out – and for that I Thank You!
Follow me on:
That's all for today, see you here next Tuesday xo
Lots of Love,
Renata.

Enjoy my content? A  tip into my PayPal Tip Jar -  will get You my eternal gratitude and more awesome green beauty reviews Your way! I weed out all the greenwashing products so You won't have to.
Full disclosure – I am affiliated with Love Lula, and an ambassador for Inner Senses. I always maintained a full transparency of everything. I worked hard for nearly a decade before introducing any kind of monetisation, which proves I am not in it for the money – but to be of service to you guys! If you will decide to use my links, you will have my gratitude for forever – and they are at no additional cost to you as a buyer, of course.
Products featured include my own purchases, PR directly from the brand and Love Lula, which carries a better part of the range.