Hello Lovelies,
Welcome back! And welcome if You are new here xo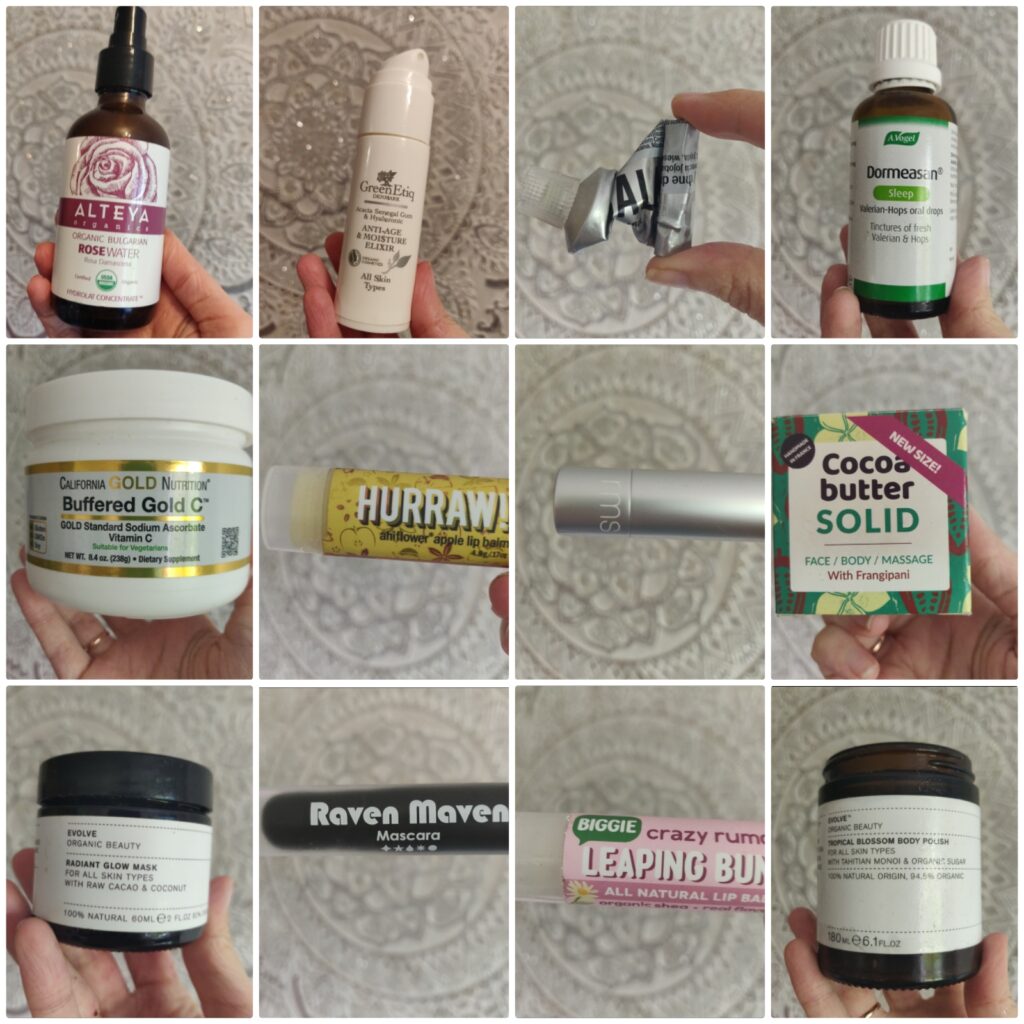 How are all of You, I hope You are well? Today's post is for those of You who love empties posts – I feel it is important to show You that the products I use and the products I review are the same. I love what I love, haven't used a ton of new stuff and here is the breakdown of what I used.
The products are grouped in three separate categories, Holy Grail products that I love and will definitely repurchase, Maybe ones and Never Again. After more than a decade of doing this I am jaded to do these posts, but You guys ask me to continue them. What my readers ask, my readers get!
FABULOUS GREEN BEAUTY/WELLNESS PRODUCTS I WILL REPURCHASE
Evolve Organic Beauty Radiant Glow Mask
Evolve Organic Beauty Tropical Blossom Body Butter
Evolve is my favourite brand hands down, so many of their products ended up on my Holy Grails list! I love the brand so much that I convinced one of my favourite natural online shops Dutch Health Store to carry the brand – and it is doing very well there since.
Brand overview – Evolve Organic Beauty – Green Life In Dublin
RMS Beauty Vogue Rose lipstick
It's a repurchase of one of the two of my favourites from the brand, the other called Pretty Vacant is discontinued – welp!
Check The Dutch Health Store for Evolve Organic Beauty, Living Libations & more
Pure Anada Peppermint Essential Oil
Pure Anada hand cream
It is very rare for the brand to do natural make up, skin and body care well, but Pure Anada manage exactly that. I am so glad that Live In The Light carry the brand on our shores – even though they are in UK, there are no additional custom fees for EU customers. I highly recommend.
Living Libations Raven Maven Mascara
J'adore the brand! Beyond anything else that is on the market, beyond organic, beyond fair trade, just beyond! I can't live without so many of their products for so many different reasons, see the review post why. It's a bit older post, but my opinions haven't changed. I've (first impressions) reviewed this mascara too.
SAVE 15% WITH GREENLIFEINDUBLIN15 AT LIVE IN THE LIGHT (UK)
Boiron Oscilloccocinum
Homeopathy is a must for me and my family.
California Gold Nutrition buffered vitamin C
Key word here being buffered, it does not burn like a regular vitamin C does.
Check iHerb for Boiron, Sambucol, Now Foods & more 
Code CDI1500 saves $£€ for Your first order
Hurraw Sandalwood Balm Too 
Already repurchased. This didn't work for me as a skin care balm, I use it as a lip mask for the night. Pricy, but worth it. I might try to replace it with Boiron Homeoplasmine which I have heard can be used the same. It's much cheaper, but I am yet to try it.
Fushi Organic Shea Butter
Love this brand and this product! They have three variations of it and I make sure to have all of them prior winter.
Inika Bold Lash Mascara
Another must have product and the brand for me! The review will go into more details on everything, but in short, this makes my short and stubby lashes look va-va-voom naturally. I need to  repurchase their foundation too – after being a bit bored I tried not repurchasing it in order to try something new (I've been using it for 5 yrs in a row), I want to come back to it seeing how good my skin looked in older photographs. Nothing has been standing out from my recent samples.
Routine deodorant
As I've touched in this post, this is the only natural deodorant I keep repurchasing from my two extensive rounds of judging natural deodorants for the Clean Beauty Awards. Blackberry Betty smells lovely!
Irish Independent, Natural Deodorants & Me – Green Life In Dublin
---
GREAT NATURAL ITEMS I WON'T GET FOR NOW DUE TO THE SIZE OF MY STASH/ MINIMIZING/ OTHER
Hurraw Ahiflower Apple lip balm
Not my favourite flavour, but I love this brand.
Alteya Organics Organic Rose Water
Vogel Dormeasan
Twelve Nutritive Repair Emulsion
Salty Herb bath bomb
Pure Anada Spruce body lotion
Kiss The Moon Love Night Cream For Hands
Moi Vert Deodorant
PHB Lash & Brow Serum
Fat & The Moon Sensitive Pits Deodorant
Hiro Corrector
Evolve Superfood Hair Mask
Minvita Detox superfood mix
Westlab Mindful Epsom Salts
Aiva The Oil
Green Etiq Anti-Age Moisturise Elixir
The list is much longer due to me trying to minimize the stash prior a house move. Once settled in, I might go back to some of these. Right now I am paring down to bare bones stash.
---
NATURAL PRODUCTS I WON'T BE GETTING AGAIN
Lamazuna Cocoa Butter Solid
Nothing wrong with the product, I just discovered I don't love solid butters. For me, nothing beats the luxe feeling of Evolve Organic Beauty Tropical Blossom Body Butter. The scent is to die for too. They have travel sizes too. The glass jars that are left, I am recycling for DIY candles, so it is a win win situation for me. All of us are different, this might be Your best product, who knows? Lamazuna have other great products like their solid shampoos, which I adore.
Sending LOVE & LIGHT!
Renata.