Hello Lovelies,
Welcome back! And if you are new here, welcome xoxo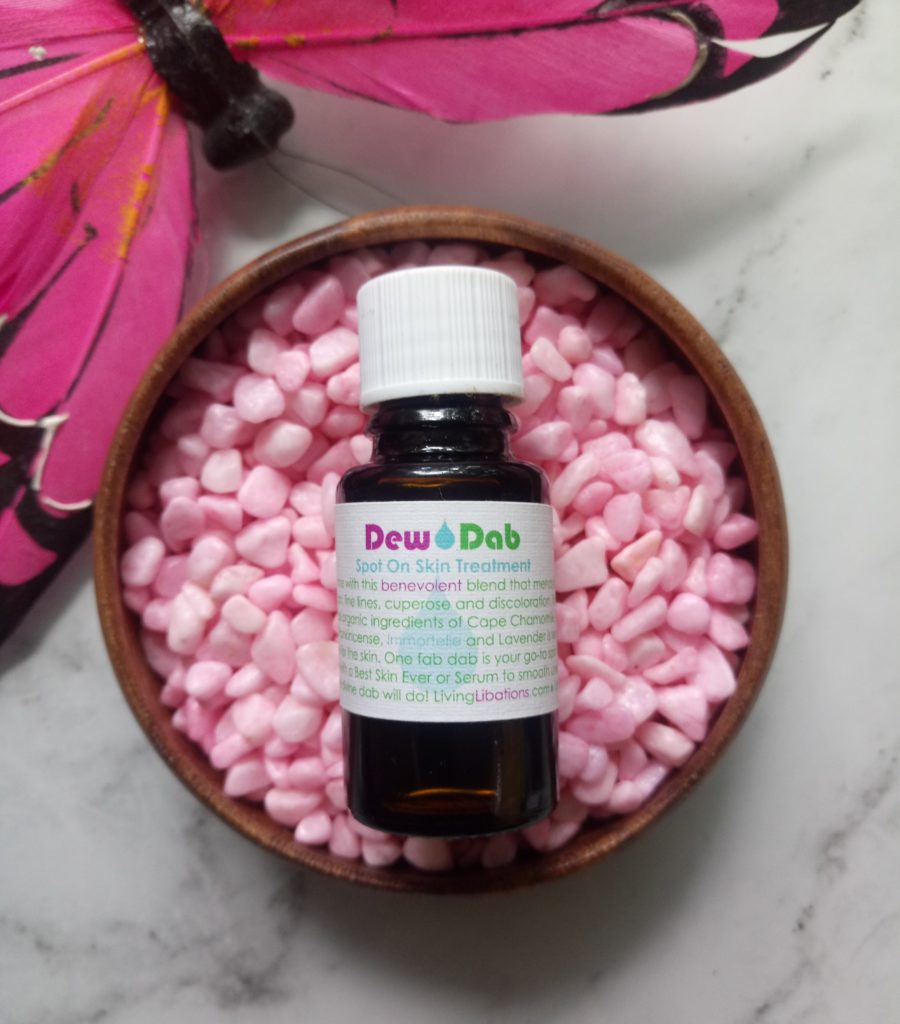 How are all of you, I hope you are well? Today I am coming at you with a short and sweet review of Living Libations Dew Dab, which I was sent for review by lovely Wilma from The Dutch Health Store – who has the largest Living Libations selection in Europe. If you want to see my review of that online shop. see here, and if you want to see what I think of Living Libations dental products, where I talk about Happy Gum Drops, Ozonated Happy Gum Gel & Frankincense Toothpaste, click here and here, where I review Living Libations Wintergreen + Clean Toothpaste & Revitin Toothpaste. If you want my two cents of their haircare, True Blue Spirulina shampoo & Flowers In Her Hair Dry Shampoo, see this post here.
Anyways, let's get back to the Dew Dab, shall we?
Let's see what it actually is?
A Pure, Potent Essential Oil Elixir For Anointing On The Spot
Helps Soothe Tiny Lines, Little Bumps & Blemishes That Somehow Appear Overnight
DewDab Brings Balance To Troubled Skin & Banishes Couperose, Discolorations & Scars
Organic / Wildcrafted Ingredients, Paraben free, Sulfate free, any nasties free in fact! Cruelty-free too, as it is important to us.
Directions
Simply tilt the bottle to release one drop onto your fingertip and apply directly to the spot. A little dab will do! Dab directly, undiluted or as beautiful additive to any cream or serum.
SEE MORE DUTCH HEALTH STORE REVIEWS ON MY FACEBOOK PAGE HERE
Ingredients (organic)

Cape Chamomile Essential Oil (Eriocephalus punctulatus) – Captivating cape chamomile's exudes a beautiful, fine fruity-floral fragrance that is one of my favorite aromas. Cape chamomile has a high content of rare, nourishing ester and azulene compounds that impart a teal blue hue to soothe all manner of skin imbalances. This rejuvenating essence regulates sebum and softens the appearance of scars, and spots.

Rose Otto Essential Oil (Rosa damascena) – Regal rose otto is a steam-distilled divination from the Valley of Roses in Bulgaria and has been an integral ingredient in skincare preparations for centuries. Poets, writers, and mystics have extolled the heart-warming effects of rose otto, which opens the heart to love. Beyond its angelic aroma and healing vibrations, rose otto is the most precious, sought-after, and medicinally majestic oil of any rose variety. Divine grace for beauty and face, radiant rose revives every filament of our being with its elegant essence. It takes sixty roses to make one drop of rose otto essential oil! The 'otto' in rose otto, refers to its steam distillation process. This is the only type of rose essence one wants to use in skincare. Soothing to the heart and smoothing to skin, rose otto is a key ally in dermal rejuvenation, inviting balance and beauty.

Cypress Essential Oil (Cypress sempervirens) – Strengthening cypress oil is a calming, fortifying tonic. Cypress is stellar for sluggish skin.

Frankincense Essential Oil (Boswellia carterii) – This is a holy, quintessential essence for cultivating the skin's reverence. Liquid pearls from the tree of life, frankincense is distilled from the resinous sap of the tree. Anointed and inhaled in spiritual ceremonies for thousands of years, this fine, fragrant oil increases the skin's resilience. Holding the wisdom of the ages, frankincense is formidable for soothing the appearance of scars, smoothing uneven skin, and minimizing the appearance of melasma. This oil is a terrific tonic that has been used for thousands of years to fortify skin.

Immortelle Essential Oil (Helichrysum italicum) – Everlasting immortelle is stellar and shines divine for all kinds of skincare. This fragrant-floral oil is wild-crafted on the island of Corsica where the flowers prosper with ocean breezes and sunshine. The flowers grow at an altitude of 4,000 feet on the rocky countryside cliffs. Immortelle aids in abating the appearance of scars, spots, melasma, redness and fine lines. This multifaceted gem of an oil is uplifting emotionally as well.

Lavender Essential Oil (Lavendula angustifolia) – Languid lavender is famed for its ability to soothe body and mind. This gentle-yet-powerful skin tonic makes it perfect for fading the appearance of scars, spots, melasma, and uneven skin tone. The lovely scent of lavender caresses the senses, letting nervous tension go and lessening mental restlessness. Lavender is a lullaby to the spirit and skin.
my thoughts and verdict
So, what do I think of this product? Well, I have only one thing to say – LOVE!! Anyone who has read any posts of mine about any Living Libations products, would know that the brand truly has my heart! And this is no exception – this is a true powerhouse of healing ingredients in one tiny bottle and I thoroughly enjoyed, err, I mean tested all of it – the right word would be tested. Camomile, rose and immortelle are all powerful natural healers, while lavender is soothing to the skin, the formula is perfected to the T. I also should add that this helps heal the skin and diminish the inflammation on the blemish area, this is not one of those products where you would apply and the zit magically disappears overnight. I felt it is important to distinguish the difference so everyone would be on the same page.
Do I have anything negative to say about this product? Nope. One tiny thing comes to mind, I wish this was in the roller packaging instead of the traditional essential oil bottle, but that's about it. It is really not a negative per se, it is just my personal preference,  so don't hold it against Living Libations 🙂 The price point might seem high to some of you, especially if you are new to the green beauty world. I too thought that at first, but now that I know that Living Libations quality is second to none, I am happy to give them all of my money 🙂
And get amazing products in return, mind you!
Please keep your eyes peeled for reviews of Sea Buckthorn Best Skin Ever, Zest The Best & more – in the near future.
So there you have it, my post for today. Have you bought anything from Dutch Health Store? What was your experience and what product do you like the most from them? Tell me below, so I could add them to my wishlist ?
See related reviews & posts:
check Living Libations products at:
The Dutch Health Store
Living Libations website
Live In The Light - save 15% with GREENLIFEINDUBLIN15 code
Please make my day and subscribe and share this or any of my blog posts on social media. Thank You! It really helps to get the green beauty word out.
Follow me on
Lots of love,
Renata.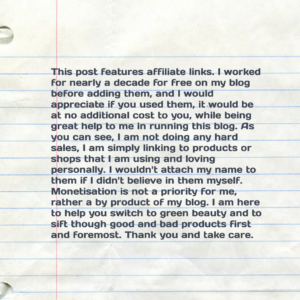 Enjoy my content? A  tip into my PayPal Tip Jar -  will get You my eternal gratitude and more awesome green beauty reviews Your way! I weed out all the greenwashing products so You won't have to.