Hello Lovelies,
Welcome back! And if you are new here, welcome ???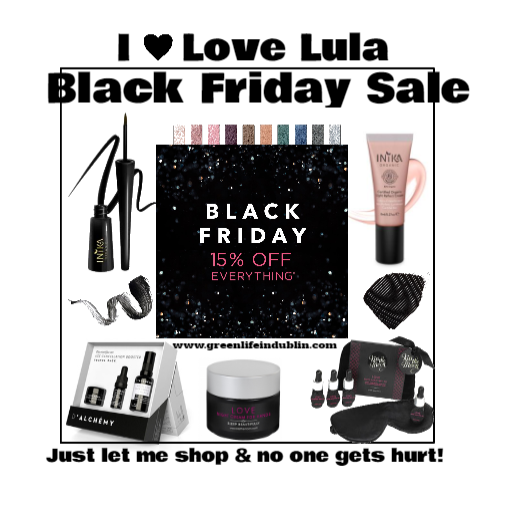 So it is that time of the year! Love Lula Black Friday sale time, that's it. Everything is 15% off with the code "FRIDAY". Time to treat yourself and maybe get all of Your Christmas presents in one go maybe?
I love savings as much as the next girl, so I will be stocking up on some products I really like, I have had some great discoveries this year that I am adding to my Holy Grail line up (here).  For the references, I am a gal with super sensitive skin and scalp, prone to dermatitis. Light to medium complexion. Hair – fine, but lots of it. It hasn't decided if it wants to be curly or straight, so it is somewhere in the middle.
My product recommendations for stocking up:
It was Peachy Keen that made me fall in love with the line more than five years ago – it is a perfect natural Nars Orgasm dupe, only more gorgeous! This is one of those products I am never ever without. Did You see my post on more than 20 natural Nars Orgasm dupes? This is my fave from them all. Very pigmented, you only need a teeny tap with a brush for both of the cheeks, meaning the jar will last you absolutely ages. The other blushes and bronzers are gorgeous too, see me recommending in on Love Lula here. The primer and the foundation are good too (reviewing soon, pinky swear!) and the mascaras are worth special mention too – I want/ need a lot of help in the lash department & these babies deliver, any of them is worth their salt.
It took me eight years into my green beauty journey to try this shampoo (because of the price tag) and let me tell you this – what a fool I've been to wait that long! I would have saved myself a lot of bad hair days and a lot of heartache trying shampoo after shampoo and getting only limp strands or tangly bird's nest and itching scalp over and over again. I get none of those problems with Rahua, and I don't even use matching conditioner! That's exactly why I deem it one of the products worth their money, and what can be better time to try it than on sale? Get samples or travel size to see if it's for you? Full review here. Oh, and their Rahua Hydration Detangler + UV Barrier is really good too – it smells of candy, I swear 🙂
One of the things I never want to be without in cool/ cold time of the year. When your sensitive skin is facing elements (wind is harsh here and my face really suffers), there's nothing better than dunk your face into this greasy goodness! Not only it soothes and plumps my skin, it helps with redness, I swear! Check out the gift section, this cream comes in the beautifully packaged box with two travel size sidekicks – all for the same price! Review here.
Perfection for my sensitive skin for cleansing, gentle exfoliation, mask removal and just plain wash without any product – all while cutting down on waste! Perfection or what? You can throw these into compost when you are done.  And be all smug about it 🙂 Review.
Alteya Organics was one of those brands that shot straight to my favourites from the get go. In order not to overwhelm my skin with too many actives, I love me a simple mist, and their organic rose and chamomile waters can do no wrong in my eyes. See review here. Comes in various sizes, both in plastic and glass packaging, so there's something for everyone. Traveling a lot? Go for plastic. Worried about your waste trail? Go for glass. Love Lula always package everything so well, I never ever had anything broken or spilled, ever – and I shop from them since 2014! I was a happy customer for many years before being accepted into their blogger family & I am happy to report no difference in treatment as a customer. Huge thumbs up!
Want to try K-Beauty but want all natural ingredients? Chobs might be the thing You are looking for! Full review here. I love their sheet masks, moringa lotion and the barumi lotion is perfect for scrapes and bruises Ms Green Life In Dublin Jr gets from time to time (sadly out of stock right now, bookmark it maybe?
Both really beautiful products I enjoy using and yet to come round to review them (let me know where to get more time please?). Both a bit pricy but totally worth it, just check the ingredients lists! So it is perfect time to take the opportunity.
Walden A Different Drummer shot straight into my Top Three when it comes to natural perfumes – and a few years later it is still there! I have it in all formats, full size, minis, roll on and so on. See review.
Hurraw lips balms are all lovely, but I am singling out Moon Balm not only because of the smell (vanilla) but because of the different texture – it is one of those true workhorses I use every single night without fail, and as a day lip balm in winters too. It is always always repurchased before it runs out too, and I am sure you would love it as much as  I do.
I discovered this brand when judging for the Beauty Shortlist Awards 19, so knowing how good they are I ordered a bunch in June (post) and I still have some left to enjoy. I wish blogs and social media would have a scratch & sniff feature for natural products – these smell amaaaaazing! Be sure to check the ingredients before ordering though, might be not for the purists among us?
Another great smelling and affordable brand, just like Bloomtown, might be not for purists or really sensitive gals among us, but I really enjoy this brand's scrubs, shampoos, soaps & oils. See this post where I discovered them back in May – and let me tell you the products were repurchased more time than I can remember! Sandalwood is my personal fave, while Princess Sn requests Hibiscus products on tap – and goes through them at blink-and-you-will-miss it speed! Time to introduce drastic measures 🙂
Related - Affordable Products from Love Lula
I will be honest with You here, if it weren't for Love Lula sending this my way, I probably missed out of it too, due to the high price point (see the pattern here?) A favourite since summer 2018 (post), this thick hand butter is still my fave to this day. Sinks in very well, leaving hands soft and smooth, and that's exactly what we all need right now, don't we? It comes in a hefty glass jar with whooping 90g of products, so the cost-per-wear (ha) are very very reasonable. They recommend using it up in six months after opening, but let me tell you a little secret – it lasts so much more than that. I used it for well over a year now and while the smell changed a little bit some time along the way, the texture and the effectiveness didn't, so I continued to use it happily until it ran out just a couple of days ago. Happy to report it worked just as good a year later. Don't tell the Green Beauty Police 🙂
???
My own wishlist
Esp manuka mask, make up, hand cream and Hosanna Intensive Hydrating Serum.
Because I am yet to try anything from the line.
After summer of barely-there make up, now I want to try everything!
Vitamin C serum has been calling my name, as well as numerous other products. I can't believe I am yet to try their infamous Carrot Butter Cleanser!
Sea salt spray, dry shampoo – please walk this way! Along with every other product too 🙂
I have reviewed some of the Ere Perez make up here but for some strange reason never ventured into their skincare. I will start with this serum please!
I want this to compare this to Mahalo Rare Indigo Balm and May Lindrstrom The Blue Cocoon Balm – my skin or should I say my dermatitis patch responds very well to blue tansy, so my curiosity is well piqued to see if this would be on the same level. Both balms I have tried are amazing, but oh-so-pricy. This is more affordable version, so I want to try it asap!
Just like with the recommendations, I could go on about my wishlist for hours too, but who has time for it? So let's just stop here.
Now it is your turn! Tell me your absolute fave Love Lula products & the ones you are lusting after? I would love to know. And add them to my own wishlist too 🙂
FOLLOW ME ON
INSTAGRAM
 TWITTER
PINTEREST
 FACEBOOK
YOUTUBE
See my Facebook Album with all the 70+ Love Lula related posts here.
Check out my previous blog with 400+ posts here. Lots of green beauty reviews  and honesty about products performance guaranteed ?
Lots Of Love,
Renata.