Hi Lovelies,
Welcome back! And welcome if You are new here xoxo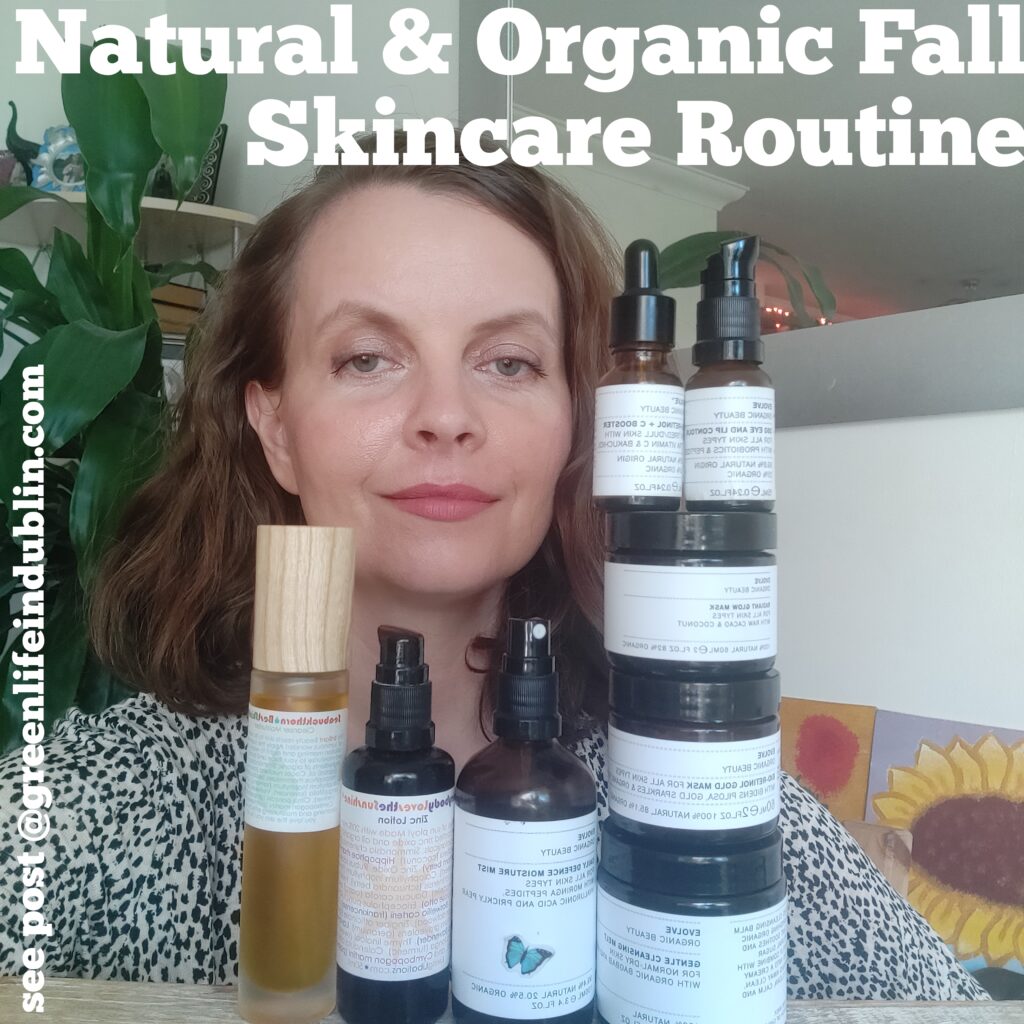 How are You guys, I hope You are well? Today I am coming at You with my Fall/ Autumn natural skincare routine post. Think Evolve Organic Beauty, Living Libations, Mahalo, Dr. Hauschka & more. I've been using the same products for years now, I think it is important to show consistency and that the products I am reviewing and using in real life are the same products. As the temperatures drop, I add more nourishing, heavier products, which my skin loves.
*Disclaimer, this is not a sponsored post, but it features some PR products* & a few affiliate link to the brands & online stores I absolutely adore. Thank You for using them!
AM
Alteya Organics Organic Bulgarian Centifolia Rose Water
Have loved this for years and years – it comes from the world famous Rose Valley in Bulgaria. There is no other rose waters quite like it. The biggest game changer in my skin care routine is using this instead washing my face in the morning. Less tap water, the better.
+ Organic cotton rounds from Dutch Health Store
Pretty much self explanatory, I take reusable cotton rounds and wipe down my face with rose water. Wash & repeat the next day.
Evolve Organic Beauty Bio Retinol + C Booster
Evolve Organic Beauty Bio Retinol + C Skin Booster Review [AD]
Evolve Organic Beauty 360 Eye & Lip Contour
Testing Evolve Organic Beauty 360 Eye and Lip Contour & More [AD]
Evolve Organic Beauty Daily Defence Moisture Mist
Living Libations Everybody Loves The Sunshine Zinc Lotion
Living Libations Everybody Loves the Sunshine with Zinc Beach Balm Review
Dr. Hauschka Rose Day Cream
Another one of my Holy Grail status products that comes out only at fall/ winter. This is rich, greasy, amazing cream that has been around for ages and is still one of the best skin creams around – at least that's how I see it. I've also reviewed it on my old blog, find it here.
PM
Evolve Organic Beauty Gentle Cleansing Melt
This, or Kalahari Cleansing Oil, these are the only two cleansers I currently have.
Evolve Organic Beauty Radiant Glow Mask with raw cacao & coconut
Optional, if I have time 🙂
Evolve Organic Beauty Liquid Radiance Glycolic Toner
I use it twice weekly.
daily renew facial cream
My skin loves this moisturiser all year long. In warm seasons this is enough on it's own, but in winters I need a bit of extra help, which is why I use heavier and oilier Dr. Hauschka Rose Day Cream in the mornings and this in the evenings.
Living Libations Sea Buckthorn Best Skin Ever
One of the best products Living Libations are doing. It can be used as a cleansing oil and as a moisturiser/ oil after. I use it both ways.
Green Life In Dublin loves Living Libations Sea Buckthorn Best Skin Ever [AD]
MAHALO RARE INDIGO BALM
My ride or die since 2016, ever since I discovered it! This is the only product I allow myself to get that is costing over 100€. Simply because it is worth every single penny. Whatever skin irritations I am dealing with, this helps. I simply know that I will wake up with better skin the next morning.
GET EVOLVE oRGANIC BEAUTY FROM
ARNOTTS.IE
Here is a brand review post if You want to know more? Almost all Evolve  products ended up as my Yearly Favourites, so be sure to look for those posts & YouTube videos too!
Brand overview – Evolve Organic Beauty – Green Life In Dublin
---
SEE LIVING LIBATIONS AT
---
SEE LOVE LULA FOR KIMBERLY SAYER, AYAN & KHADI
---
That's it for today, time for the school run for me! Thanks for reading, I appreciate You x
See You here next Tuesday, my posting day.
Sending Love & Light,
Renata.