Hi Lovelies,
Welcome back! And welcome if you are new here xoxo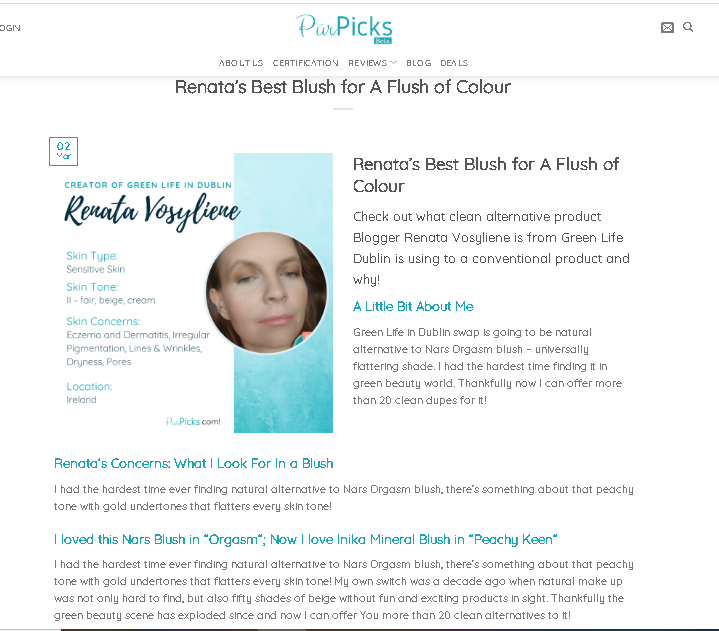 How is everyone holding up during these difficult times?  Today I am going to talk about The Clean Beauty Swap Campaign 2020 organized by PurPicks, a partner in Clean Beauty Awards I happened to judge this and last year. Post on that is coming up next, for today let's focus on The Clean Beauty Swap Campaign I took part in. My clean beauty swap suggestion is natural alternative to Nars Orgasm blush, the product I replaced the last-  as I found it so hard to find natural alternative to. Please step forward, Peachy Keen by Inika! More than 20 suggestions post linked at the end of this post too – at all price points.
PurPicks have asked lots of bloggers and influencers in the industry about the natural alternatives to conventional products they loved and found it hard to replace. You can see the full list here. I think it is useful for everyone, no matter how far You are into Your clean beauty journey. If You are just starting out, this will be a total lifesaver for You! If You are like me, years into clean beauty journey, it is fun to take a peek still, to see what other influencers are recommending. And maybe get inspired to try new stuff You haven't tried before?
When they asked me, I immediately knew what my answer and my swap suggestion is going to be – well, Nars Orgasm natural dupe of course! There's something about that peachy shade with gold highlight in it that flatters every skin tone. If you follow me for a long time you might know my own switch happened more than decade ago – before green beauty scene was a thing and before online shops existed. Hard to believe, I know!  The mineral make up back then was fifty shades of beige without exciting colours we have right now. Thankfully the green beauty scene exploded since and now we have abundance of clean make up, skincare, haircare etc. As far as my swap suggestion goes, I suggested a clean alternative (actually more than 20) to Nars Orgasm, which I happened to love in my previous life and found it the hardest to replace. Please step forward Peachy Keen by Inika!
I've said it time and time again and I will say it again, Peachy Keen is my Favourite Green Beauty Product ever – more gorgeous on than the actual Nars one. It is available in many online stores, you will find some listed below.  If you want to, you can see my Inika make up review here. In most of the online shops photos it does not look the gorgeous shade it it, that's why I included the post where you can see the realness of it. And that's also the reason why I started doing Green Beauty Swatch Gallery posts – I find swatches and real people reviews crucial before I purchase anything new online. One thing though, the blush looks very orange and very shimmery in the pan, but do not be scared – it translates beautifully on the cheeks. The trick is to use big fluffy brush like this and take only the teeny tiny amount of product. One shake into the lid and one dip with the brush will do. It will last you for years because it is so pigmented. Once you will apply it and look in the mirror, you won't be able to help yourself but smile – yes really! If you haven't tried this yet, I highly suggest you do 🙂
Related - see my 20+ natural dupes for Nars Orgasm post
Related - see my Green Beauty Swatch Gallery post
I thought of it some more and I have more clean swaps:
Lancome Juicy Tubes – 100% Pure Gemmed Lip Glosses (post) – now sadly discontinued!
Stila Blush in Lillium – Ere Perez Carrot Pot(s) in Harmony (post with swatch) or Healthy by Ere Perez
Stila Kitten highlight – Inika Highlighting Creme (post)
Any volume & length mascara – Inika or Fitglow
Any full coverage concealer – Hynt Beauty Duo Perfecting Concealer (review)
Revlon Pink in the Afternoon 415 lipstick (peachy nude Audrey Hepburn signature lipstick) – Hynt Beauty Pinkibelle (post)
*I would suggest you trust me for mascara and concealer recs, there are a lot of bad ones in the green beauty world!
One thing for sure, clean and natural alternatives to everything exist and they work even better! Thanks PurPicks for having me, it was fun ? If my suggestion helps at least one person, I would be very happy.
That's all for today, see You here next Tuesday.
Sending LOVE & LIGHT
Renata.