Hi Lovelies,
Welcome back! And welcome if You are new here xoxo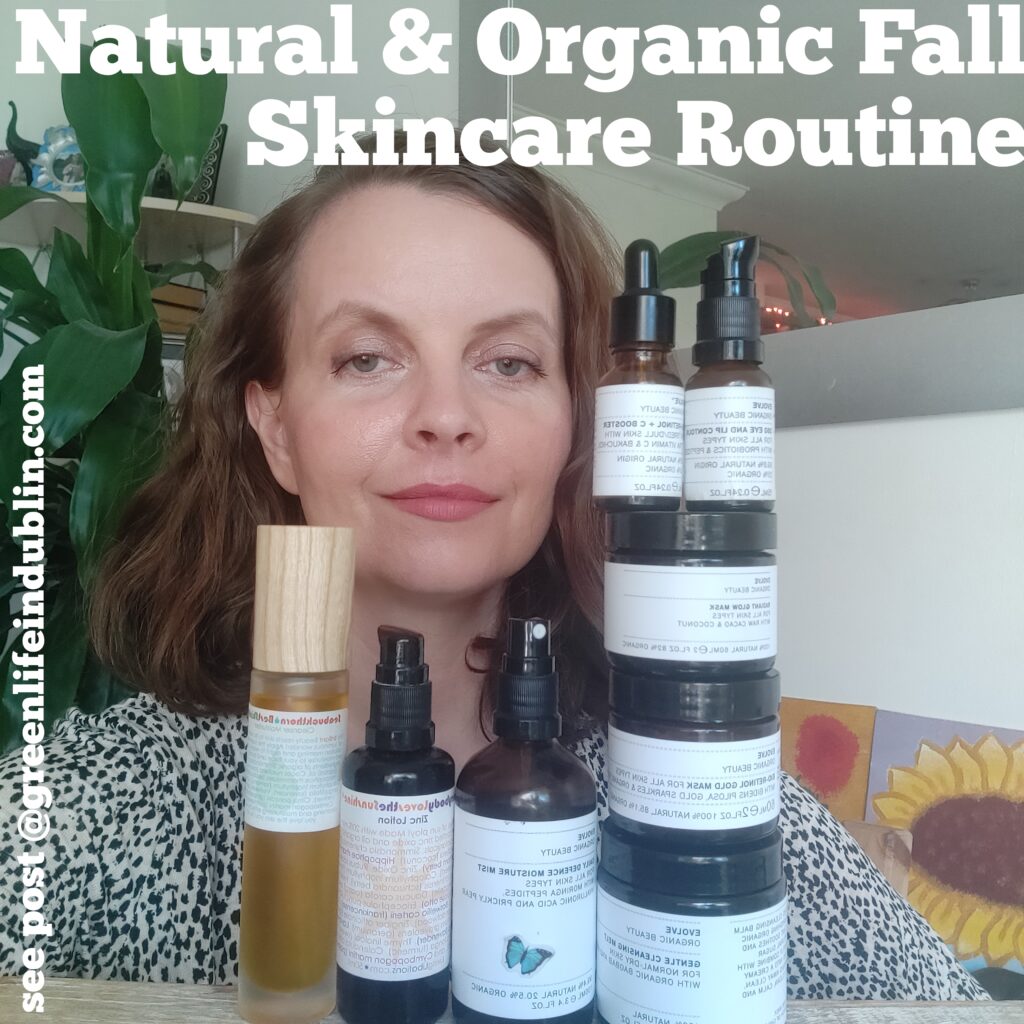 How are You guys, I hope You are well? Today I am coming at You with my Fall/ Autumn natural skincare routine Youtube video & post. Think Evolve Organic Beauty, Living Libations, Khadi, Kimberly Sayer & more. Ps. see my bare skin sans any make up, filters or retouching in the video – not the easiest thing for a "mature" woman to do, but this is me, real me, at nearly 41. Who said natural products don't work?
Normally I would feature Bella Aura products, but I am all out of products for months & currently still communicating with the brand. In the meantime I said yes to other products to come into my life and luckily for my super sensitive and dermatitis prone skin, they all turned out to be amazing. *Update on why I no longer stand by this brand, even though I still think their products are fantastic here, scroll down to the very end.
In order of showing, here are the products I currently love:
AM
Evolve Organic Beauty Bio Retinol + C Booster
Evolve Organic Beauty Bio Retinol + C Skin Booster Review [AD]
Evolve Organic Beauty 360 Eye & Lip Contour
Testing Evolve Organic Beauty 360 Eye and Lip Contour & More [AD]
Alteya Organics Organic Bulgarian Centifolia Rose Water
Organic cotton rounds from Dutch Health Store
Evolve Organic Beauty Daily Defence Moisture Mist
Living Libations Everybody Loves The Sunshine Zinc Lotion
Living Libations Everybody Loves the Sunshine with Zinc Beach Balm Review
Kimberly Sayer Ultra Light Facial Moisturizer SPF30
Ayan Baby Care SPF50
PM
Evolve Organic Beauty Gentle Cleansing Melt
Living Libations Sea Buckthorn Best Skin Ever
mist + C booster & eye contour from earlier
Khadi Sandalwood Herbal Face Mask
Love Lula Blogger Picks – Fair Squared, Khadi, Kiki Health [AD]
Evolve Organic Beauty Radiant Glow Mask with raw cacao & coconut
Evolve Organic Beauty Liquid Radiance Glycolic Toner
Evolve Organic Beauty Evolve Liquid Radiance Glycolic Toner Review [AD]
GET EVOLVE oRGANIC BEAUTY FROM
ARNOTTS.IE
Here is a brand review post if You want to know more? Almost all Evolve  products ended up as my Yearly Favourites, so be sure to look for those posts & YouTube videos too!
Brand overview – Evolve Organic Beauty – Green Life In Dublin
---
SEE LIVING LIBATIONS AT
---
SEE LOVE LULA FOR KIMBERLY SAYER, AYAN & KHADI
---
That's it for today, time for the school run for me! Thanks for reading, I appreciate You x
See You here next Tuesday, my posting day.
Sending Love & Light,
Renata.