Hi Lovelies,
Welcome back! And welcome if You are new here xoxo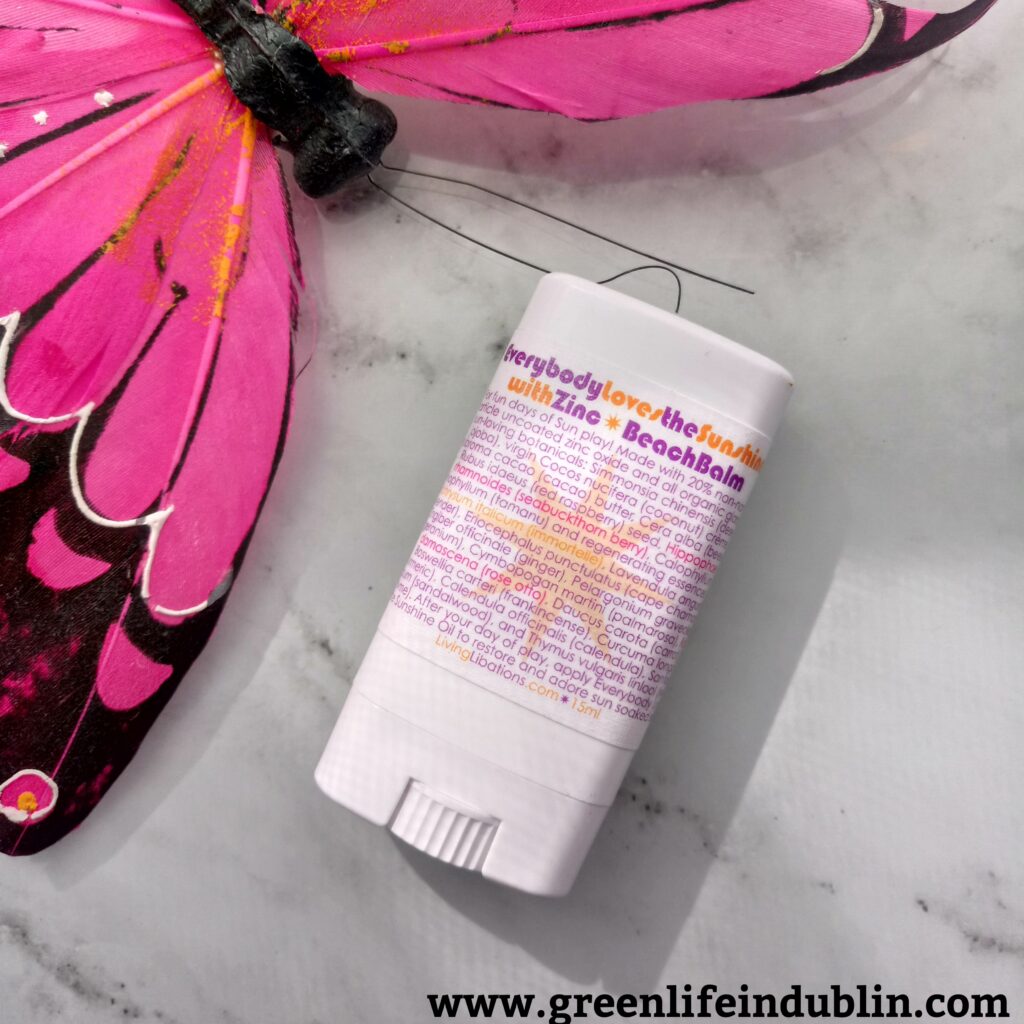 So You probably know that both Living Libations and Dutch Health Store have my heart – Living Libations for making the most pure products and Dutch Health Store for not only making them available in EU but also for  the most impressive customer service ever – 27 follow up emails after order postage went wrong, anyone? Today I am reviewing more amazingness in form of Everybody Loves The Sunshine With Zinc – Beach Balm. Not only it has the most amazing all natural ingredients, protects from the sun, but it also healed my dermatitis outbreak – say what??
I don't know about you,  but I get really excited when I find truly natural products that can do a double or triple duty – and today is one of those days! I am buzzing about reviewing this Everybody Loves Sunshine With Zinc Beach Balm. It has taken me a hot minute to review this, but now that I have discovered how amazing it is at treating dermatitis, I can not wait any longer to let you guys know all about it. Yes, you read that right – it worked so amazingly well at treating my dermatitis outbreak, and fast! Let's rewind a little bit – I have seborrheic dermatitis that stems from digestive issues, gluten, dairy and other allergies. I am managing it quite well for the most part – as long as I stay away from the trigger foods, I have had no outbreaks for a couple of years. Until a couple of weeks ago, that's it – when I had two tablespoons of sour cream on Lithuanian national dish "cepelinai". I am yet to find a DF version of sour cream that would bear any remote resemblance to the real thing &  I used to loooove sour cream on everything. I have spent years trying alternatives to no avail, I haven't had it for 3-4 yrs now. So in a moment of weakness I gave in into my craving, crossing my fingers and hoping my body would cope with it. Oh how I regretted my decision the next day when not only half of my face, but all torso erupted in outbreak! Anyone who has had dermatitis knows how insanely itchy it is, you can't help but scratch till you bleed –  I wouldn't wish that on my worst enemy. Having had this condition for years now & numerous outbreaks from time to time, I tried dozens of products aimed for troubled skin. I found two problems to be true – the products who help with the insane itch (usually with peppermint essential oil in them) aren't really moisturizing/emolient enough to aid skin's healing, and the balms/ butters that help the skin heal over time, don't provide relief from the itchiness. Or so I thought – pass the drum roll please! – please step forward Living Libations Everybody Loves Sunshine With Zinc – Beach Balm!! Desperate for a relief, I reached for this, but not knowing is it any good, I applied my usual products on top of it. As I was going about on my day, I noticed I am not as itchy as usual, and when I checked myself in the mirror, the pustules were shrunk in half and visibly healed. Not knowing what product (or combo of them)  worked, I started using them one by one, giving two to four days to gauge the difference. Well, I didn't have to wait for four days to see the difference when it came to this products turn, it was felt in hours! After my morning application all over my chest and neck, I went onto my day and it was only a good few hours in that it dawned on me that I am not itchy in the slightest. Sure enough, when I checked myself, the pustules were visibly shrunk and the skin showed signs of healing. I kept on applying it and guess what? Not even half a week passed & I am symptoms free! Feels so good to be itch free (Thanks Good Heavens & Living Libations!) and back to my normal self again. I highly recommend this product to anyone. For me, this is amazing news as I can eliminate multiple products from my stash – and anyone who has looked into dermatitis/ troubled skin aimed products know how pricy they are – and the costs add up really fast, especially if you find they aren't doing what they promise. At the start of my dermatitis I would have given any amount of money for the product that would help – and spent a fortune trying one product after another. I even had some horrible reactions to some, for example Moogoo made my face swell up to twice the size, I could barely open my eyes! Hope's Relief spray burned my skin to raw redness that I found so hard to heal afterwards. Imagine, burned skin combined with dermatitis? Oh, how I wish I knew about this product back then! I would have saved myself a fortune and more heartache over reactions. Thankfully my search for the perfect healing product ends here. This brings me so much joy & I am adding this to the products I highly recommend list (here). I never want to be without one, ever!
Now, let me be honest with You here, Living Libations isn't exactly cheap either, but to me, this is worth it's weight in gold and more. Multipurpose balm that not only protects form the sun, but also I can rest knowing I can use in the case of dermatitis outbreaks? Priceless.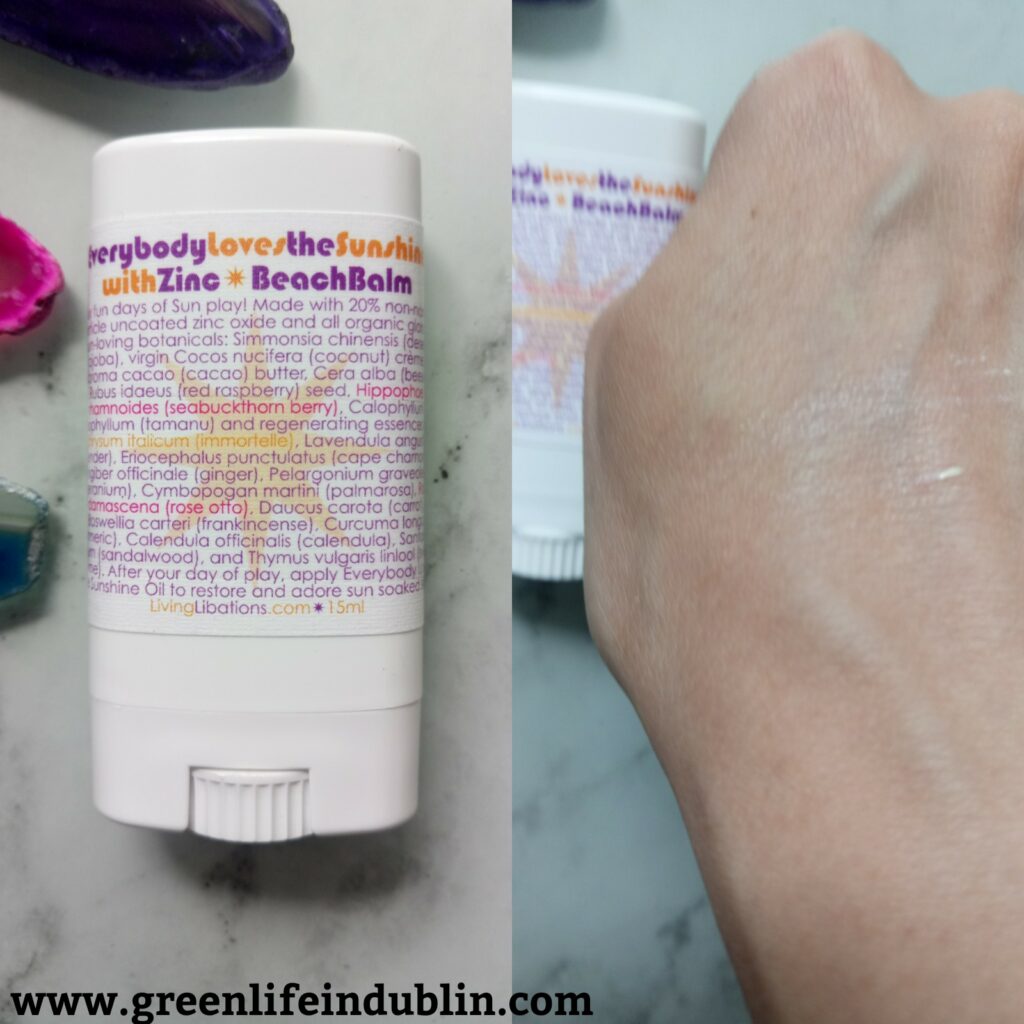 Now, let's see how it works as a sun shield? It is a dream to apply, rubs in very easily and although you do see a bit of white-cast from zinc oxide initially, it rubs in really quick and is pretty much undetectable once on. I really like the handy stick applicator, it is so easy and quick to apply on the go, and as you can guess, the ingredients are nothing short of truly natural and organic. Works perfectly well in cool climate (I live in Ireland) but I am yet to test it in hot Mediterranean weather – I stupidly forgot this when we were flying on family vacay earlier this year. If you live in a hot climate, you can always get a smallest size, 5g lip balm tube to try it out first? It only retails for 10€, which is kind of bargain compared to let's say Coola liplux? Speaking of Coola, I also got Coola Sports Stick at the same time I got this, and it turned out to be a real disappointment, chalky, dragged skin too much and expired after a few short months. Guess which stick out of the two I am repurchasing?
Ingredients: Simmondsia chinensis (Jojoba), Cocos nucifera (Virgin Coconut) Oil, Theobroma cacao (Cacao Butter), Hippophae rhamnoides (Seabuckthorn), Zinc Oxide, Rubus idaeus (Raspberry Seed), Calophyllum inophyllum (Tamanu), Schisandra chinensis (Schizandra), Myrica pubescens (Laurel Wax), Helichrysum italicum (Immortelle), Daucus carota (Carrot Seed), Rosa damascena (Rose Otto), Eriocephalus punctualatus (Cape Chamomile), Boswellia carterii (Frankincense), Santalum album (Sandalwood), Zingiber officinale (Ginger), Lavandula angustifolia (Lavender), Pelargonium graveolens (Geranium), Thyme vulgaris linalool (Sweet Thyme), Curcuma longa (Turmeric), Calendula officinalis (Calendula), and Cymbopogon martini (Palmarosa).
*A little side note: ever heard of a SPF product with frankincense, sandalwood, turmeric, calendula and carrot seed oil? If ingredient list like this does not make your heart sing, I don't know what will 🙂
Related: Dutch Health Store reviews - FB album
Related: my recent Dutch Health Store Haul
Now, that's it for today. Have You tried this this balm? What are your thoughts on it? Please share, I would love to know!
More related LiviNG LIBATIONS REVIEWS:
I am not done with the good parts yet, now Living Libations are available in Live In The Light too!
XOXO
Please like and share this or any of my other posts on social media, it really helps to get the green beauty word out – and you will forever have my gratitude!
FOLLOW ME ON:
 BLOGLOVIN
 INSTAGRAM
TWITTER
PINTEREST
FACEBOOK
YOUTUBE
SEE MY FAVOURITE PRODUCTS
& MY LAST BLOG WITH 400+ POSTS
Lots of Love,
Renata.
Enjoy my content? I would appreciate any  tip into my PayPal Tip Jar - any donation will get You my eternal gratitude and more awesome green beauty reviews Your way. I weed out all the greenwashing products so You won't have to.