Hello Lovelies,
Welcome back! And welcome if You are new here ???
Hope all is well with You? Today I am coming at You with a review of Hynt Beauty – you guys know my love for their Duet Perfecting Concealer is never ending (seriously the best full coverage concealer ever, see review here) & their Pinkibelle lipstick is now officially my signature lipstick – my forever quest for perfect peachy your-lips-but-better nude is now officially over!
*review marked as AD because of some PR products. Review not sponsored, my own thoughts exactly. Contains some affiliate links, many thanks if You will decide to use them - at no extra cost to you as a consumer x
Hynt Beauty is a brand that gets a lot of my love, purely because of Duet Perfecting Concealer – I have been lucky to come across the best of the best of concealers early in my green beauty journey – and I am so so glad I did, because concealer is a big deal people! You can get away with so-so cosmetics in some other categories, but the concealer has to be just right texture, coverage and formula – especially if You are looking for full coverage, just like me. I will get back to it in just a minute, but first let's look at Hynt Beauty brand as a whole, shall we?
Started by cancer survivor Meryl Marshall, the product line is more than "just mineral" or "just natural," and purer than conventional prestige makeup collections. They hold ourselves to the highest standards of ingredient quality and efficacy, and are honored to provide you and me with impurity-free makeup. Hynt Beauty also aim to uphold the best environmental and ethical practices so that our customers can feel proud of their purchase decision as they apply their makeup each time. Meryl is just the sweetest and kindest person herself and the brand holds the highest standards ever – I have witnessed it on social media over and over. If the stockist mixes up the order or something comes broken, the brand will step in to rectify the situation immediately – I can't say that about many brands.
Hynt Beauty isn't overwhelmingly huge line, it has just the right amount of products, something I love about them, sometimes too much choice can easily become overwhelming. As I already mentioned, I have two die hard favourites from the brand, and that is definitely saying a lot! And did I mention the whole line is vegan? Hello? Let's look more closely into the individual products, shall we?
Let's start with my favourite, shall we? I've reviewed it here & mentioned it as my favourite at least twice here and in countless Seasonal Favourites over the years, as well as firmly holding the spot in my Holy Grail Products line up here, this is true workhorse and unsung hero  – what I am saying?! I have been telling all about this all over social media to anyone who listens! Truly the best product if you are looking for full coverage creamy concealer with lasting power. I first discovered this when it was called Christopher Drummond concealer, it underwent some changes since then, from branding change, packaging change to pouring method which changed the texture of the product, but nonetheless it still works great and it is something I reach for every single day. Back in the day I used to think 24$ price point was kind of steep, but seeing the quality of the ingredients and the product, I made complete U-turn and now deem it worth every single penny and more – I would pay three times the amount if Hynt decided to up their prices. Get this – one jar will last you over a year with daily use, how about that for value for your money? The last one I had I've used for two years without any changes in smell, texture or efficiency of the product – although I will ask You a) not to report me to the Green Beauty Police and b) don't try that at home. Oh, I forgot to tell you what shade I am, I am Light in Winter and Medium in Summer. Some criticism I've heard towards this product on social media is the creasing, but my honest thoughts is those people are putting way too much, one gentle tap into the jar with your index finger is enough to give you enough product, really.  See that teeny tiny amount of product on the spatula in the picture above? That's enough for both eyes!. This comes from a girl with a lot of darkness under the eyes that no amount of green smoothies/ fresh air/ exercise can fix, and I have acres of it, some real estate there. Hereditary, nothing I can do about it. I recently posted a throwback picture of 5yr old me on Instagram, and they are clearly visible. Anyways, if You are still insisting on caking loads of concealer (don't),  you might want to check this post on my little trick on how to make those pesky creases disappear!
Related - see my everyday make up look using Hynt Beauty concealer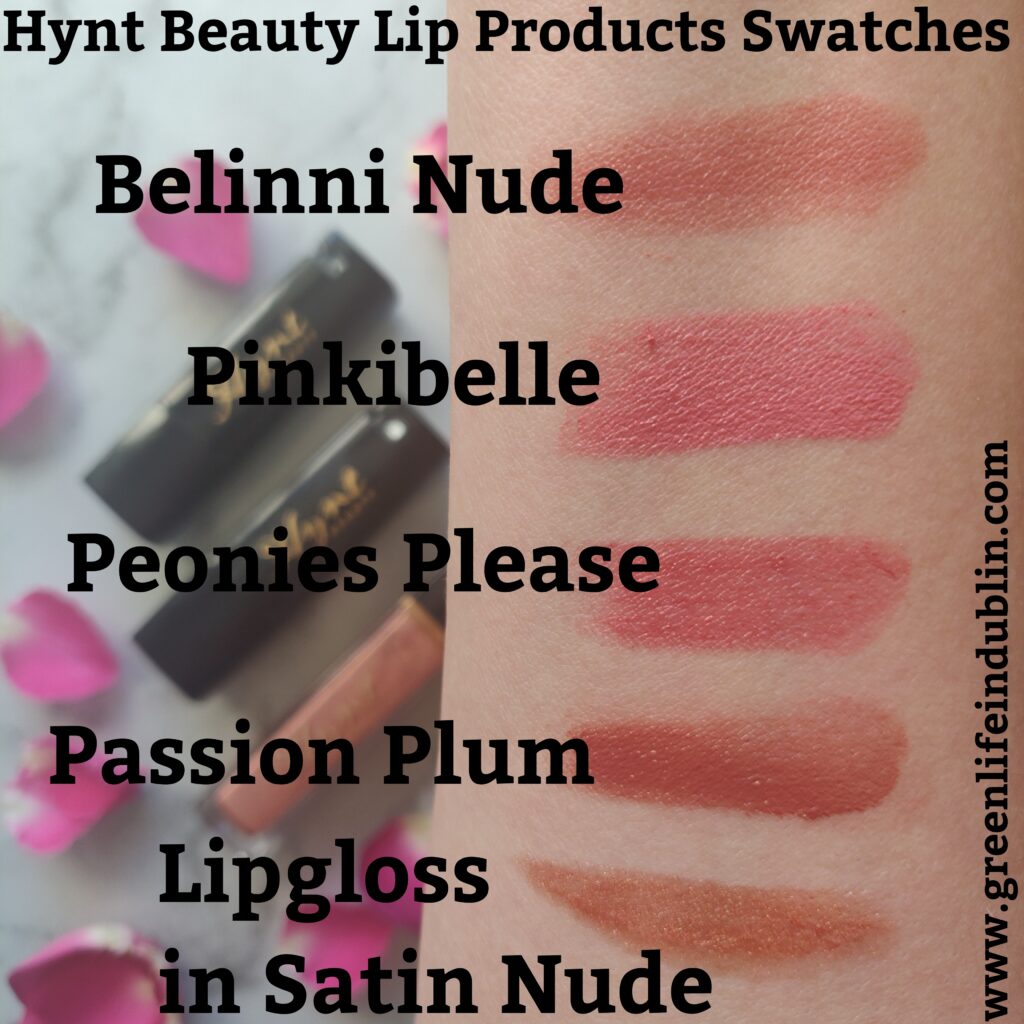 I am so glad it came into my life, I truly am. Hynt Beauty, if You are listening, please never stop making Pinkibelle – ever! There are lots of shades to choose from, see some swatches in the photo below, but Pinkibelle has my hear forever. I never want to be without it – it has a designated space in my make up storage and I immediately panic if I don't see it there. Ingredients are great, patented GMO free, with nourishing plant based complex proven to boost water absorption and hydration levels by +25% across 3 epidermis layers of the lip. How is that for awesome lipstick? I can confirm the lipsticks are definitely nourishing, I don't need to prep my lips with a lip balm before application. Also, the lipstick tube top has a secret flip top compartment with a lip balm and a mirror. I definitely get looks and questions when I whip it out in public. Mr Green Life In Dublin is also a fan, when he hates ALL the other lipsticks I wear, so it is safe to say we are fans here at Green Life In Dublin 🙂 Wear time is great, lasting almost all day without touch ups, no bleeding into the small crevices around the lips either. After it wears off, it leaves a nice stain, which is why I love it. Ooh, I just remembered something – have You have seen Lisa Eltridge  video geeking out over the remnants of Audrey Hepburn lipstick  she'd found in a lipstick holder bought in an auction? Well, the minute I saw the shade, I knew in a heartbeat what the natural alternative to that lipstick is – and in a moment of inspiration I wrote this post. Yep, as you can guess it, it is by Hynt Beauty 🙂
See Peonies Please video swatched at the end of this post.
Related - Green Beauty Swatch Gallery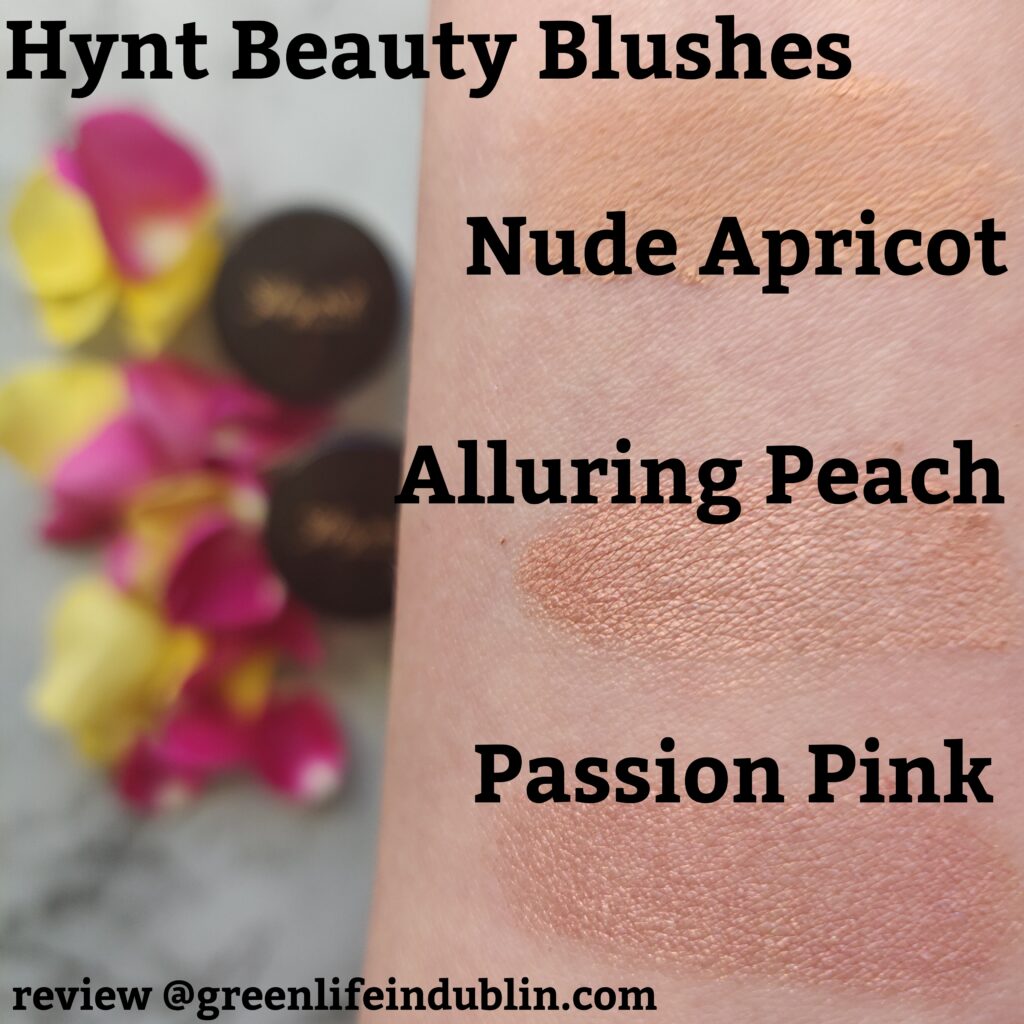 There's also a matte version, but I am very much radiant kind of gal, so I will be speaking only of those, but I wanted to let you know You have options when it comes to blush. I have Alluring Peach, which is soft peachy shade and Passion Pink, which is slightly darker & pinkier, but still very wearable, nice every day shade. Both blushes are very pigmented, so I would suggest using a very light hand when applying – meaning one jar will last you absolutely ages! Great for travels as they have lock-in sifter mechanism packaging. Although not exact dupes for Nars Orgasm, but both Alluring Peach & Passion Pink can be used as a blush toppers to created that amazing peachy coral lit-from-within shade with gold undertones shade we all know and love. See this post for more than 20 all natural Nars Orgasm alternatives.
Related - check this FB  album for 60+ natural make up posts
I love this formula, it goes on smoothly, is easy to work with – without having any dimethicone that's in trending "natural" brow pomades you probably see all over social media. The formula is cream to powder, meaning it looks very natural once on. My only issue with the shade I have is that it is warm toned, when all I used before were ashy toned products, almost pencil like graphite tones. This is not really an issue or a shortfall of the product, it is just my preference. I really like the formula, so who knows, I might end up keeping it and warming up to the warm shade (get it?). Let me tell you  a little secret – it works well as a cream liner too!  Definitely look into this if you use warm toned products and are looking for clean formula brow pomade (vegan too!). Did I mention it comes in glass?
Related - what I took on my weekend away
I screamed with the delight when I opened this. You will definitely get this-is-Channel-of-green-beauty vibe when you will unwrap this product – it comes is a very luxe looking packaging – black and sleek, the pressed powder is protected by a layer of plastic and it has a flat make up sponge, which is really good quality, I might add. Of course, you get a mirror with it as well. My shade is Nude Sand, which is definitely my shade now (in wintertime), so keep that in mind if you are my skin tone or near. This gets you a really nice coverage with just one layer, and it is buildable too – you can always add more on certain areas if you need to. I also have their VELLUTO Pure Powder Foundation, which is their loose mineral foundation – I like the formula too, it will give you either medium or full coverage, depending on which tool you will use. The only thing I will say about it though, I find the shades run darker, so I would suggest maybe going a shade lighter than you think you are, or getting samples to try first – something I forgot to mention until now – you can get samples of almost everything, so you can try before you buy. And when you find that matching shade, then that's it, you have met a match for life.
So, what are my overall thoughts? This is the line I love love love (and maybe should have reviewed ages ago!). Many products I will be repurchasing till I cease to exist, and just give me some time to go through all of the products they offer – I am looking at you, mascara, eye pencil and those gorgeous looking eye shadow palettes! Excuse me for no make up photo, I am currently minding sick child, but as soon as I will get a chance, I will make sure to doll up for you and update the post as soon as possible 🙂
Now, your turn! Have you tried Hynt Beauty? What are your favourite products from the brand?
Check the products at:
???
FOLLOW ME ON:
  BLOGLOVIN
FACEBOOK
INSTAGRAM
TWITTER
Lots Of Love,
Renata.